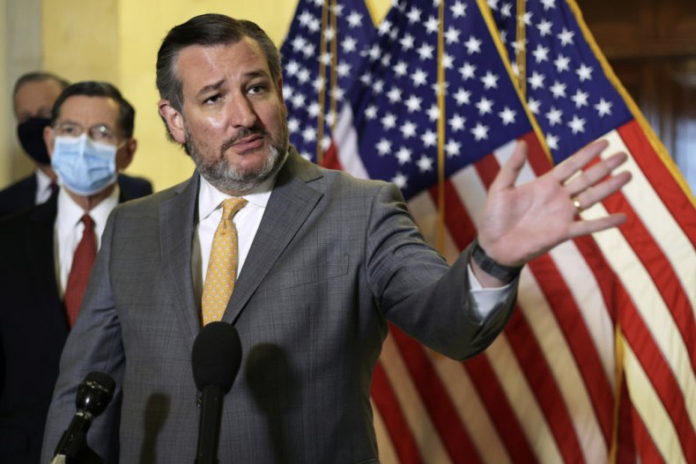 By Ryan Chou
Source: Alex Wong/Getty Images
Ted Cruz is in the news again, and this time, it's for something he did in the Senate Chamber. Last week, the Texas Senator voted to deny a terminally-ill 11 year old's dying wish to visit the senate while it was in session on the basis of "Capitol Security Concerns".
In the largely ceremonious vote to grant the child's request, Ted Cruz was the only Senator to vote to deny the visit, with all 99 other senators voting "yes". The Senator's "no" was met with loud gasps from his colleagues and heckling from multiple senators. After the vote was done, Cruz made an interesting statement that has been labeled as "out-of-context propaganda fabricated by the deep-state" by Alex Jones, where he said, "We don't know what this kid plans on doing…for all we know, he's with Antifa! I can't believe my colleagues on the left will cry over peaceful protestors who accidentally made their way into the Capitol but are willing to stand by and welcome in this actual threat." Throughout his full remarks, Ted Cruz reportedly slurred his speech and stumbled multiple times. Halfway in, Democrats booed his insensitive statements, which was met by Cruz spending 10 minutes tripping his way over to the other side of the aisle and proceeding to slap Bernie Sanders. In the end, the 79-year old, heart-attack victim Sanders had Cruz in his trademark "Socialized Headlock.".
The day after, Cruz released a formal statement regarding the incident, which included the claim that, "My daughters told me to, they really care about the security of the senate chamber, especially when it came down to inviting a dangerous individual in." In the end, he also included that, "I could totally beat Bernie in a fight, I just had an off day." The response was met with negative views, with just 9% of Cruz supporters saying that Senator Cruz was justified in both his actions and statements.
Proceedings to expel Cruz from the Senate are not expected to pass, with Mitch McConnell stating, "Undeniably, Senator Cruz committed inexcusable actions in the Senate yesterday, and it is clearly an expulsable offense. However, because they were committed within the first 100 days of the Biden presidency, it makes absolutely no sense to push him out at this time and will only further polarize the country." Cruz is up for reelection in 2024, and early poll numbers show a tight race, but little has changed, with 97% of 2018 Cruz supporters saying they would vote for him again.