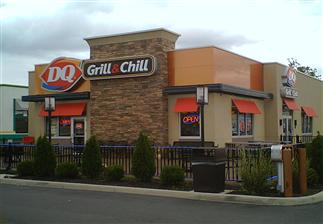 By Grace Delisanti, Alexa Hall, Vivian Rung, and Nick Schopp
Dairy Queen
Dairy Queen is a classic. You always know what you are going to get; it is the control. Anything not as good as Dairy Queen is bad ice cream and anything that is better is considered to be great ice cream. Only having soft serve options, Dairy Queen seems to be limited in the amounts of customization available, but in addition to the signature vanilla cone, you could dipp it into either chocolate or their "Fruity Dipped Blast". You could also turn the treat into a sundae, with six more options including: hot fudge, strawberry, caramel, and even pineapple. And even if none of this collection entices you there are many more cold options including: Orange Julius, Arctic Rush, MooLatte, and the DQ baked goods. If you STILL these treats do not tickle your fancy, this is where the signature treat comes in, the Blizzard. Combining candies with ice cream, so simple, yet so innovative. With eleven classic flavors and up to six added for limited times, the blizzard is by far the most popular treat being sold by the company, and is clearly shown by how much it is advertised.
While the quality may not be the greatest of all five, the prices are definitely more than enough to make up for it. Being a chain, it makes it much easier to lower the prices, and there are more locations that are closer to wherever you could be. The price of the largest, most expensive ice cream at Dairy Queen is almost $1.5 less than three scoops of ice cream at both Andersons and Pautlers.
Anderson's
andersonscustard.com
Whether you're at Anderson's various locations, or at their food trucks, you can always enjoy their handmade ice cream, soft serve, ice cream cakes, or milkshakes. From their changing daily flavors, to the Buffalo specialties, like Watson's Sponge Candy, there's something for everyone at Anderson's. Anderson's has homemade soft-serve, catering to food allergies for people who can't have the hard ice cream. Anderson's offers ice cream cakes and pies, as well as ice cream sandwiches. One thing that makes it stand out from the competition is dining in the Winter. While ice cream isn't as popular of a treat in the Winter, Anderson's keeps the customers coming by offering half price cones when it is snowing out. As long as it was snowing when you left your house for your ride to Anderson's, Anderson's will honor their deal and your cone will be half of the regular price. Other perks include the birthday club, where you get $2 off two sundaes just for signing up. When it is your birthday, you are entitled to a free ice cream cone. Every Mother's Day, moms can come in and get a free hot fudge sundae. Anderson's celebrates Father's Day by giving all dad's a free small custard or cone.
Although Anderson's is a bit pricier than the competition, the quality of the ice cream makes up for it. Anderson's has over 25 hard ice cream flavors, many more than Dairy Queen or Pautler's. Since this is Anderson's ice cream, it is a richer quality than Perry's and it isn't the same flavors that you can get at these other places. There is a great dining experience when eating at their locations, from the friendly interior, to the fun picnic tables outside in the shade. Anderson's is always a wonderful ice cream place to dine at and enjoy delicious Buffalo-homemade ice cream.
Pautler's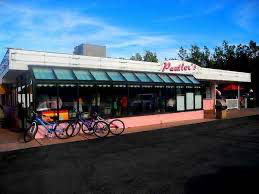 Wanting a sweet treat on a hot summer day? Head over to a Williamsville classic Pautler's Drive-In! Since 1958 Pautlers has been providing Williamsville with fantastic custard, Perry's hard ice cream, milkshakes, twist and swirls, and specialty sundaes! Unique flavors that change weekly for custard, Perry's hard ice cream, and frozen yogurt are favorite and many come back weekly to try the new flavors! Patulers has a very nice facility with covered outdoor seating, indoor seating, and seating near the playground! The beautiful playground is a huge attraction and plus for kids to play on after eating their ice cream treat. 
The specialty sundaes, including the Peanut Butter Lovers, the Chocolate Dream, the Brownie Delight, the Tutti Fruiti and the Caramel Cloud, are definitely a fan favorite and there is truly a sundae for everyone. If sundaes aren't your thing try a twist and swirl which is custard blended with the candy of your choice! Pautler's candy selection for twist and swirls include Reese's Peanut Butter Cups, Oreos, cookie dough, Nerds, Reese's Pieces, Heath, and Snickers. Milkshakes are another great option at Pautlers with a large variety of flavors such as Chocolate, Vanilla, Strawberry, Peanut Butter, Raspberry, Loganberry, Root Beer, Creamsicle, Banana, and many more. For a different taste you could even try making a hard ice cream a milkshake! Speaking of hard ice cream, Pautlers carries Perry's hard ice cream and has one featured flavor each week! In addition to the featured flavor the classic flavors that are carried included all season long such as Vanilla, Chocolate, Panda Paws, Cookie Dough, Superhero, Strawberry, Bittersweet Symphony, and Better Pecan Black Raspberry, Mint Tingling, as well as the Dairy Free flavor of the week! Pautlers is very good about catering to people with food allergies carrying dairy free hard ice cream as well as dairy free lemon ice and dairy free dole whip. Along with dairy allergies people with nut allergies can order from Pautler safely and without worry! The employees are trained to use different gloves and to properly sanitize equipment while taking care of an order with a nut allergy.
While Pautlers is a fantastic place to get ice cream their prices are a little steep. To add whipped
cream to an item is a dollar and to add nuts is an additional dollar. A very pricey restaurant, but to most customers it's worth it!!! I would recommend Pautlers very highly and would rate it a 4.5/5 stars!!!!
"pautlersdriveinofclarence.com
Sweet Emilia's
In the mood for a sweet treat while supporting a local, small business? Check out Sweet Emilia's conveniently located on Klein Rd. near Hopkins. Whether you're in the mood for Perry's hard scoop ice cream or soft serve, a signature sundae, or milkshake, Sweet Emilia's will do just the trick and with such a wide variety of ice cream flavors, there's enough to please everyone in your crowd. You can count on them to have unique ice cream flavors that other ice cream shops don't normally have in stock. Flavors such as Blueberry Cheesecake, Cotton Candy, Peanut Butter S'mores, Parkerhouse, Pistachio Nut, and Cannoli are all regularly served here. In the event that you don't want to
Lake Effect
Searching for a distinctive scoop of ice cream that will be perfect for a warm, summer day? Look no further than Lake Effect Artisan Ice Cream. Lake Effect is known for its exquisite flavors, flavors you certainly won't find anywhere else. They take things that are specific to Buffalo, such as Paula's doughnuts, and they make their ice cream flavors out of it, like Paula's Glazed Doughnut. Their flavors are packed with toppings, like the flavor called Extra Cookies Extra Cream. These flavors will stand out above all of the competition. You will never have a scoop of Perry's ice cream again. Other star flavors include Frozen Hot Chocolate, Loganberry, and Peanut Butter Epiphany. Both locations have a long list of flavors. After gazing at the menu, you will be sure to want to come back another day to try another flavor on the list. This ice cream shop is so "Buffalo" that it makes you want to keep coming back for this Buffalo-spirited ice cream.
Neither of the Lake Effect locations are as close to Williamsville East as the other ice cream places on this list. However, Lake Effect is worth the drive. The delicious, rich, creamy ice cream comes in a huge scoop, where one scoop at Lake Effect is the same size as a large at Pautler's. Lake Effect does serve sundaes, pies, and you can add toppings to any scoop, but you don't even need any of that as a scoop of Lake Effect is an experience in itself. Lake Effect is the perfect place to eat at in the spring, fall, or summer, for a huge scoop of Buffalo ice cream, on Hertle or in Lancaster.