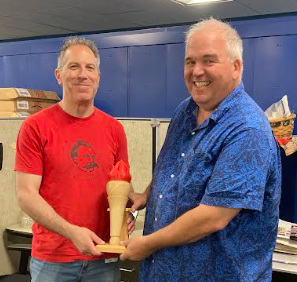 By Mr. Horton
Hello Williamsville East! It is time to pass the torch. Thank you to Mrs. Greenway for the honor of passing it to me. Williamsville East will always be in my heart. I am passing the torch to Mr. Harnick.
He is one of the unsung heroes of Williamsville East. I have never known anyone as quietly helpful and professional as Mr. Harnick. He is that humble person who will always come forward to do whatever needs to be done. In his time at East, Mr. Harnick has always been willing to take on whatever class or subject needed a teacher, even going beyond the Social Studies department to teach Computer Science. He has stepped up to take on countless other roles that do not receive as much attention as others.
For many years, Mr. Harnick had been the chair of the Child Study Team, an unusual role for a Social Studies teacher. He has also taken on the difficult and thankless job of being the Senior Building Representative of the WTA (Williamsville Teachers Association) for East. He has served as a mentor for new teachers and is always the first one to volunteer for any task that needs attention, including grading exams for a class that he does not teach. Recently, Mr. Harnick has also worn the hat of Technology Facilitator, helping teachers bring technology to their lessons and putting out fires when something isn't working.
Outside of the classroom, you might find Mr. Harnick playing music at an East Coffeehouse with his daughter and being a "Dance Dad" for Evie. Mr. Harnick's personal knowledge is impressive and expansive. If I am ever on "Who Wants to Be a Millionaire?" he would be my "phone-a-friend!"
Congratulations Mr. Harnick!