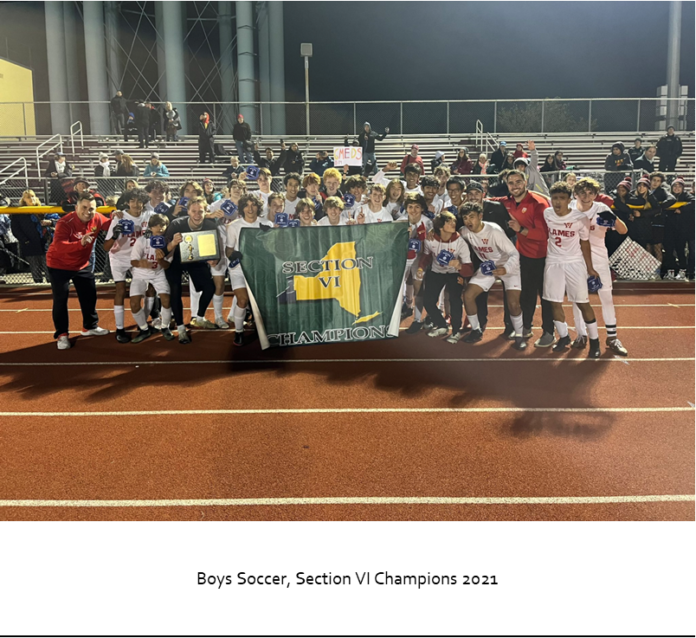 By Josh Daniels
It's time for a recap of all the fall sports here at East. Congratulations to everyone on another great season!
Boys Soccer
The boys soccer team had big shoes to fill coming off of an undefeated season the previous year. They ended with a final record of 17-3 and ranked 11th in the state. They were runners up of ECIC II and won sectionals 1-0 in overtime against Hamburg. Grant Medler and Asher Yonaty were both placed on an All-ECIC II third team, Josh Daniels, Luke Weber, and Jay were all and placed on All-ECIC second team, and Kian Nasrin, Jay Jezioro, Luca Buscaglia, and Jack Root all received All-ECIC first team placement. Luca, Jack, Jay were also placed on an All-WNY team. We are looking forward to see if Jack Root is going to be on an All-State team.
Gymnastics

The Gymnastics team was led by the only senior – captain Mary Ryan – who helped push the girls to an incredibly successful season. They finished with a record of 11-4 and 4th place in their division. All 7 of the girls qualified for sectionals, and the team overall came in third place. Two girls qualified for states: junior Charlotte Moyer on bars and 7th grader Torin Stutzman for beam. They will compete in the championship in March which is at Kenmore West in Buffalo. Good luck to them both!
Football
Football had a heartbreaking season as they went through nine different season ending injuries to key players. They finished with a final record of 1-8, but won the first game an East football team has won since the 2018-2019 season. The team is graduating a long list of seniors: Aidan Lin, Alex Cook, Owen Valley, Peter Piccolo, Chris Molnar, Kosta Varvakis, Ryan Eberhardt, Cal Honan, Andrew Zdrojewski, Braden Goldberg, Dylan Esau, Phoenix Krawczyk, Jameson Ryan, Abdul Allahbuksh, Matt Wilson, Tom Amoia, Nick Tabone, and Michael Adcock. Alex Cook and Owen Valley both received All-League second team placement, and Dorian, Sansone, and Piccolo were first team All-League. Aidan Lin was also nominated for WNY lineman of the year.
Boys Volleyball
Boys Volleyball had a successful season with a record of 7-3. They were ranked as high as 10th in the state during the season and finished one game away from winning their division. They lost in the semis of sectionals against Grand Island. The following seniors lead the team for their final year: Ben Eckhardt, David Campell, Will Nosky, Drew Weppner, Sandeep Karunaratne, Andrew Ermer, Mucteba Gokcek, Bobby Miller, Chukewamaze Ahaneku, and Brandon Leonis. All-league voting has not come out yet, but some of the boys will definitely earn a spot.
Girls Soccer

Girls soccer had a stunning season, going undefeated (12-0) in league play and 14-3 overall. The girls made it to the semis of sectionals, but lost to North Tonawanda in overtime. They also reached as high as 15th in the All-State rankings. The team will be graduating a strong senior class: Scarlett D'Amico, Simone Brock, Ava Mamon, Kathryn Surwill, Kate Zu, Emma Scalione, Emma Wall, and Samantha Mashie. No All-League results have been released yet, but Simone Brock and Kathryn Surwill were both nominated for All-WNY, and Gianna Tuzzolino was selected to the All-Bee second team.

Girls Volleyball

The girls finished their amazing season 10-4 and second in their league. They went to the semis for sectionals, but lost to Niagara Wheatfield, who ended up winning the section. The team was led by eight talented seniors – Bella Mancuso, Lilli Mucica, Nadia Kelsh, Liana Weiss, Juliet Scinta, Regan Zuchlewski, Ayat Ahmad, and Lucy Bordenave. The results for All-League have not been released yet, but we will see at least a few names on the teams.

Field Hockey

After their first game loss against North, Field Hockey was undefeated until sectionals. They finished with an incredible 13-2-1 record and a loss in the semifinals against South in sectionals. The team is losing six seniors who played an important role in the last two successful seasons: Alexa Hall, Lexi Peers, Natalie Kozacki, Emma Wisnewski, Bella Gunsalus, Gianna Difilippo, and Vanessa Willick. Gianna and Bella also got All-ECIC Honorable Mention, along with sophomore Emily Wendt. Lexi Peers and sophomore Shannon Pogorzala both earned a spot on second All-ECIC team, and Vanessa Willick was placed on the first All-ECIC and first All-WNY team after finishing a fantastic season, setting the goal scoring record at East.
Cheer

The cheer team did a great job on the sidelines during Football season. They placed 3rd in sectionals and are looking forward to more competitions this coming winter season. Seniors graduating this year are Rylee Garrigan, Shelby Moorhouse, Kennedy Intihar, and Mallory Ronan.
Cross Country
Girls cross country had a phenomenal season. They finished 3-2 overall in their meets, placed 3rd in ECIC II, and came in 5th for sectionals. Marisa Swiatek had a killer season and qualified for states for the third time in high school. She was also placed on the All-League first team, along with Bella Ascone and Lily Ascone. The boys also did great, placing 2nd in ECIC II, 7th in sectionals, and finishing with a final record of 4-1. Daniel Costello placed on the All-League first team, and both Mark France and Ian Shear placed on the All-League second team. The large senior class will be missed: Jacob Balling, Margaret Brown, Adam Guigui, Luke Lostumbo, Sarah Ludwig, Vivian Rung, Nathan Sciara, Ian Shear, Marisa Swiatek, Nathan Weiss, and Waverly Wobschall.

Girls Swimming
Girls swimming was the only team with no seniors this year. They finished with a 2-6 record, and there is only room to grow going into next year. For sectionals, the girls prepared two relays. The first was the 200 free relay, which they placed 19th. Junior Gouri Nadarajan went first, followed by sophomore Pen Fang, then junior Grace Kaiser, and finally sophomore Hannah Megan. The second was the 400 free relay, which they placed 16th. Gouri Nadarajan started it off, with 7th grader Molly Kappel going second, Grace Kaiser going third, and Hannah Megan swimming the final stretch.

Girls Tennis
The girls Tennis team finished with a stunning 10-0 record. Tulesi Suresh qualified for singles sectionals, and Maler Suresh and Kareena Cheruvu as well as Sarah Qiu and Sophie Wang qualified for doubles sectionals. Sarah Qiu and Sophie Wang also went on to states. It was a fantastic final season for seniors Maler Suresh, Kareena Cheruvu, Sanjana Suresh, Grace Hwang, and Nilufer Kosar.