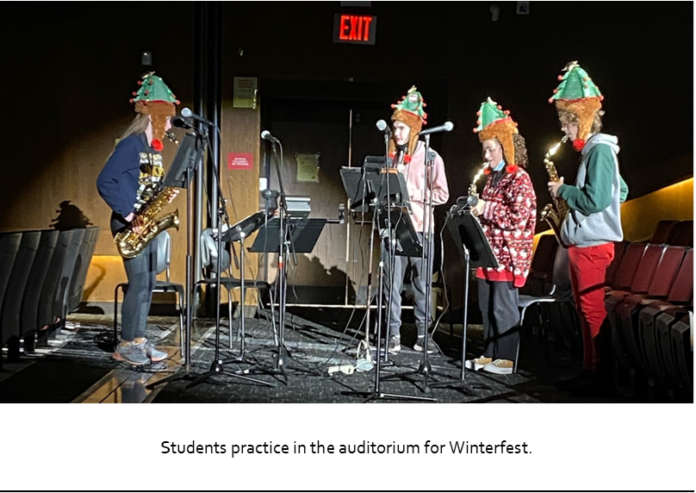 By Josh Daniels and Colleen Meosky
Winterfest is finally back to Williamsville East! The festive concert is being held on the 21st and 22nd for the first time since 2019. There will be two half shows during assemblies on the 21st, one in the morning for Transit Middle students and the other in the afternoon for East's student body and staff. Full shows will take place on the nights of the 21st and 22nd. Come and see the incredible, talented musicians perform!
Winterfest will open with its legendary Grinch sequence, starring Cade Williams and Nick Grebenok this year. Ella Waffner, Emma Battaglia, Katelyn Lee, Sammi O'Connor, Ava Sadkin, Anna Santoro, Leah, Small and Nora Weber will take on the roles of the dancing Grinchettes.
Some acts to look out for are the clarinet choir, playing an arrangement of 'Up On the Housetop', Tony Bodami and Cian Colgan's duet for 'Every Day I Have the Blues' with the jazz band, and Danielle and Emma playing 'Meditation from Thais' on Cello and Piano. The music wing is filled with talent this year, so come watch each musician play and show off their hard work. You will not be disappointed.
After a successful first concert in October, Mr. Lanighan and Mr. McCluskey are excited to show the capabilities of the music department at East and be a part of the first Winterfest in the beautiful new music wing. Mr. Lanighan told ESN, "Winterfest has always had such a special place in the hearts of all East music students, myself being no exception." Mr. Lanighan was in both Chorale and the Wind Ensemble when he was a student at Williamsville East. "Having had the perspective of a student performer, a student teacher, and now a director, what I'm most looking forward to are three things: 1. that buzzing, excited energy that Winterfest creates, 2. that feeling of going from running around the aud to having your breath taken away by a performance in an instant, and lastly, 3. those looks of relief, exhaustion, and true joy on student faces that can only come when reaping the rewards of hard work." Every teacher in the music wing has been working tirelessly to make this as great of a Winterfest as possible, and all of them are so excited to see the students thrive while performing.
There is no shortage of festivity in the music wing this year. The band room has been decked out in decorations since early November and is now enjoying the newly added Christmas tree, and the holiday cheer is certainly present in the orchestra and chorus rooms as well. The excitement has been obvious in the music wing for weeks, and as we enter one of the busiest weeks of the year, students have greatly appreciated the support they've received from their teachers in other subject areas. Mrs. Fey-Daly, for example, kindly gave her AP European History students two weeks notice for an assignment due on the 22nd to reduce potential workload stress. Thoughtful gestures like this have expounded upon the existing enthusiasm and festivity with an anonymous music wing student commenting,"The WEHS Wind Ensemble's saxophone section is going to rock your socks off… And I heard a rumor that they have really cool hats," she told ESN. "I am also very excited to see the rest of the outfits each group is going to wear while they perform." Different groups and acts will show off their creativity with fun costumes – make sure you look out for each one!
Only the current seniors and juniors of East have experienced a Winterfest. Iman Ahsan, a clarinetist and Secretary of the Wind Ensemble, said "I am just excited that we can move forward with Winterfest for the first time since COVID and give the freshmen their first winterfest experience." There will be restrictions on the performance – there is limited seating and chorale will wear masks – but the small price to pay is worth it to have an actual live Winterfest. Although limited capacity prevents many friends from attending in person, the school has arranged for the concert to be available virtually both nights. A Zoom link has been posted on WITS and the district website.
Every musician is excited to show off what they have been preparing over the pandemic. James Liu says, "Things have been really lively around the music wing. Everyone is putting in their best efforts to prepare their pieces." The hard work of the musicians will finally be on full display during the concerts, and it will be an experience you do not want to miss. 
Mrs. DeSantis is also thrilled to see the concert's return saying,"I'm so excited about Winterfest from both a school culture perspective and also for our student performers because Winterfest is such a tradition at East, and it missing over the last years leaves a gaping hole. Now that it's back, it just feels like we're back home. It feels like we're back home."