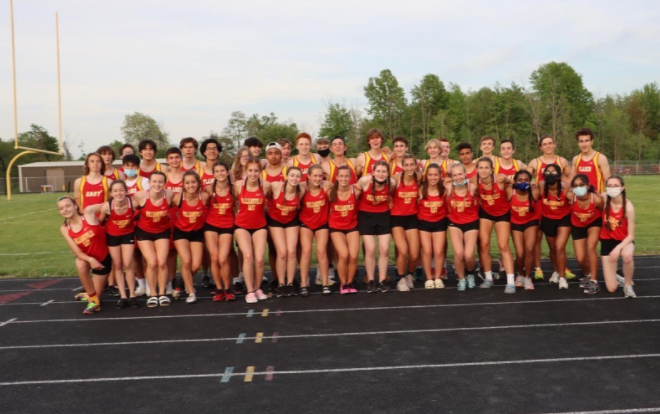 By Meghana Avasarala and Angelina Hu
East's Varsity Track and Field Teams will be sending their strongest team members to two sectional meets this month. On June 17, they'll be up against ten other schools at Pioneer Central High, and on June 24, they will be competing against eleven teams at Hamburg Central High.
The East Boys' Team is especially big this year and has a rising number of underclassmen. Coach Holme oversees the team and Coach Priset is the assistant coach. The six seniors of the team remain its student leaders.
Despite their high numbers, the team has been unable to keep a winning streak in meets. This is likely due to the fact that the previous track season was cancelled and the current season has been crushed into a much shorter timespan, thus cutting off a lot of practice time the students should have gotten.
Furthermore, Coach Holme has stated that extra events are not held inside the fence at East due to a lack of facilities. Instead, they're held outside, which makes it less accessible at home meets. We also don't have a pole vault facility, so nobody can practice.
Despite these setbacks, the team is working hard and practicing every day. The first meet against Sweet Home is regarded as a success in particular, despite East losing in the end by a mere five point difference. Considering Sweet Home's formidably impressive sprinters, catching the meet so close is a victory on its own.
However, the most important things to this team is cooperation and working towards personal improvement. They're quite close-knit and always support each other in their goals. This same sense of bonding holds the Girls Team together as well. In a coincidental reverse of the boys, they have an extremely low number of members, and even then, the number of underclassmen is quite high.They are overseen by Coach Spitznogle.
In addition to facing the same troubles as the boys, the low number of students is an extra crutch for the team. This means that each member will have to compete in multiple events at meets, which is disadvantageous when against a larger school with enough students to not double up on events. East's team will get tired out and wind up incapable of performing to their very best later in the meet, while the opposition will still have fresh faces filled with energy to send out against them.
But despite that, everybody is trying their best to succeed. Practice is after school every day, and students often do over two hours of practice in any given session to go over all of the events they will have to compete in.
No matter what difficulties the teams are forced to face, they're all still working their hardest. Allen Gelfond and Kayla Myers, two graduating seniors, both emphasized in interviews the importance of setting your own goals and working towards them instead of focusing on comparing yourself to other team members.
Please continue to support the East Track teams in their upcoming meets and for many years to come! Our feature video will go much more in depth on the progress of the track teams. Feel free to check it out for more details.