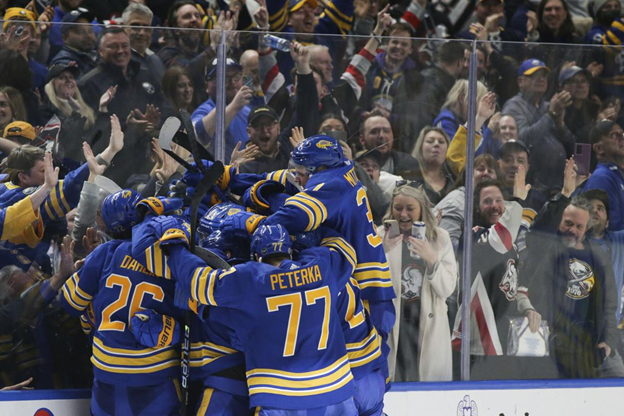 By Will DeMartinis
The Buffalo Sabres haven't exactly had one of the NHL's most stellar reputations. After making the playoffs in 2011, the Sabres have failed to do so since. Early firings, a tank, and another tank, followed by mires of losing seasons that were then matched by a horrific locker room and worse for wear coach hirings.

Those factors culminated in the disastrous 2020-21 season. The Sabres managed the NHL's worst record and had a record breaking 18 game losing streak. The season culminated in a won draft lottery, the drafting of Michigan defenseman Owen Power at #1 overall, and the infamous breakup of the Sabres old stars- Rasmus Ristolainen, Sam Reinhart, and Jack Eichel.

Today, while those scars will forever last–mostly the very public divorce between the team and the aforementioned Jack Eichel- the future looks bright for the first time in a while. After ending the 2021-22 season on a hot streak, finishing on a 16-9-3 run through March and April of last year.

This season, the hot streak has continued. Despite another early start upended by an eight game losing streak- mostly due to injury- the Sabres have battled back to 6 games above .500 at the all star break with a 26-20-4 record, good for 56 points. Spurred by a young core of stars that include the likes of Rasmus Dahlin, Tage Thompson, and Dylan Cozens, the future of the Sabres looks a whole lot brighter than those days of the 18 game losing streak. They are so good in fact that for once the playoffs aren't a pipe dream in February.

Kevyn Adams hasn't been shy about locking up his budding young stars either. Tage Thompson, Mattias Samuelsson, and most recently Dylan Cozens have been locked up by the Sabres- with most of the contracts looking like a steal. Tage Thompson has blossomed into a leading NHL goal scorer and true superstar- on a 7.year 50 million dollar contract- one of the biggest contract steals in the league. The Sabres recently made another bet on Dylan Cozens, their number two center enjoying a breakout year- by giving him too a 7 year 50 million dollar contract

The Sabres hope that by locking up their young stars they'll compete for years to come. The philosophy is one of stark contrast to the past 10 years- and it may really pay off. Last year, I said their record would end somewhere around 44-25-13- something which was considered a stretch by those I talked to. While I'd revise it today to a slightly more modest prediction, something around 43-31-8 (94 points), it's still a huge testament to the growth the team has made under their aforementioned young stars, lest we mention others like Alex Tuch, Jack Quinn, and JJ Peterka- all Sabres that have made massive impacts on the 1st and 2nd lines. It may seem wild for a franchise that's failed for this long to meet expectations when they'd failed countless times before- this time it may be a reality.

To conclude on the question of whether the futures really here– yes. The team is one of the hottest scoring in the league (frequently at #1 overall in scoring), has a solid top 4 defensive core led by Rasmus Dahlin, and an increasingly clutch young goaltender in UPL. While the team can struggle at times when the scorings off, when they're hot they're hot–and dare I say a team nobody would want to see come playoff time- something that for once isn't a pipe dream.

The future is here. Enjoy it, Sabres fans.