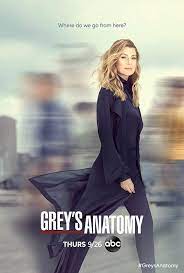 By Grace Kaiser
ABC's medical drama, Grey's Anatomy, has officially been renewed for another season. The show is the longest-standing televised medical drama. Star and executive producer, Ellen Pompeo, has signed a new contract to continue with the 18th season.
Before this was announced, fans were under the impression that the show might be over because Pompeo's former contract was up. Although many fans are excited for their favorite show to continue, some are skeptical. With the show running for so many reasons, there are very few original cast members, and fans are getting tired of everyone leaving. The feeling of the show dragging on was even more emphasized when long-standing regular Jesse Williams, as Jackson Avery, left the show. This hit hard, especially after one of the last original cast members, Justin Chambers, as Alex Karev was written off of the show just a season before. The show decided to bring back some former characters in Season 17, but it was temporary. This made many fans happy, but some felt it was another ploy to push the show along.
Although there is much controversy about whether or not the show should end, it has been renewed, and Season 18 will air in the fall of 2021.