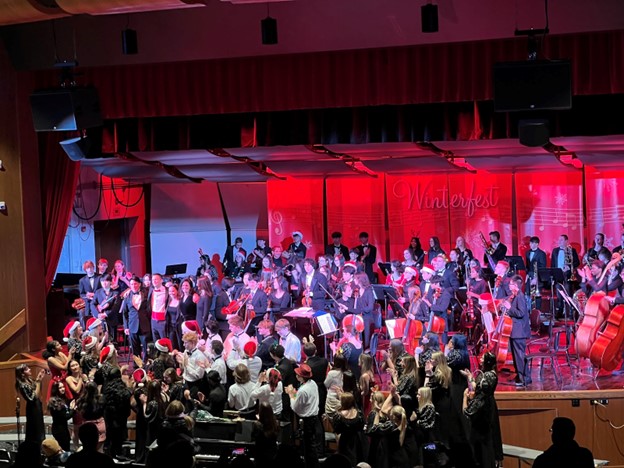 By Armita Rohani

East's biggest concert, Winterfest, gave audiences a spectacular show for the 48th year in a row. The entire music department, as well as several groups, performed to a packed auditorium for more than two hours on December 21st and 22nd. Students were lucky to get a "preview" of the concert with shorter acts performing during 7th period on the 20th. With this being Ms Reilly's last performance, as well as a very emotional and prominent ending, this year's Winterfest concert was unforgettable.

The nights started off with a packed auditorium; students, parents, and alumni all gathered to see this annual show. The Grinch displayed the introduction, explaining to audiences safety, experience and applauding rules for the show. Nonetheless, the latter was always broken. Large groups, such as symphonic orchestra, concert band, and chorale played on stage, while smaller groups such as jazz ensemble or "the nightingale trio" were placed throughout the auditorium. As students scrambled to get to their next act, music played from all over for the whole night. A brief intermission allowed crowds to socialize with each other, and gave performers a well deserved break. In ten mere minutes, the show was back, and gave crowds a run for their applause. Sleigh ride, traditionally performed as the last song, got audience members involved with clapping and cheering, and was the "cherry on top" to this year's performance.

Several fan favorites included concert band's performance of "Encanto," as the most notable and heartfelt songs were played. Several Christmas classics were shown as well, such as philharmonic's "All I Want For Christmas Is You," mixed chorus' "The Most Wonderful Time of the Year," or jazz ensemble's "Santa Claus is Coming To Town." "The Christmas music was amazing," says one audience member, "It brought the festive holiday mood we all desperately needed!" Nonetheless, the collaboration between chorale and symphony during "Hallelujah" brought audiences to their feet as they delivered a fantastic performance.

The energy that Winterfest brings to the entire music department is intense. Months of preparation happen for the concert, whether it is setting up and rehearsing with stage crew and act members, or auditioning to get a limited spot in an act. Music teachers worked tirelessly to get students together and prepared, scheduling and organizing the show as well. In addition to the stress, people had an unforgettable time in between acts, laughing with friends and making lasting memories: "The moments during that night were wild, there were last minute practices, people playing makeshift basketball, walking all over the music wing, stressing over which act was on, but also just having a good time. To some it was just another concert, to others **cough cough seniors** it was the end of an era. It's the adrenaline rush we get as we scramble to the stage that we really remember, or when people clap when you're not done playing or when the lights go out and you have to play in the dark. Those are the moments that I think makes concert night special."

Winterfest 48 was memorable, incredible, and a show you had to see. Students made lifetime memories and delivered astounding performances from all their hard work, as they displayed their musical achievements. "I couldn't have asked for a better Winterfest to close out with. It was incredibly fun, and all the acts brought their A-games."