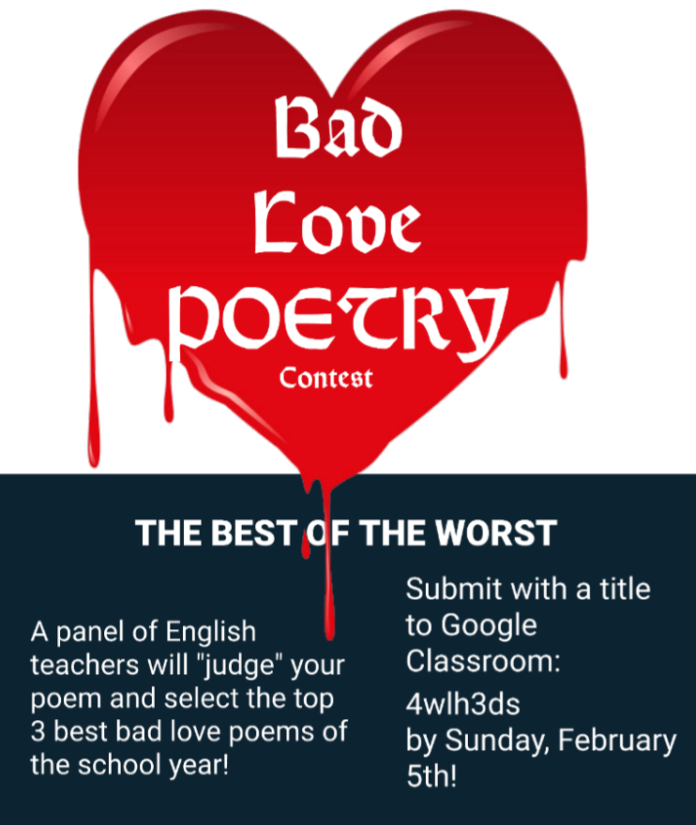 By Angelina Tang
It's already January, and you've definitely seen the Valentine's Day decor in stores as Christmas decorations go on stock-clearing sales. Between red paper hearts and chocolate teddy bears and candy colored in various shades of pink, love is in the air, and what better way to celebrate than to write some love poems?

The East Literary Digest is proud to host its annual Bad Love Poetry contest! It's easy to participate, and anyone can do it: simply write a love poem (or a few, up to three), make it as purposefully bad as possible, submit it into the competition, and see your work in print! Yes, as long as you submit it, we'll print it, assuming it's not inappropriate for school. A panel of teachers will select first, second, and third-place winners, as well as runner-ups, in vying for the title of Worst Love Poem; maybe yours will take gold!

Submit all of your poems with a title each and the name you want them published under (your name or a pen name) into the associated location in the East Lit Digest Google Classroom, code 4wlh3ds. If you submit more than one poem, it's only possible for one of them to make it into the top three, so no, you can't sweep the leaderboard if you write three amazingly terrible poems! After the competition deadline of February 5th, keep your eyes peeled for a printed issue including all of the poems and announcing the winners in one of the wooden boxes in the stairways. Grab a copy of the East Side News while you're at it, too! You won't regret it.

And last but not least, a pro tip: make it your goal that if you tried giving your poem to a sweetheart on Valentine's Day, they would either a) laugh or b) throw it away and promptly reject you.

Have fun, aspiring poets of East!