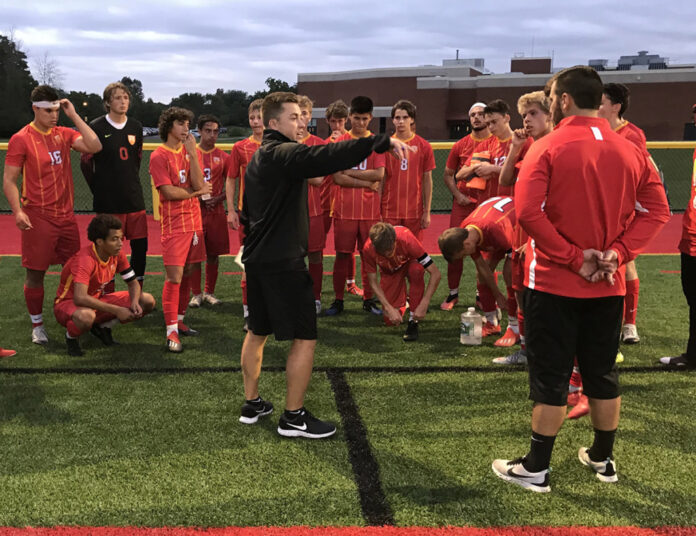 New Boys' Varsity Soccer coach, Tony Schiappa, values three pillars of team culture: Competition is King, Energy is Everything, and Bringing a Professional Approach.
Sophomore goalkeeper Jack Root embodies these values, which has led him to be the team's starter.
"We didn't know if we were gonna take him, we didn't know if we were gonna put him on JV," said senior captain Evan Olszewski, "but he stepped up right away."
Root's dedication to the team began much earlier than tryouts, according to Schiappa, which he says is rare for a varsity athlete his age.
"In April, he's texting me, giving me updates on his club team. That means his mind's always thinking," Schiappa said. "This summer [the players] had to send their day-by-day workouts to me. Jack's was significantly more thorough than the rest of the group. Right there you saw the commitment."
Entering training camp in mid-July, two upperclassmen stood ahead of Root on the position depth chart. Although the competition was stiff, Root remained focused.
"I was just gonna take what's mine," Root said. "I thought that I was the best keeper and that I was gonna start."
Root's on-field performance and strong communication skills drew attention from his coaches and teammates. Although it's common for goalies to be strong communicators, it's rare for a young goalie to have that confidence so early. Root owes that confidence to his teammates.
"It's my teammates' trust in me," Root said. "It's nice to have teammates backing you up no matter what happens."
That confidence showed in back-to-back shutouts for Root in victories over Maryvale and City Honors in the Williamsville South Labor Day Tournament. It also boiled over to league play, where Root had strong performances in wins over Amherst, Sweet Home, and Starpoint.
"He's loud, he's commanding, he's what this program wanted as a goalie," said Olszweski.
The team looks to continue their strong start to the season in quest of another sectional championship. And with a strong backbone at keeper, they should have a great chance at doing so.