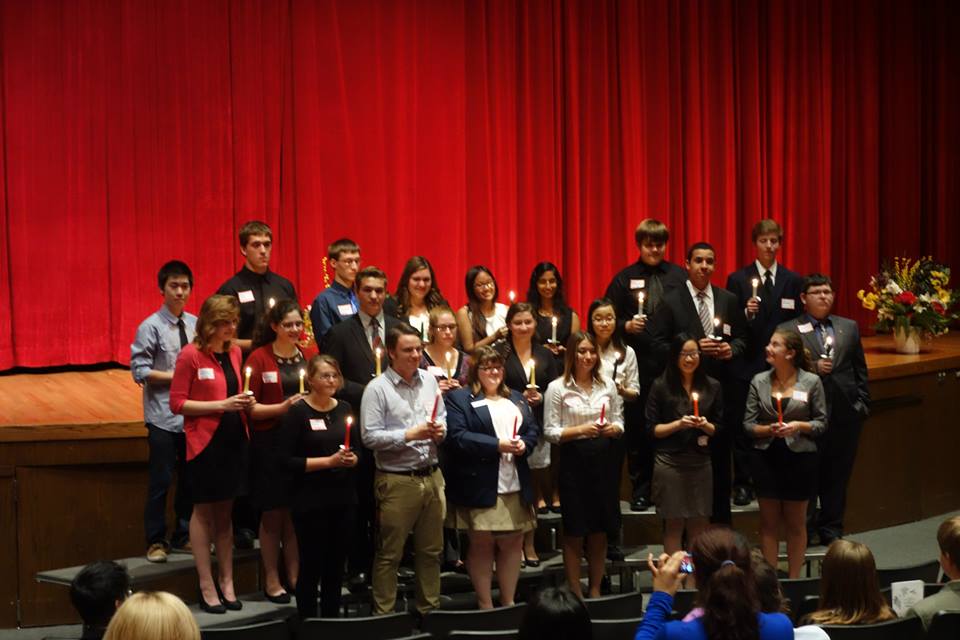 Dressed in their business best, 93 students from Western New York filed into the East auditorium for the New York State Future Business Leaders of America (FBLA) Fall District Meeting on October 15. The meeting was the first official District and state-sanctioned FBLA meeting of the year, giving students from across Western New York a chance to network with one another before the State Leadership Conference in April 2014.
Opening festivities included a candle induction ceremony for chapter officers from Williamsville East, Clarence, Tonawanda, and Eden in addition to a a keynote address by Lydia Macaluso, a state officer and East alum from 2012, who delivered a speech on how to get involved in FBLA and how to take advantage of one's high school experience as a whole. Other highlights included  six different workshops for FBLA members, with choices ranging from Marshmallow Leadership, to College Preparation, to a jeopardy version of FBLA 101. Presenters came from all over New York State, with Mr. Josh Wallace, FBLA state adviser, and Kalie Pfohl, FBLA state historian and Eden High School senior, delivering presentations.
This year's State Vice President of District 12, senior Sally Yi, alongside East FBLA Fundraising Chairperson, Kianna Early, chapter adviser Ms. Anzalone, and chapter presidents Zachary Richheimer and Dan Franasiak, had fervently planned the event starting in July. The fruit of their labor was evident when students from Tonawanda, Clarence, Eden, and Williamsville high schools attended the event with much enthusiasm. The event was catered by Chipotle and included a generous donation of baked goods from Wolter's Bakery and chocolate chip cookies from Mrs. DeJohn, a delicious beginning of the fiftieth year of New York State FBLA.