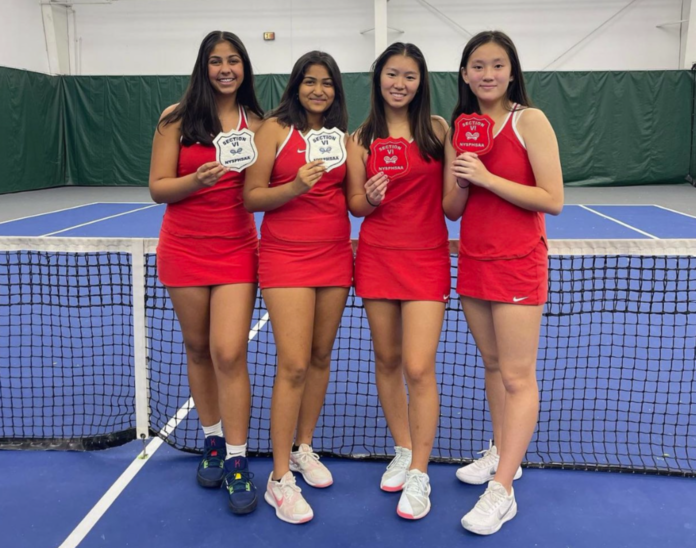 By Megha Pendyala
The Williamsville East high school girls varsity tennis team had a wonderful season this year. With a draw of tough opponents and hard games, they managed to place second in their division, barely losing to Clarence by one match. While the entire team didn't get to go to states, ECICS arrived and some of their star players managed to beat everyone else in the tournament.

Sophie Wang and Sarah Qiu, formerly first and second singles (in order), played doubles together. They competed in very close and difficult matches against hard opponents like Clarence, and managed to win most of their games. They went on to get second place doubles at the ECICS tournament, resulting in them continuing on to states.

Jasmin Nagra and Tulesi Suresh, the first doubles team of East, also did very well in ECICS. They managed to get third place and went on to states with Qiu and Wang. Although they lost at states in Albany, they still had done an impressive job of being part of the top three doubles teams in Western New York.

Tulesi Suresh said, "For Jasmin and me, the match that got us into states was versus Williamsville North high school, and it was a pretty close match. We had won the first set, but in the second we were down 1-4. I'm really proud of us for focusing, making a big comeback, and closing that set to win the match in two sets!"

Sarah Qiu also said, "Going to states with the other girls was so much fun. I'm glad we were able to share that experience and make memories that'll last forever. This was my third year playing with Sophie, and we're hoping to go even further at states next year."
We are very proud of our varsity girls tennis team, and can't wait to see next year's season!