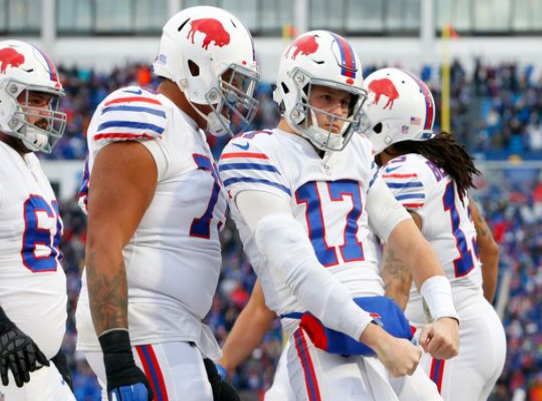 Bills vs. Jaguars (11/25/18):
Josh Allen played arguably his best game of the season against an underperforming Jacksonville defense that found themselves in the AFC Championship just the year before. Along with 160 yards passing with 1 TD and no picks, Allen ran for a franchise-record 99 yards on 13 carries and a TD. He would've finished with over 100 yards if not for a pair of kneel-downs at the end of the game to secure the win. Allen displayed what Bills fans want to see in their potential franchise QB, flashing his arms and legs. His most impressive throw was on a deep bomb to Robert Foster, as Allen heaved it down the field after duress from the Jacksonville defense. Allen mentioned after the game that he had not even seen the TD, as he was immediately hit to the ground following the release of the ball. This was also a big game for Allen in another regard; he beat trash-talking cornerback Jalen Ramsey. Ramsey had previously called Allen "trash", so Allen had perhaps used this as motivation on the way to the best game of his young career. Showing a little tenacity and flare in his game, Allen mocked Ramsey's celebration on his TD run.
Bills vs. Dolphins (12/02/18):
This was a tough loss for Allen and the Bills, as a win fell through their hands (literally). On the last play of the game, the young Bills' QB scrambled backwards, left, and right before launching a ball downfield to a wide-open Charles Clay. Unfortunately, all the running must have tired Allen out, because his ball fell short of the endzone. Clay, however, should've gone back to the ball instead of waiting in the endzone. Overall, Josh Allen showed some positives, while also showing on some throws that he is still a young rookie. Allen finished with 231 passing yards, 2 TD's, and 2 INT's. Once again, Allen proved 2-dimensional by rushing for 135 yards on only 9 carries, breaking his own franchise-record. Allen, and the Bills' offense as a whole, had to make a few more plays in order to win this game.
Bills vs. Jets (12/09/18):
Josh Allen and the Bills fell to a division rival for the second straight week. Allen played similarly to his performances in the past 2 weeks, giving Bills' fans some exciting throws, while making some highly questionable ones. For the 3rd straight week, Josh Allen dominated on the ground, running for over 100 yards and a TD. He added 206 yards in the air with a pair of interceptions. Allen played steadily for most of the game, and he had a chance to lead a tough 4th-quarter comeback. However, he forced a tough throw to Zay Jones and was easily intercepted. These are the kinds of throws that he cannot make, and he was visibly disappointed with himself after the loss. Allen had been that close to wins in the past 2 weeks, but just could not make those few extra throws to secure the win.