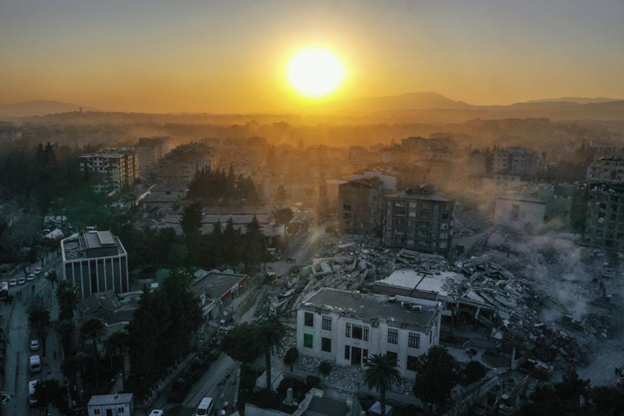 By Pen Fang
A 7.8 magnitude earthquake has become the worst disaster in modern Turkish history. As the crisis continues, the death toll continues to climb, with the combined number of deaths in Turkey and Syria now over 50,000.

Turkey is especially vulnerable to earthquakes. Its position between two major faults on the Anatolian plate and the movement of neighboring tectonic plates has caused the country to "[move] west about 2 centimeters per year along the East Anatolian Fault," according to geoscientist David Rothery.

The earthquake struck on February 6 with an epicenter in Gaziantep and has sent waves of destruction rippling across Turkey and into neighboring Syria—however, it was felt as far as Lebanon and Egypt. It was followed by a 7.5 magnitude tremor nine hours later, and by February 26, over 7,000 aftershocks. The quake zone itself spans over 200 miles across Turkey and Syria.

The collapse and ruin of buildings as a result of the quake has led to thousands being trapped under the rubble, and thousands more displaced and forced to undergo freezing temperatures, rain, and snow without shelter.

Turkey has declared a state of emergency in 10 provinces for three months. The United Nations estimates the quake affected nearly 20 million people in Turkey and 8.8 million in Syria.

Rescue Efforts Dwindle As Time Passes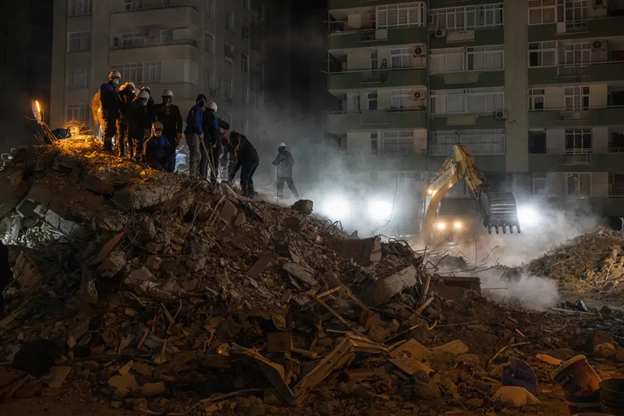 More than 11,000 rescue workers from around the world were deployed in Turkey during the peak aid response. Rescue workers pulled survivors and bodies alike from the rubble following the quake, with more than 8,000 people rescued from rubble across 10 provinces by February 8.

There have been extraordinary survivor stories. 147 hours after the quake, a 10-year old girl was rescued from the rubble. 248 hours — over 10 days — after the earthquake, 17-year old Aleyna Olmez, dubbed the "miracle girl", was pulled from the debris.

Even so, many have been lost to the destruction, with survival chances decreasing further due to Turkey's freezing temperatures. By February 19, Turkey ended most of its search and rescue efforts, though some were still ongoing in buildings in the Kahramanmaraş and Hatay provinces, the latter of which suffered a devastating 6.3 magnitude aftershock on February 20.

Workers are still working to clear the rubble in impacted areas.

As of February 26, there is still no final death toll—and no number of bodies that may still be trapped in the debris.

Turkish Government Responds Amidst Criticism

The emergency response to the earthquake has been criticized; many in Turkey believe more people could have survived had the response been better organized.

An anonymous nurse told Reuters that upon her arrival in Hatay, she had "encountered a field hospital with no water, power or portable toilets — and located too far from the city of Antakya for many to reach." And that experience is common across many rescue workers, who noted a lack of food, water, and supplies in areas affected by the quake.

Additionally, in contrast to the 1999 earthquakes in Turkey, the military was not sent to affected areas to assist. Survivors attempted to contact Turkey's Disaster and Emergency Management Authority (AFAD), but were unsuccessful.

The Turkish president, Recep Tayyip Erdogan, has stated that the search and rescue response was slowed due to damaged roads and bad weather.

But the government has been further questioned for its focus on the spread of misinformation as opposed to helping those impacted. Twitter was banned for 12 hours after those impacted tweeted asking for help—and when none arrived, tweeted criticizing the government for its lack of a response. Erdogan's reason was to prevent the spread of misinformation on the platform; however, the ban ultimately limited the contact survivors could make. Furthermore, 78 people were arrested for "provocative posts" about the earthquake on February 15.

More arrests have been made on the basis of corrupt building practices, which may have led to the collapse of buildings during the quake. While the 1999 Turkey earthquakes caused the Turkey government to improve building construction standards to better withstand earthquakes, both newer and older buildings did not adhere to the standard, according to TIME, creating much variability in infrastructure.
President Erdogan's response may also influence and be influenced by the upcoming May elections.

Insufficient Aid in Syria

The earthquake adds to the crises caused by Syria's 12-year civil war, which has impacted relief efforts. Syria's Northwest region—held by Islamist group Hayat Tahrir al-Sham (HTS)—is the hardest hit area, but coordinating relief has been difficult, as most governments have no relationships with the group.

Many who oppose Bashar al-Assad's rule live in the Northwest, having faced displacement and hardship from the war prior to the earthquake. Al-Assad is backed by Iran and Russia, the latter of which has approved only one border crossing at Bab al-Hawa and has vetoed the U.N. Security Council's attempts at opening others.

Bringing international aid to Syria has been difficult. In the immediate aftermath of the quake, the only U.N.-approved crossing was nonfunctional due to damage from the earthquake. In the first week following the quakes, Turkey and al-Assad agreed to open two additional border crossings for three months, allowing independent and non-government relief organizations to reach Northwest Syria. However, much of the international aid received flows through the al-Assad-controlled capital, Damascus, giving him control over the distribution of aid.

Delivering aid through Syria's internal front lines has also proved a tricky process. HTS has refused to accept aid to the Northwest from the Syrian government, according to a source within the group, and is only accepting aid from Turkey. Case in point: a convoy from Syria's Kurdish-led Northeast was rejected by the Northwest. The groups have fought numerous times throughout the civil war.

With insufficient international aid and the already fraught conditions of the Northwest, rescue workers struggled to provide aid. "We felt helpless, just helpless," a member of the White Helmets, Syria's volunteer-led civil defense group, said.

Other attempts at aid may have been hindered due to Western sanctions that have been in place since the start of the war, according to Syrian government officials and media. Additionally, U.S. users of fundraising sites like GoFundMe have noted that the site has suspended campaigns regarding aiding the crisis—likely in hopes of avoiding complications with sanctions and international relations.

"We have so far failed the people in northwest Syria," UN aid chief Martin Griffiths said. "They rightly feel abandoned. Looking for international help that hasn't arrived."

The Struggle is Not Over for Survivors — Especially Children

Survivors struggle to find shelter amidst sub-zero temperatures. Some of the displaced have found shelter in tents, with more than 335,000 being set up, alongside container homes and other facilities. Still, millions are in need of food, water, and shelter. On top of that, the earthquakes could have a lasting impact on survivors' mental health.

An unknown number of children across Turkey and Syria have been orphaned by the earthquake. A baby, named Aya (Arabic for "miracle") by the medical team that helped her, was rescued from under the rubble—still attached to her mother's lifeless body.

According to UNICEF, 4.6 million Turkish children and 2.5 million Syrian children were affected by the earthquakes. Families with children are often found sleeping in streets and public places, avoiding sleeping indoors out of fear of further collapse of buildings from earthquake aftershocks. UNICEF is working on providing mental health resources to affected children.

Soccer Fans Throw Toys Onto Field For Children Impacted by Earthquakes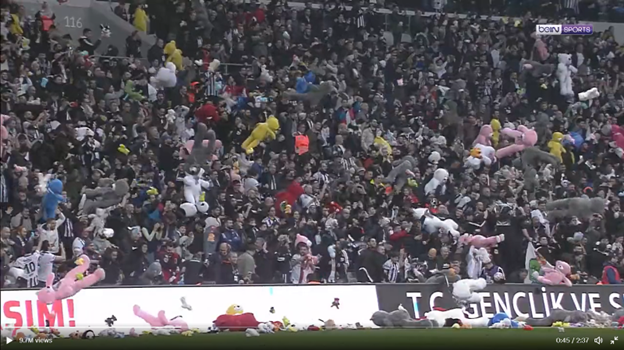 On February 26, fans of the Turkish soccer club Beşiktaş took to the pitch to provide their support, tossing thousands of soft toys onto the field to donate to children affected by the earthquakes. They began throwing at the 4:17 mark of the game as the first earthquake struck at 4:17 am.