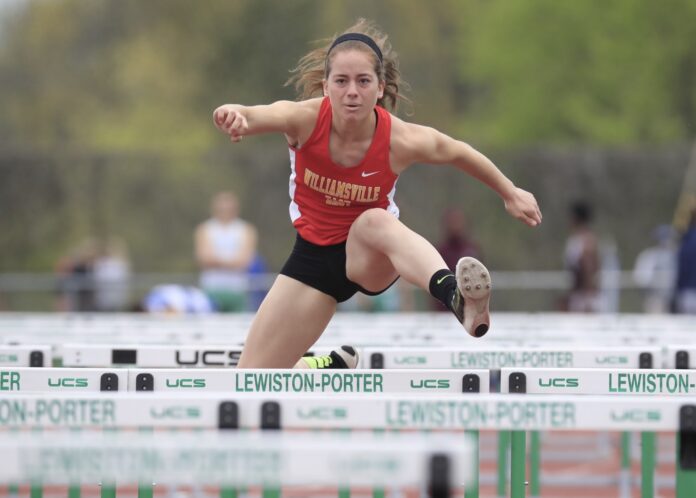 East's Girls Track and Field Involves a High Caliber
By Daniel Krieger and Angela Chen
Track and Field is an outdoor team sport that involves events such as running, sprint and distance races, as well as things like hurdles, relay races, and field events, like shotput and discus. It also has jumping events, such as triple jump, long jump, and high jump. Pole vaulting is another event in Track and Field, however, it is not a part of East's team.
Since the season has just begun, it is a little hard to determine how the team has been doing. The team has had just two meets, at which they showed mixed performance. But there seems to be only uphill trend from here.
Jillian Myers, a junior, said, "I think that we have a lot of potential on our team. Our team is very young, so there's a lot of room for growth and you can see that people are motivated and trying their best so they can succeed for themselves and the team."
Track and field coach Mrs. Spitznogle has the same stance, saying that her athletes are "hard workers." East's girls track and field team of 28 girls is young. Four of them are juniors, and the rest are freshman and sophomores. This combination of youth and dedication shows a lot of promise for the future.
The late spring has been a problem for the track and field team. Because of the weather, the team has had to run inside. This has caused many of the members to be out with injuries.
Sophomore Celina Chung said that the track is a lot "easier and nicer to run on" than the second and third floors. She said that running inside is difficult because "there are lockers to dodge and the floor is nothing like the track."
She went onto say, "It's a lot easier to run when it's sixty degrees as opposed to when it's thirty."
Other track and field members agree with Chung. Myers said that they can't change the weather, but that it does have a negative impact on their performance.
Coach Spitznogle said that the season has been a challenge so far. The team is battling a lot of injuries. And since East has a smaller team, each athlete is relied on heavily in the track program. So when people are out due to stress fractures, muscle injuries, or sickness, it takes a large toll on the team.
The team has competed at two dual meets, where schools of similar sizes go against one another. East's opponents in these types of meets are schools like Hamburg, West Seneca East and West, South, and Sweet Home.
East had a cold and wet meet on April 24th against West Seneca East. The team lost by only 6 points. Considering that there are an approximate total of 150 points available to score, this was a very narrow loss.
East is looking forward to a meet against Rochester. Coach Spitznogle describes this opportunity as a chance for the athletes to "see new competition, gain more experience, and feel more success."
Another type of meet is an invitational meet, which is larger than a dual meet. This competition involves roughly 15-29 schools. Each school will send two students for each event.
While the concept of motivation and growth is common among all sports, the mindset of track is something that makes it unique. It is individual-focused because it doesn't rely on the performance of a team as a whole, unlike other sports.
This self-improvement aspect of track is great for self-reflection, but it can make it harder to develop the close atmosphere of a tight knit team.
When asked about what can be improved about the team, both Chung and Myers said that there needs to be more interaction between teammates. Because track and field is separated into so many different groups, such as, but definitely not limited to, long jump, high jump, and sprinting, there is not as much bonding between members of different groups as they would like.
Chung said, "While you do interact with the team during practices and meets, everyone is separated into their own categories and there is not much interaction."
Even though track and field is a more individually focused sport as opposed to a team-focused one, the coach of girl's track and field, Coach Spitznogle, teaches the values of teamwork and cooperation. "At a meet, I don't let the kids leave until it's over," she said. Coach Spitznogle instructs her athletes to be present throughout the entire course of the meet instead of just leaving after they complete their specific event. Meets are usually long; they oftentimes can be 5 hours long and end late, around 8 p.m. Since an athlete is assigned to a specific event, such as hurdles or the long jump, the other events do not directly pertain to them. But Coach Spitznogle emphasizes the importance of being there for the whole event. "You're not there to just be an individual associated with a team. You're there to support one another, to be a part of the team."
Overall, Coach Spitznogle is happy to see that East's track and field program is growing in strength. "There has been a lot of evolution in the program," she said. "In previous years, the team's number dwindled because kids drifted off to other sports. Track and field was seen as having more of a club atmosphere than a varsity sport." But the coach has observed major improvements, saying that there's "much more dedication to the program now." And that's with good reason; track and field is a sport that demands a lot of commitment and can reap great rewards. She also pointed out that there's much more recognition to track and field, which is a sport that demands a lot of commitment. "It's being regarded as more serious." Students are getting more recognition and more respect as athletes. The Amherst Bee has shone light onto these athletes by publishing their achievements.
Coach Spitznogle finds her job rewarding and enjoys celebrating each athlete's accomplishments. She stated that concept of coaching track and field is to "individualize expectations," meaning that she values the individual achievements of each person. For example, "one person might be running much slower than another, but if they're showing improvement each week, it's great to recognize that." She enjoys having the opportunity to share in the joy of their little victories.
Chung said that the team has "pretty good coaches" and that they do a lot of the "planning, organizing, and coming up with workouts that help us improve and grow." For example, Coach Torillo helps out with the modified team. He guides students in the weight room, helping them reach technical goals such as lifting a certain amount of weight in two weeks, or increasing their running speed.
Many of the members' goal is to get into Erie County Intercollegiate Conference (ECIC's) and sectionals. Myers speculates that her fellow track and field member Rachel Romanowski even has a possibility of getting into the state competition.
Rachel Romanowski is a pentathlete. Pentathletes compete in the high jump, long jump, shotput, 100 meter hurdles, and the 800 meter run.
Myers explained that in order to get into any of these competitions, a track and field member needs to reach some goal for the event. They need to run a certain distance in a certain time, jump at least this high or that far. These standards are based off of previous athletes' performances.
In track and field, everyone has their own goals they want to achieve. For Myers, that's getting to sectionals. For Romanowski, it's getting to States. For other track and field members, it's getting to ECIC's, or even just improving themselves. Jumping that little bit higher or that little bit further; running just a little faster.
Like Chung said, "Track isn't about winning. It's about beating your personal bests and growing as an athlete."
Coach Spitznogle elaborated on the details of ECIC, sectionals, and state championships. Ultimately, the state championship is the hardest to participate in. In order to do that, an athlete must first place in one of the top places in sectionals. A little below sectionals is the ECIC, where the standards are easier. Coach Spitznogle calls ECIC a "last qualifier," meaning that athletes can still compete in this and meet qualifications if they can't meet sectional qualifications.
Sectional meets involve areas in Western New York such as Jamestown, Niagara Falls, and Lockport. Participating schools are categorized as big school and small schools, and are set to compete with schools of similar size. This makes is a little trickier for East, because it is categorized as a big school, it's set to compete against much bigger schools who have more members on their teams.
The intricacies of state championship rules can be complicated. Each school can send one athlete from each section in the sectionals. The exception to this rule is if an athlete meets a state automatic qualifying standard, which is based upon the average 6th place performance at the state meet the previous 6 years. Usually, only those who place first can go to the state championship. But according to this rule, if you meet an automatic qualifying standard, you can either place first or second at sectionals, and still be able to advance to the state championship.This allows more athletes to be able to go to the championship.
No matter the sport, it's the dedication, hard work, and improvement that leaves a lasting impact on the athletes and its spectators. East's track and field team has a lot to enjoy, as it shows much potential and youth that shows promise of a lot of improvement. Track and field's individualized nature doesn't deter it from being a strong and demanding team sport, and it's sure to leave a lasting impact and those who participate in it.
Indoor track team poses for a photo.