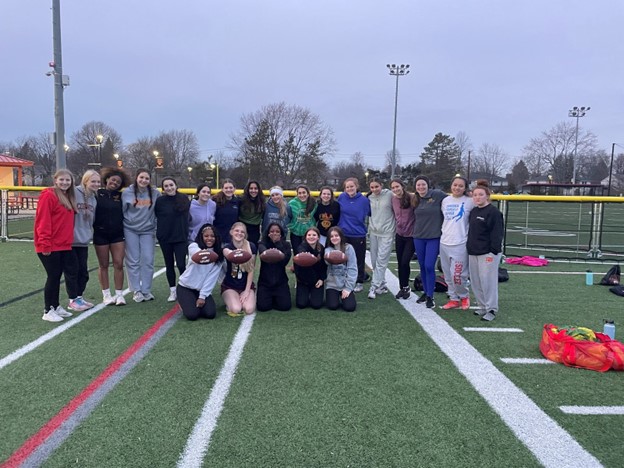 By Colleen Meosky
This spring, Williamsville East is welcoming its first season of Girls' Flag Football. This exciting development provides female football fans the opportunity to take the field and play the sport they love. Mr. Torillo, coach of Boys' Varsity Football, has assumed the leading role of Girls' Flag Football. This year will serve as a type of pilot program, waiting for the state championship to begin next year in the 2024 season but still holding sectional championships.

The recent push for this sport originates from the NFL's initiative to make the football community more conducive to female fans and athletes. New York State organized a smaller pilot program last year with three sections. Given its success, it is currently classified as an emerging sport in NYS with more sections and teams being added, including East.

For many, this program provides some recognition for a long-standing love of football. Coach Torillo explains the reactions he's seen saying, "So far I have seen a variety of different responses about the football start up. Some are extremely excited, some a little anxious to give it a try and others that are not sure what to expect." Senior Elizabeth Crawford can hardly contain her excitement for the season to begin. "I have been waiting for months for this to actually happen," she told me. "I feel a bit bad for Mr. Suchyna because for a solid six months I wouldn't stop bothering him with questions about our schools getting a flag football team. I think it's so exciting as an athlete and a football fan to combine the two together. Having flag football is an amazing opportunity for women like myself to engage at a new level than just watching the TV. I think you understand and appreciate a sport differently when you also play it; it offers a bridge between being a fan and now a player."

While other athletes are also grateful for their new team, some have felt an unusual pressure to succeed at something they know they love but haven't had much experience at. One player explained, "I've always been a Bills fan and really love watching games, but it's weird to think I'll be competing in football. Honestly, it's a bit nerve-wracking because I don't want to look like a fake fan, but I'm still getting used to being a legit player."

Given the unique situation of being a pilot program, it's difficult to predict how the season will unfold. Coach Torillo said, "My hopes for the season are that everyone that participates in the program learns the game of football and has fun playing. This is a great opportunity for girls to compete in another sport at the varsity level. I am sure there will be some growing pain that the coaches and players will have to work through throughout the season. In the end I think it will be a great opportunity for many girls."

Athletic Director and Assistant Principal, Mr. Suchyna, offered insight as to the long-term goal East is striving for, alongside the other flag football teams popping up across the country. "I'm hoping what this program does is grow the game/interest for girls in football. We're seeing lots of change in sports with women taking on roles as GMs, refs, and CEOs of teams. Women are taking bigger and bigger steps in taking on these roles in athletics." Mr. Suchyna is hopeful that this new program may lead girls to explore careers in athletics they had never considered before.

As of now, East has eight scheduled league games with the possibilities of adding scrimmages. In the coming years, Mr. Suchyna believes we may see an extended season of 14-16 games. The enthusiastic interest demonstrated already indicates promise for ideally expanding the program to the modified and JV levels in due time. That depends on the greater flag football scene across Western New York to ensure there are enough teams to compete against. While nothing is set in stone, there has been encouraging progress with the launch of this initiative.

To support this inaugural team, be sure to check out the website Arbiter Live and search Williamsville East to find the full schedule. Moreover, Mr. Suchyna diligently updates the weekly newsletters and social media pages to include information about upcoming games. The Flames will have their first game on Thursday, April 13 at 7:15 PM as they visit Williamsville North to take on the Spartans.