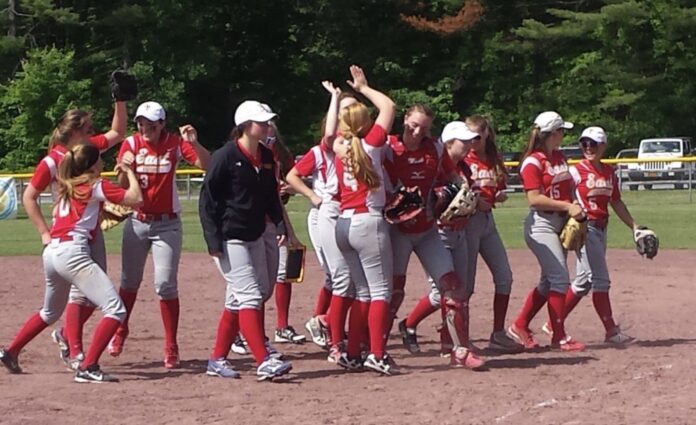 The East Side News sat down with the Williamsville East Varsity Softball and Baseball teams to discuss how they continue to maintain the hot streaks they are on. As well as, off the diamond, we saw just what kind of team these players are.
Williamsville East Girls Varsity Softball Team
The Varsity Softball Team can only be described as calm and collected, but fun-loving and energetic. "We have great chemistry," Captain Christy Mack said, and it was obvious that they have synchronicity with each other. There is a sense of urgency when they are on the field and a stream of never-ending cheers from the dugout. Sharing a common need to win, it's is easy to see, these girls work explicitly well with one another.

The team went 20-3 last year, and are 10-1 but the girls aren't feeling the pressure to maintain their record. According to third baseman and Captain Veronica Zimmerman, "We definitely want to win, but we are not expecting anything." The ultimate goal is to make it all the way to the State Championship, and they say they have the potential as a strong team, but they don't want to be cocky. They named West Seneca East as the biggest opposition towards their goals. "We are taking it game by game," said Mack.

Summer Clark, a freshman pitcher, who was named the star on the rise by her fellow teammates, keeps her poise on the mound. There is a sense of purpose with each pitch, Clark is in complete control of the situation. "She has so many strikeouts, she definitely carries the team when she pitches," comments second baseman and Captain Rachel Steffan. Clark is currently verbally committed to playing at the University of Missouri, SEC, once she graduates.

The team is solid, both offensively and defensively, with Mack's quick release at short, and Steffan's catlike reflexes. Abbie Stellrecht and Chelsea McNamara along with Clark and Steffan all have two home runs eleven games into the season. The upperclassman rise to positions of natural leadership, taking the younger girls under their wing. In the dugout, team morale could not be more positive, they take the game seriously but never forget to have fun.

The captains were all honored to be chosen to lead their team, "It's a good kind of pressure, it keeps you in line," remarked Mack.

The team is led by Coach Durr, who has been with the team for seven years, the girls describe him as dedicated, with a want for the team to do well, "He takes the game seriously," catcher Grace Pogorzola said.

East can watch the softball team take on its next victims on the 15th of May against Niagara-Wheatfield Senior High School at 4:30 pm.

The girls want to encourage all to come out and support their team, "Come be the Sea of Red," said Zimmerman, and be sure to follow the girls' softball team on twitter @posttalklive

Williamsville East Boys Varsity Baseball Team

The boys' baseball team is currently on a hot streak 11-0 and went 15-4 last year. The team is planning to go to states this year, and they are certainly on track do so, "We have one goal. We get in, get out, and get it done," commented third baseman Andrew Collura.

The team can only be described as a loud and rambunctious but extremely close-knit group of guys. The fun is non-stop, walking past the dugout before the game was like walking past a circus you wanted to be a part of, their laughter was genuine and only a testament of just how close this team is.

They turn the serious on during game time, and it certainly pays off having a solid lineup, strong pitching and defense acts as a lethal combination.

The team named Charles Mack, shortstop and captain as the leader both off and on the field. Mack made the East Side News earlier in the year, when he committed to Clemson University to play baseball in the SEC. When asked about Clemson, Mack named it his first choice crediting the campus and state of the art facilities as the reason. The coaching staff and atmosphere plus their willingness to succeed ultimately drove his decision. He said they were considering him at a number of positions, but he, "just wants to play."

His younger brother, Joseph Mack, also is a star of the team, making varsity as an eighth-grader, and then making starting third baseman again this season. With having an older brother on the team, Mack commented "It's fun to have the Charlie on the team, and it motivates me to do better. He's there for me when things go wrong." When asked if there any pressure being the youngest starting member of the team, Joseph countered with quite the opposite, "There's no pressure because I've known the guys for a long time and they drive me to do better as a player and a person."

The Mack brothers are a force to be reckoned with, in games where the opposing team doesn't give Charles anything to hit, Joseph, who almost always follows his brother in the lineup, provides protection as another great hitter.

Coach Jerry Gasz has been with the team with for twenty plus years, and his expertise has certainly paid off. His quick tongue and sharp wit combined with a love of the game has earned him quite a resume of wins throughout his career. His team is on track for another massive season, shutting down every team they have played so far.

The baseball team utilizes their strengths very well, with Moran's solid pitching on the mound, and Charles Mack's tight catch and release at short combined with an intense batting lineup sets the baseball team up for surefire success.

The captains, chosen by Coach Gasz, were stoked to be selected, "Best text of my life," according to center fielder Brian Comerford. "It's absolutely amazing," said left fielder Nick Kieffer, and "It's an honor," remarked Charles Mack. The captains are responsible for coordinating team spirit and keeping the lines of communication open between Gasz and the other players.

Fans can come watch the team play at several upcoming games including May 14th against Williamsville North at 4:30 pm, May 15th against Kenmore West at 6:30 pm and against Iroquois on May 16th at 6:30 pm.

Be sure to follow the team on twitter @gaszball

These teams are certainly worthy of our Flames spirit, so be sure to support your fellow classmates in all of their athletic efforts whether it be our game winning softball and baseball teams or any of our other fantastic sports teams.