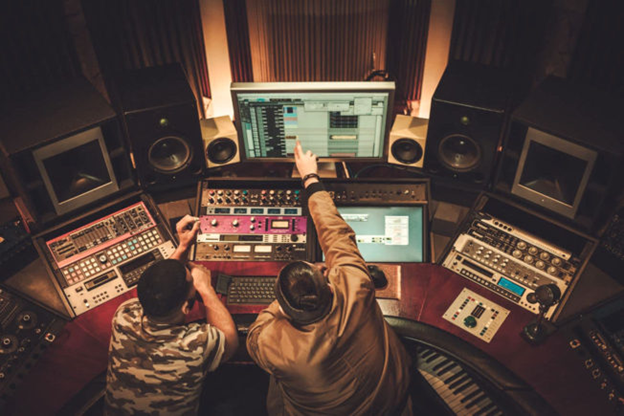 By Armita Rohani
Worth over $25.9 billion dollars and with 523 million people streaming songs every day, the music industry dominates pop culture and entertainment globally. Around 40,000 new tracks are uploaded on a daily basis, and more than 100 million songs exist in the world today. New artists and musicians pop up globally, with some rising to fame more rapidly than others.

1. The Weeknd-95.57 Million Monthly Streamers
Canadian singer The Weeknd—also known as Abel Tesfaye—is one of the most successful and influential artists of the 21st century. With a net worth of $300 million, over 12 years of experience in the music industry, and two Grammy Awards under his name, he rose to fame quickly, especially with albums "House of Balloons" and "Starboy."

2. Ed Sheeran-81.48 Million Monthly Streamers
British singer Ed Sheeran began his music career in 2005 and now has a net worth of $200 million. Sheeran has received 15 Grammy nominations and four Grammy Awards, and he has sold more than 150 million records worldwide, including his best album, "divide," which has more than 13 million sales.

3. Taylor Swift-81.03 Million Monthly Streamers
Taylor Swift, one of the most popular pop singers in the world, rose to fame in 2006 with hit songs "Tim McGraw" and "Our Song." She has sold more than 200 million records during her career, and her songs have been streamed billions of times. Having a net worth of $360 million, as well as 12 Grammy Awards under her name, Swift has become an icon of the pop industry with millions of fans supporting her through her career.

4. Justin Bieber-79.3 Million Monthly Streamers
Justin Bieber, yet another Canadian singer, debuted his first album "My World 2.0" back in 2010, setting his path to become a mainstream artist. Bieber has sold 22.5 million albums and 113 million digital singles and was named the "Greatest Pop Star of 2016" by Billboard. With a net worth of $285 million, he has won two Grammys and a Global Award for best pop in 2022.

5. Sam Smith-75.1 Million Monthly Streamers
Recently performing "Unholy" at the Grammy's and reaching more than 693 million streams on that song alone, Smith has definitely peaked in popularity during his career this year. Having hit singles that include "Stay With Me" and "I'm Not the Only One," Smith has won four Grammy Awards and has $45 million in net worth.

6. Ariana Grande-73.4 Million Monthly Streamers
Actress, singer, and songwriter, Ariana Grande, started her career in 2008 in Broadway musical 13 and shortly after played the role of Cat in the spinoff Victorious and Sam & Cat. Her most popular album "Thank U, Next," has sold over 3.5 million copies internationally and has surpassed 5 billion streams on Spotify. Grande has a net worth of $220 million, and she has two Grammy Awards, alongside 15 nominations.

7. David Guetta-72.8 Million Monthly Streamers
A renowned French DJ, music producer, and songwriter, David Guetta began his career in the 1980s in Paris and became a prominent figure in the dance music industry. He has incorporated pop and hip-hop elements into his productions. One of his most popular hit productions, "Hey Mama," which featured Nicki Minaj, Bebe Rexha, and Afrojack, has over 259 million streams. Guetta has a net worth of more than $100 million, and he has won a Grammy Award and three DJ Awards.

8. Drake-69.2 Million Monthly Streamers
Canadian rapper, singer, and actor Drake rose to fame with his song "One Dance," a rapid global hit released in 2016. He has sold 170 million records worldwide and is among the best-selling artists in history. Drake has five Grammy Awards, six American Music Awards and Juno Awards, with a net worth of $260 million.

9. Rihanna-69.2 Million Monthly Streamers
Barbadian singer Rihanna, having just recently performed the halftime show for the Super Bowl, has had several hits, including "This is What You Came For," "Rude Boy," "Where Have You Been," "Diamonds," and "Stay." She has sold over 250 million records worldwide, is the second-best-selling female artist of all time, has a net worth of $1.4 billion, and has won nine Grammy Awards.

10. Harry Styles- 65.84 Million Monthly Streamers
Actor, singer, and former One Direction member Harry Styles released his debut solo single "Sign Of the Times" back in 2017 and reached number one on the UK Singles Chart. His album, "Harry Styles," reached number one in several different countries. His biggest hit, however, was in April of 2022 with the song "As It Was," peaking at 1.8 billion streams and selling 182,000 vinyl copies alone. Styles has won three Grammy Awards and two Global Awards, and he has a $120 million net worth as well.