Project Green is Dedicated to Creating a More Environmentally-Friendly Future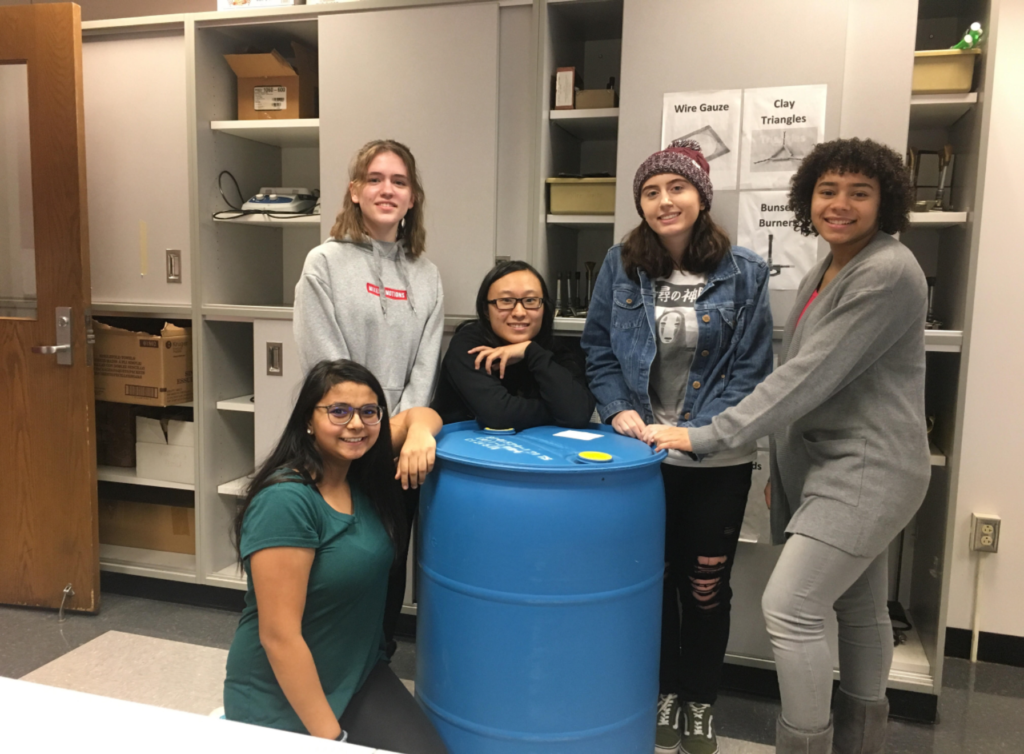 Project Green is a club where students get the opportunity to focus on positively impacting the environment. They are currently working on a few different projects.
One thing they are trying to do is to have the school add recycling bins out by the athletic fields. This is very important as there currently are a grand total of zero in the sports complex, making it incredibly difficult for students and guests to recycle any water bottles or other items.
Members will also be working on an art project using recycled wood from the woodshop at East. Instead of letting the wood go to waste, the students will be making art from it with nails and string.
The nails are hammered into the blocks of extra wood from the woodshop to form a pattern, and string is tied around the protruding nails to create a cool art project. Ana Mihai, a junior, was one of many students excited for this environmentally friendly activity. "We're inspiring the community with our recycled art," she said during a meeting. "It's important to try and not let anything go to waste."
Another important project the club is participating in is the Erie County Rain Barrel Painting Contest. Students from both Erie and Niagara County can participate in this competition to create the best-looking rain barrel.
Project Green is doing this because rain barrels are used to help prevent stormwater pollution and, according to a PowerPoint presentation from the Erie County Department of Environment and Planning (DEP), a rain barrel can save a household up to 1,000 gallons of water during the summer months.
Stormwater pollution is a very serious issue. What happens is when runoff from storms flows into storm sewers, it picks up lots of junk and oftentimes is polluted by pesticides, motor oil, bacteria, fertilizer, soil, and litter. This unsafe water is then pumped into lakes and rivers, harming the local fauna.
Rain barrels are just one part of the solution by collecting and storing some of the water that would otherwise end up as runoff. The water collected is useful for watering gardens and lawns, and all rain barrels will either be used to water a school garden, raffled as a fundraiser, or donated to a local park or other community group.
Designs for the rain barrels vary, focusing on being green and recycling water. The contest is divided into three: one for elementary students, one for middle school students, and one for high school students. There is a lot of competition, with 62 rain barrels painted in 2017 and a massive 2,000 students participating in the contest.
Jacquie Keesee, a junior, is the student who is in charge of designing the art for the rain barrel. She said her reasons for doing this is that "it's important to try and introduce new ways to save water for our community."
Project Green club advisor Mrs. Korn similarly said its importance is that it "saves water. Instead of wasting water from the faucet, someone is going to use water from the rain barrel, and it raises awareness about the importance of saving water." She added that the water has another extra benefit. "It's safer because there's no added chemicals since it's rain."
Keesee will have a lot of work ahead of her. She faces tough competition with more students expected to participate this year and the high quality work that other groups have put into this in the past.
The club has until May 25th to work on the painting contest, and the winner will be announced during Earth week. This gives them ample time to finish designing their rain barrel.
Even though it will be difficult, the members of Project Green are still confident. When shown pictures of some of the beautiful rain barrels students have created in the past years, Keesee confidently said, "I'm up for the challenge."
The rain barrel painting contest is just one of many ways that the DEP is trying to prevent stormwater pollution. Other public outreach programs include community clean up events and household waste collects. They also use to displays, brochures, and pamphlets to try and educate the public of Erie and Niagara Counties about the importance of working towards preventing stormwater pollution.
They advise people to not use fertilizers in their lawns, wash their cars at home, and litter, as all of these things can have nasty effects on the environment and pollute nearby waterways.
Project Green meets on the first and third Wednesday of every month in room 324. Students can join at any time.