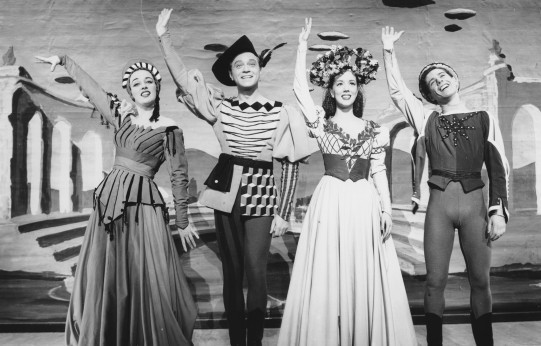 East's Kiss Me, Kate: About the Musical
By Philip Baillargeon
Shakespeare, divorce, and gangsters… It's the perfect formula for an exciting romp through Williamsville East's next musical, Kiss Me, Kate. This show was written by husband and wife duo Samuel and Bella Spewack in the late 1940's, soon after the success of Oklahoma! by Rodgers and Hammerstein.
One of the first integrated musicals, Kiss Me, Kate was revolutionary in the way it linked music to the plot of the now iconic story.
It follows Fred Graham and his ex-wife Lilli Vanessi as they co-star in a musical version of Shakespeare's The Taming of the Shrew. Their conflict forms much of the plot, inspired by the real world conflicts of Alfred Lunt and Lynn Fontanne during a similar production of the Shakespeare classic.
Meanwhile, Lois Lane and her gambling boyfriend, Bill, are also in the show, and they tackle their own problems throughout the production as Bill gets into deeper trouble with some gangsters.
As real world problems seep onto the stage and stage drama continues off it, this emotional ride is sure to be a fun time both for the audience and the actors.
Kiss Me, Kate is the winner of the first annual Tony award for Best Musical, along with the awards for Best Author (Musical), Best Original Score, Best Costume Design, and Best Producer of a Musical. Since its original 1949 run, revivals on Broadway and in London have also been nominated and won several awards, showing the timelessness of this classic Shakespearean tale transformed to a new medium.
Comedy, drama, and heart all combine in Kiss Me, Kate, coming to a Williamsville East High School near you this January 31st, February 1st, and February 2nd, 2019.