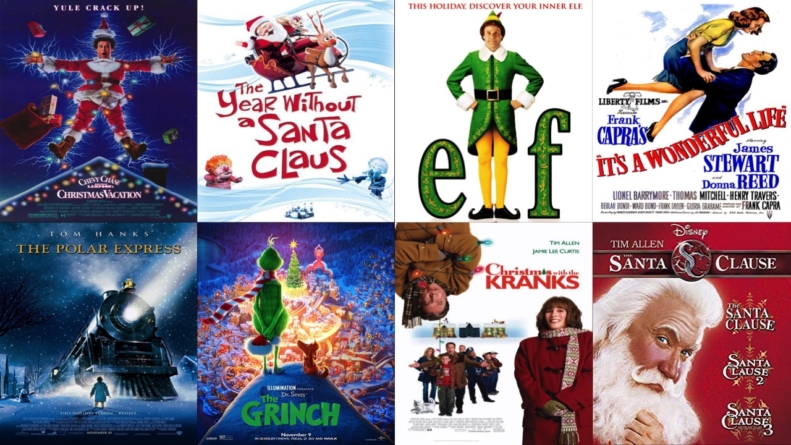 East Side News' Christmas Movie Picks
By Edward Baillargeon
Christmas is well known as the time of year that so many people look forward to the most. From spending time with their families, going out into the snow, the anticipation of seeing the presents under the Christmas tree on Christmas morning, and of course the traditional holiday foods like candy canes and eggnog. Another thing that many people love to do is watch movies themed around the holiday where some have even become classics that are required to watch at least once a year. So like with Halloween, I got together and interviewed several contributing ESN writers about what are their favorite Christmas movies to watch during the holiday season, no matter how low or high their Rotten Tomatoes scores are. So without further ado, let's get started on the East Side News' Christmas Movie Picks.
National Lampoon's Christmas Vacation

(1989)
An almost 30 year old classic comedy written by John Hughes, the mind behind The Breakfast Club, Planes, Trains, and Automobiles, Home Alone, and Ferris Bueller's Day Off, is a quotable and frequently hilarious holiday tradition. It's Christmas time and the Griswolds are preparing for a family seasonal celebration, but things never run smoothly for Clark, his wife Ellen and their two kids. Clark's continual bad luck is worsened by his obnoxious family guests, but he manages to keep going knowing that his Christmas bonus is due soon. National Lampoon's Christmas Vacation is another rightfully deserved holiday classic that can give viewers some inspiration of how to mess up and not to do a family Christmas get-together with a stellar lead performance from Chevy Chase as Clark Griswold. ESN Advisor Mrs. Angela Lanzone reported, "National Lampoon's Christmas Vacation is so funny with so many quotable moments. Randy Quaid's character, Cousin Eddie, is just super hilarious and my husband and I watch it with our kids every year. My favorite scene by far has to be a scene involving a squirrel. It's priceless and all of the worst-case holiday scenarios." If you are in the mood for a classic Christmas comedy with many priceless moments where your family will say, "Our Christmas get-together could have been much worse.", then National Lampoon's Christmas Vacation is absolutely worth a watch.
The Year Without A Santa Claus

(1974)
Rankin Bass Productions is well-known for creating some of the most beloved Christmas specials using hand-drawn and stop-motion animation with their adaptations of Rudolph the Red-Nosed Reindeer, Santa Claus is Coming to Town, The Little Drummer Boy, and Frosty the Snowman. But one of their most notable is this 1974 classic musical. Right around Christmas time, Santa Claus suddenly comes down with a cold and decides to cancel his annual flight delivering toys. And he seems to think that the world doesn't care about him or Christmas anymore. But that doesn't seem to sit well with Mrs. Claus. Eager to prove him wrong, she and two quirky elves set out to find some proof of the Christmas spirit. ESN Managing Editor Daniel Krieger stated, "It's easily the best Christmas movie out there. The songs are amazing with Heat Miser and Snow Miser. There are some great lines from the elves when he's talking about his socks." If you are a fan of classic holiday specials in the veins of Rudolph and Frosty, then The Year Without A Santa Claus is worth a watch.
Elf

(2003)
This quotable comedy from actor/director Jon Favreau, the acclaimed director of Iron Man, The Jungle Book, and Chef, is another laugh riot for the holidays. Buddy was a baby in an orphanage who stowed away in Santa's sack and ended up at the North Pole. Later, as an adult human who happened to be raised by elves, Santa allows him to go to New York City to find his birth father, Walter Hobbs. Hobbs, on Santa's naughty list for being a heartless jerk, had no idea that Buddy was even born. Buddy, meanwhile, experiences the delights of New York City (and human culture) as only an elf can. When Walter's relationship with Buddy interferes with his job, he is forced to reevaluate his priorities. Elf has all of the attributes to a rewatchable holiday movie thanks to David Berenbaum's hilarious script and an infectiously joyful lead performance by Will Ferrell. International Editor, and my brother who is just as old as this movie is, Philip Baillargeon stated, "Elf gets funnier the more times you watch it which is kind of impossible because the first time you are rolling in the aisles. It's the perfect "dumb" comedy because it keeps Buddy, the main character, so blissfully oblivious with an amazing performance from Will Ferrell, but it is so heartwarming and so funny. The more times you watch it and wait for the same scenes that made you laugh the first time and don't get any less funnier than they do the first time." If you are in the mood for a hysterical "dumb" comedy with heart, then Elf is absolutely worth watching while eating spaghetti. If you've seen it, you know what I am talking about.
It's A Wonderful Life

(1946)
One of the oldest original classics of the holiday genre is an emotionally heartfelt film worth seeing for any film connoisseur. Based on the short story The Greatest Gift by Philip Van Doren Stern, It's A Wonderful Life tells the story of a young George Bailey, overwhelmed by family obligations and a sense of responsibility toward his community, feels tied down to a company he never had an interest in working for, and a life he never wanted to live. As he ages, he sees his youth, dreams, and opportunities pass him by. Unknown to George, all of his friends and family have been praying for him to get through those hard times. Told through the point of view of a group of angels, he is met by his guardian angel Clarence, as he contemplates ending his life. Many would consider It's A Wonderful Life as the original Christmas movie since it is the oldest film on this list. ESN Supervisor Mr. Gary Huber reported, "When my Jewish wife told me that for Christmas that we are going to watch It's a Wonderful Life, I was like, "I have never seen it yet." She was like, "Wait…You're a Christian and never seen the greatest Christmas movie of all time." Some of my favorites at that time were A Christmas Story and Elf, but my wife told me that I didn't know the true meaning of Christmas and I am a Christian. So we watched it and now ever since, we watch it every single year. It's A Wonderful Life does so many things so well. The performances and camera work are excellent. It is dark but all in the end is about the right kind of things about life like family and time together. It is not a movie that is about an object in any way, but the objective of life." If you want to see one of the original Christmas movies from way back in the day with great performances, It's A Wonderful Life is a life worth looking into.
The Polar Express

(2004)
My personal favorite Christmas movie of all time that I watch every Christmas Eve is this animated fantasy comedy musical from Robert Zemeckis, the Academy Award winning director of Forrest Gump and Back to the Future, in his animation directorial debut using live-action motion capture computer animation. Based on the children's book of the same name by Chris Van Allsburg, the film takes place on Christmas Eve, a young boy from Grand Rapids, Michigan embarks on a magical adventure to the North Pole on the Polar Express, while learning about friendship, bravery, and the spirit of Christmas. The Polar Express takes Allsburg's book to the big screen with a faithful and engaging story, fun characters, and gorgeous animation. Another aspect I adore is the score composed by one of my favorite composers Alan Silvestri, who also did the scores for Back to the Future and The Avengers. It is also impressive that famed actor Tom Hanks plays a total of six characters in the movie in both voiceover and motion-capture roles. If you are in the mood for a Christmas movie with a lot of heart, good action, and fun songs, then The Polar Express is worth climbing aboard.
Dr. Seuss' The Grinch

(2018)
Dr. Seuss' classic holiday tale How the Grinch Stole Christmas! has been adapted several times before to the screen, and in animation. There was an amazing animated television special that aired in 1966 directed by Looney Tunes veteran Chuck Jones and voiced by Boris Karloff, and the less said about the 2000 live action film with Jim Carrey, the better. And now this third adaptation comes in from the the money making masterminds at Illumination Entertainment, the creators of Despicable Me, The Secret Life of Pets, and Sing, and with Benedict Cumberbatch, known for his roles as Sherlock Holmes in Sherlock and as Doctor Strange in the Marvel Cinematic Universe, voicing the green grump. Based on the book of the same name by Dr. Seuss, The Grinch tells the story of a grump who wants to steal Christmas from the Whos in Whoville who really love Christmas while learning the true meaning of the holiday. The Grinch is a fun and delightful holiday film that is faithful to the original story and is nicely rendered in Illumination's signature colorful animation. Writer Annabel Paradise reported, "I thought they did a good job taking the classic Grinch story and making this into a nice family movie. And it was really funny and I liked the way they portrayed Max the dog in this where he is very loyal to the Grinch rather than the Grinch being "animal-abusey". If you are looking for a nice holiday family film that is playing now, then Dr. Seuss' The Grinch is worth stealing a ticket too.
Christmas with the Kranks

(2004)
Okay. This movie that got a 5% is definitely the evidence that here, the Rotten Tomatoes scores of these movies do not matter at all on this list as everyone has their guilty pleasures. Based on the novel Skipping Christmas by John Grisham, Christmas with the Kranks stars Tim Allen and Jamie Lee Curtis as Luther and Nora Krank, the award-winning couple known for their cheerful Christmas spirit, who have decided for the first time, to skip this year's annual festivities when their daughter, Blair, departs for Peru, after joining the Peace Corps. With the intention to save the staggering amount of money spent on previous year's holiday, the Kranks are determined to invest the money on a Caribbean cruise, much to their friends and neighbors chagrin. However, it's easier said than done, and before long, menacing phone calls and angry protests on the snow-covered pavements will betray that there is definitely no easy way out for the couple who has turned its back on Christmas. Sci-Tech writer and co-host of the ESN Original Series Twice as Interesting, Leonardo Yana-Romero stated, "My favorite Christmas movie has got to be Christmas with the Kranks. I watch it every year around this time with my parents. It's like you never get sick of it. I keep on watching it every year and it just gets better. The laughs are the same each year, but it is a hilarious movie and I recommend people to check it out if you haven't seen it." If you are in the mood for some good laughs from Allen and Curtis, as well as other hilarious performances from Ghostbusters' Dan Aykroyd and Malcolm in the Middle's Erik Per Sullivan, Christmas with the Kranks is another comedy worth not skipping.
The Santa Clause

trilogy (1994-2006)
Disney's signature Christmas trilogy is another fun series to watch during the holiday season, and also another Christmas movie(s) on this list that stars Tim Allen. In the first film, Scott Calvin becomes Santa Claus after he inadvertently kills the previous Santa on Christmas Eve, he finds himself magically recruited to take his place. In the second film, Scott has to find a wife to become Mrs. Claus before he is no longer Santa. And in the third film, The Escape Clause, Scott has to face double duty in both keeping his new family relatives happy when they are invited to the North Pole disguised as Canada and having stop Jack Frost from becoming Santa Claus and taking Christmas away from him. The Santa Clause trilogy is a series of Christmas flicks that can be both really funny and also heartwarming at times lead by a great performance by Tim Allen in all three films. I would say the first one is the best quality wise, but the third is the best in its weirdness and entertainment value with a hysterical performance by the really funny and talented Martin Short as Jack Frost, to the point where I find myself using some of his quotes every now and then with my favorite being, "I INVENTED CHILL!" One of my friends Jack Boswell has stated, "I know it has gotten a horrible score on Rotten Tomatoes, but I love it." Which is perfectly okay with me. If you are in the mood for a great Tim Allen comedy, then The Santa Clause trilogy is worth checking out.