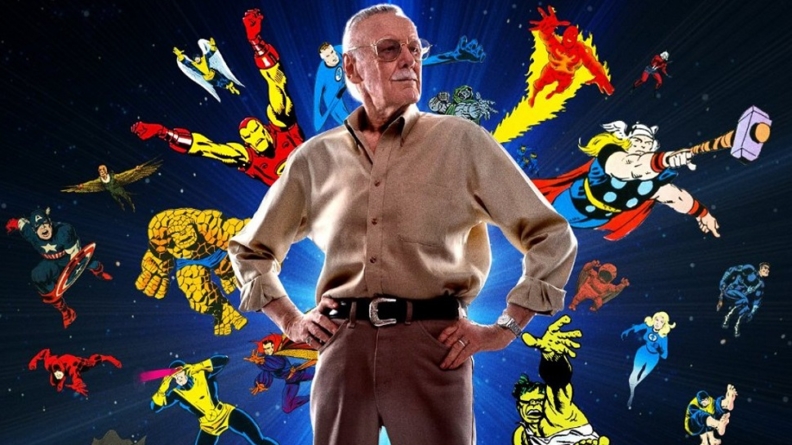 Stan Lee: The Marvelous Marvel Man Dedication (1922-2018)
By Edward Baillargeon
On November 12, 2018, comics legend Stan Lee passed away at the age of 95 during his battle with pneumonia. If you don't know who Stan Lee is, allow me to explain.
Stan Lee, born Stanley Martin Lieber, to many comic book fans, is known to have created some of the most iconic superheroes of all time at Marvel Comics. Lee, along with his frequent collaborators Jack Kirby and Steve Ditko, have created many iconic characters including Spider-Man, The Hulk, Doctor Strange, the Fantastic Four, Daredevil, the X-Men, Black Panther, Thor, Ant-Man, and Iron Man. Stan Lee was one of the major forces of reviving comics in the 1950's next to the many iconic characters of DC Comics like Batman, Superman, and Wonder Woman. Lee has also played a role in many Marvel projects serving as executive producer on all of their movies, television shows, and various other forms of media.
But to some of the more casual moviegoers who don't read comics, they recognize Stan Lee as the elderly guy who makes a cameo in almost every movie that is based on a Marvel comic. He usually makes a cameo in most of Marvel's movies and sometimes television shows, sometimes referencing his involvement in the creation of a character in the movie. Some of my personal favorite of his cameos would include the oblivious librarian in The Amazing Spider-Man, a FedEx postman in Captain America: Civil War, a bartender in Ant-Man, the bus driver in Avengers: Infinity War, the guy who cuts Thor's hair in Thor: Ragnarok, himself in Fantastic Four: Rise of the Silver Surfer, and as a club MC in Deadpool. Lee has made many cameos in Marvel's movies, but has made only 1 DC cameo as a caricature of himself in this year's Teen Titans Go! To the Movies. In terms of which movie will have his final cameo and a dedication to him, he has made a cameo in Venom recently and is likely to appear in Captain Marvel, but his final appearance could likely be in Avengers 4.
Many well-known Marvel actors have expressed their feelings towards the loss of Stan Lee. Kevin Feige, the president of Marvel Studios, tweeted, "No one has had more of an impact on my career and everything we do at Marvel Studios than Stan Lee. Stan leaves an extraordinary legacy that will outlive us all. Our thoughts are with his daughter, his family, and his millions of fans." On his Instagram, Robert Downey Jr. (Iron Man) posted, "I owe it all to you, rest in peace Stan." Chris Evans (Captain America) tweeted, "There will never be another Stan Lee. For decades he provided both young and old with adventure, escape, comfort, confidence, inspiration, strength, friendship and joy. He exuded love and kindness and will leave an indelible mark on so, so, so many lives. Excelsior!!" Hugh Jackman (Wolverine) tweeted, "We've lost a creative genius. Stan Lee was a pioneering force in the superhero universe. I'm proud to have been a small part of his legacy and …. to have helped bring one of his characters to life." Sir Patrick Stewart (Professor X) stated, "He loved to visit the set and he became famous, like Hitchcock, for appearing in his movies. He created flawed heroes and it was one of the things that made the X-Men so interesting for all of us who worked on them. We were always very much aware that no matter what our superpowers were, we were human beings, we could make mistakes and things could go wrong. It was that quality which gave humanity to all of Stan's work." Tom Holland (Spider-Man) posted, "How many millions of us are indebted to this guy, none more so than me. The father of Marvel has made so many people incredibly happy. What a life and what a thing to have achieved. Rest in peace Stan." Mark Ruffalo (Hulk) tweeted, "Sad, sad day. Rest In Power, Uncle Stan. You have made the world a better place through the power of modern mythology and your love of this messy business of being human…" Samuel L. Jackson (Nick Fury) tweeted, "Thank you Stan Lee for the escape from this world & great joy inhabiting the ones you created!! You made so many believe in the good, the heroic, the villainous, the exciting, most of all, you were giving & gracious to us all. RIP" Chris Pratt (Star-Lord) tweeted, "Thanks for everything Stan Lee! What a life, so well lived. I consider myself extraordinarily lucky to have gotten to meet you and to have played in the world you created." Zoe Saldana (Gamora) tweeted, "Today we lost one of the greats. Stan Lee, you were a inspiration and superhero to us all. Thank you for contributing so much- and giving us all something to aspire to!" And finally, Ryan Reynolds (Deadpool) simply posted, "Damn. RIP Stan. Thanks for everything." Other actors that have paid their tributes to Lee include Angela Bassett, Jamie Chung, Josh Groban, Jamie Lee Curtis, Chris Hemsworth (Thor), Benedict Cumberbatch (Doctor Strange), and Josh Brolin (Thanos). Even comics rival DC tweeted, "He changed the way we look at heroes, and modern comics will always bear his indelible mark. His infectious enthusiasm reminded us why we all fell in love with these stories in the first place. Excelsior, Stan." May Stan Lee rest in peace and have himself a permanent cameo in heaven.