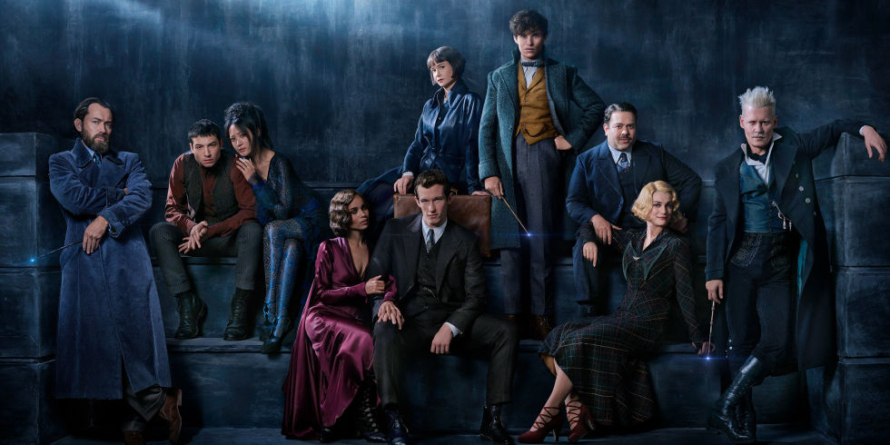 Edward's Reviews: Fantastic Beasts: The Crimes of Grindelwald is Criminally Disappointing
by Edward Baillargeon
In 1997, J.K. Rowling published her first book that would become a pop culture phenomenon with the publication of Harry Potter and the Sorcerer's Stone (or Philosopher's Stone if you live in the UK). This would launch a fantasy series with six more books and Warner Bros. Pictures turned the book series into a series of eight movies starting in 2001 and concluding with Harry Potter and the Deathly Hallows Part 2 in 2011. The series was a massive critical and financial success spawning a large dedicated fanbase. But once Harry's adventure was over, they just didn't want to end off one of their biggest cash cows, so Rowling decided to jumpstart a prequel series in her Wizarding World in 2016 with the release of Fantastic Beasts and Where to Find Them. The movie was another big success with a fun new adventure with some great characters and decent action. Now they have released the next chapter in this prequel saga with Fantastic Beasts: The Crimes of Grindelwald.
At the end of the first film, the powerful dark wizard Gellert Grindelwald was captured by the Magical Congress of the United States of America, with the help of Newt Scamander. But, making good on his threat, Grindelwald escaped custody and has set about gathering followers, most unsuspecting of his true agenda: to raise wizards and witches up to rule over all non-magical beings. In an effort to thwart Grindelwald's plans, Albus Dumbledore enlists his former student Newt Scamander, who agrees to help, unaware of the dangers that lie ahead. Lines are drawn as love and loyalty are tested, even among the truest friends and family, in an increasingly divided wizarding world.
Fantastic Beasts: The Crimes of Grindelwald is the worst film in the Wizarding World franchise and one of the most disappointing films of the year. Although, this movie is most certainly not terrible by any means. All of the technical aspects of the movie are great. The production design returns to the magic world in Europe like the other Harry Potter films is really beautiful to look at as well as getting to return to Hogwarts for a few scenes. The costume design also really captures the feel of 1920's Paris. The score is pretty good, David Yates does the best he can directing, and the visual effects are amazing as usual. Also, all of the actors do the best they can in their roles. Eddie Redmayne is always a fun presence as Newt Scamander when he is interacting with his magical beasts. Dan Fogler always is another great presence as nomaj Jacob Kowalski whenever he delivers some really funny jokes in the movie. And Jude Law is also really good as a younger Albus Dumbledore, but if you are expecting him to play a major role in this judging from the trailers, you will likely be disappointed. The biggest crime this film commits has to be in the repetitive script and story. J.K. Rowling just overblows this sequel with a needlessly complicated story with WAY too many subplots that are getting in the way of the main story. It's almost like if Rowling was like Oprah when she was doing her famous "You get a car and you get a car!", except she's going to every character like, "You get a subplot and you get a subplot!" And instead of this movie just focusing on standing well on its own like its predecessor, this movie focuses too much on setting up the next three movies that will coming up instead of this one to the point where this is reaching the same level as The Amazing Spider-Man 2 or Batman v. Superman: Dawn of Justice. Also, this movie is surprisingly boring at many points where I was trying to fight back many yawns during several scenes. A good portion of the dialogue focuses on many characters saying how Credence Barebone, Ezra Miller's character, is important and the key to something but does not really go anywhere until the surprise twist at the end of the film. J.K. Rowling has proven herself to be a great author, but not so much of a screenwriter.
Overall, Fantastic Beasts: The Crimes of Grindelwald is the most disappointing film of the year. While it may have some great performances and high production value, it doesn't ignore its terrible writing with a needlessly complicated and boring story, a repetitive script, and far too many subplots and backstories to keep track of. If you are a Harry Potter fan, then I would say to just wait until you can rent it at best. It would best to watch it at home instead of spending your money to go watch it in theaters. I'm going to give Fantastic Beasts: The Crimes of Grindelwald a 5/10.