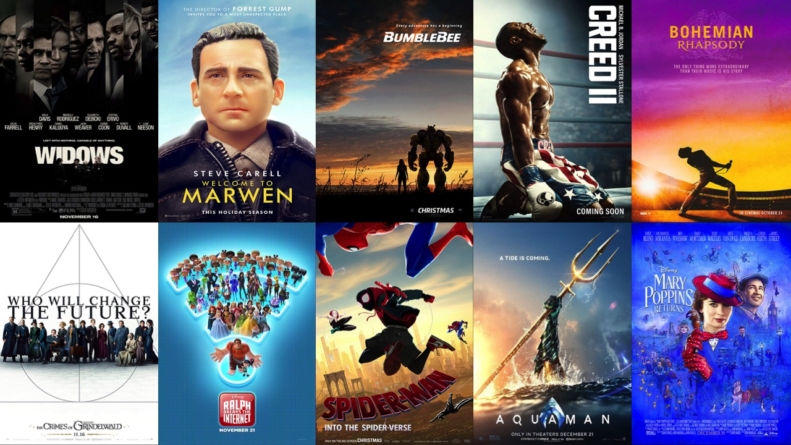 Top 10 Winter Movies: 2018 Edition!
Top 10 Winter Movies
By Edward Baillargeon
Winter is usually considered the the second biggest moviegoing season with its fair share of both blockbusters and the start of Oscar season. Now I usually do a Top 5 for this, but there are so many good movies coming out this winter that I had to do a Top 10. Also, this list will only count movies released between November and December. This could technically be considered as a "holiday" movie list, but I didn't want this list to be confused for a list of the best Christmas movies or whatever. And also, like all of my previous online versions of list articles, there is a link to the trailer if each movie if you are curious. Now, without further ado, here is my list of the Top 10 Movies to Check Out this Winter.
Widows

(November 16)
Academy Award winning director Steve McQueen is considered one of the best black directors in recent years next to Barry Jenkins and Ryan Coogler. After winning an Oscar for the brutal 12 Years a Slave in 2013, McQueen will be making his long awaited return with this heist thriller receiving critical praise from the Toronto International Film Festival. Based on the British television series from 1983 created by Lynda La Plante, Widows is the story of four women with nothing in common except a debt left behind by their dead husbands' criminal activities. Set in contemporary Chicago, amid a time of turmoil, tensions build when Veronica, Alice, Linda and Belle take their fate into their own hands and conspire to forge a future on their own terms. With McQueen working with the writer of Gone Girl, Gillian Flynn on the script, and featuring an all-star cast including Viola Davis, Michelle Rodriguez, Elizabeth Debecki, Colin Farrell, Daniel Kaluuya, Jackie Weaver, Jon Bernthal, Carrie Coon, Robert Duvall and Liam Neeson, Widows is a heist thriller with a message and popcorn entertainment to check out. The film will steal the theaters on November 16.
Trailer: https://www.youtube.com/watch?v=nN2yBBSRC78
Welcome to Marwen

(December 21)
The latest comedy drama from Academy Award winning director Robert Zemeckis, the visionary director of Back to the Future, Forrest Gump, Cast Away, The Polar Express, and Who Framed Roger Rabbit?, is based on a true story and the Jeff Malmberg documentary Marwenco. When a devastating attack shatters Mark Hogancamp and wipes away all memories, no one expected recovery. Putting together pieces from his old and new life, Mark meticulously creates a wondrous town where he can heal and be heroic. As he builds an astonishing art installation—a testament to the most powerful women he knows—through his fantasy world, he draws strength to triumph in the real one. With a script by Zemeckis and Edward Scissorhands & The Nightmare Before Christmas writer Caroline Thompson, and featuring a cast including Steve Carell, Leslie Mann, Merritt Wever, Eiza Gonzalez, Gwendoline Christie, Matt O'Leary, and Diane Kruger, Welcome to Marwen is a great drama to see. The film will be released in theaters on December 21.
Trailer: https://www.youtube.com/watch?v=rBiyoc4E3mM
Bumblebee

(December 21)
Michael Bay's Transformers franchise has been frequently criticized for filling their bloated runtimes with nothing but explosions, product placement, objectifying women, and obvious pandering to China. Now that last year's The Last Knight didn't even cross $1 billion showing that the entire world is getting sick of the series, Paramount is considering reforming the Transformers franchise with this spin-off prequel that actually looks pretty good. Thankfully it is NOT being directed by Michael Bay, but instead by Travis Knight, the Academy Award nominated director of the stop-motion animated masterpiece Kubo and the Two Strings, making his live action debut. Twenty years before the events of the first film, in 1987, Bumblebee takes refuge in a small California beach town junkyard, where a teenage girl named Charlie Watson takes him in. However, the two of them soon find themselves hunted by a government agency known as Sector 7, led by Agent Burns. As they run from society, the two learn that Bee isn't the only Transformer on Earth, and that the others might not be as friendly. With some surprising emotion, a great direction from Travis Knight, and a cast including Hailee Steinfeld and John Cena, Bumblebee could be a possible redemption for Transformers. The film will transform into theaters on December 21.
Trailer: https://www.youtube.com/watch?v=lcwmDAYt22k
Creed II

(November 21)
Creed was considered a pleasant surprise back in 2015 as a spin-off/sequel/reboot of the Rocky franchise with another big hit for director Ryan Coogler's filmography with highly praised performances from Michael B. Jordan and Rocky himself Sylvester Stallone getting nominated for an Oscar for his performance in that movie, which was his first nomination since the first Rocky film. A sequel was a likely possibility even though Coogler wasn't available to direct, most likely because he was busy directing Black Panther, so they brought in Steven Caple Jr. to direct this and it looks like it could be another win for the Rocky series. Life has become a balancing act for Adonis Creed. Between personal obligations and training for his next big fight, he is up against the challenge of his life. Facing an opponent with ties to his family's past only intensifies his impending battle in the ring. Rocky Balboa is there by his side through it all and, together, Rocky and Adonis will confront their shared legacy, question what is worth fighting for, and discover that nothing is more important than family. With intense boxing action and the returns of Michael B. Jordan, Sylvester Stallone, and Tessa Thompson, Creed II is a sports drama worth checking out. The film will punch into theaters on November 21.
Trailer: https://www.youtube.com/watch?v=u22BXhMu4tI
Bohemian Rhapsody

(November 2)
Queen is highly regarded as one of the greatest rock bands of all time and rightfully so. Their songs are timeless and catchy hits like "Another One Bites the Dust", "We Are The Champions", "Under Pressure", "We Will Rock You", and of course the title song of this movie. Now despite the movie having some production troubles, mostly regarding the film's director Bryan Singer, known for some of the X-Men films and The Usual Suspects, due to being consistently unavailable and clashing with star Rami Malek. But even with those mild hiccups in production, this still looks like a really good biographical concert film. Bohemian Rhapsody is a foot-stomping celebration of Queen, their music and their extraordinary lead singer Freddie Mercury. Freddie defied stereotypes and shattered convention to become one of the most beloved entertainers on the planet. The film traces the meteoric rise of the band through their iconic songs and revolutionary sound. The film will go through Mercury's life from the foundation of Queen to the Live Aid concert in 1985 and his diagnosis of AIDS. With its toe-tapping soundtrack of Queen's greatest hits and a highlight performance from Rami Malek as Freddie Mercury, Bohemian Rhapsody is a musical biopic to check out. The film will rock theaters on November 2.
Trailer: https://www.youtube.com/watch?v=mP0VHJYFOAU
Fantastic Beasts: The Crimes of Grindelwald

(November 16)
Back in 2016, Fantastic Beasts and Where to Find Them was released. The film was a prequel in J.K. Rowling's Wizarding World taking place before the events of the Harry Potter saga. The film got pretty good reviews and was a box office hit, so of course Warner Bros. would want to keep a new series taking place in one of their most popular and profitable franchises and this sequel looks like it might even surpass the first. At the end of the first film, the powerful dark wizard Gellert Grindelwald was captured by the Magical Congress of the United States of America, with the help of Newt Scamander. But, making good on his threat, Grindelwald escaped custody and has set about gathering followers, most unsuspecting of his true agenda: to raise wizards and witches up to rule over all non-magical beings. In an effort to thwart Grindelwald's plans, Albus Dumbledore enlists his former student Newt Scamander, who agrees to help, unaware of the dangers that lie ahead. Lines are drawn as love and loyalty are tested, even among the truest friends and family, in an increasingly divided wizarding world. Featuring more of the classic wizarding action with wands and spells, and featuring the returns of Eddie Redmayne, Katherine Waterston, Dan Fogler, Alison Sudol, Ezra Miller, and Johnny Depp as Grindelwald himself playing a bigger role than a 30 second cameo, Fantastic Beasts: The Crimes of Grindelwald is a must-see for any Potter fans. Grindelwald's crimes will be revealed on the big screen in IMAX on November 16.
Trailer: https://www.youtube.com/watch?v=8bYBOVWLNIs
Ralph Breaks the Internet

(November 21)
Back in 2012, Wreck-it Ralph sounded like an awesome idea of being a combination of two of my favorite pieces of media from my childhood, Disney and video games. While many gamers went into the movie to see cameos from classic video game characters Ryu, Bowser, Zangief, and Sonic, they stayed for a hilarious and fun adventure about a bad guy trying to prove that he can be a good guy. And of all the recent films from Walt Disney Animation Studios, this one sounded like it would have the most potential for a sequel with all of the various worlds to go to in the modern gaming world. Six years after the events of the first film, the steering wheel controller on the Sugar Rush game console breaks, forcing Mr. Litwak to unplug the machine. Wreck-It Ralph and Vanellope von Schweetz evacuate all of the Sugar Rush residents to other games before it is shut down and use the arcade's new connection to the Internet to go looking for a replacement steering wheel. While they find a source for a replacement wheel, they need money, leading them on a crazy adventure across the internet. The cast and crew from the first will be returning to work on the sequel including director Rich Moore and the original cast including John C. Reilly, Sarah Silverman, Jack McBrayer, and Jane Lynch, as well as newcomers like Taraji P. Henson, Gal Gadot, Bill Hader, and James Corden. And like the first, the sequel will include many cameos of characters from modern video games and the entire Disney monopoly including Pixar, Star Wars, Marvel, and a scene featuring the Disney princesses. With all of the cameos, humor, and even some hysterical shots at the weird parts of the internet, Ralph Breaks the Internet looks like a fun adventure for gamers and internet experts. Ralph will wreck the internet in theaters in 3D on November 21.
Trailer: https://www.youtube.com/watch?v=T73h5bmD8Dc
Spider-Man: Into the Spider-Verse

(December 14)
Of all the animation studios that are currently producing animated films, Sony Pictures Animation is one of the most hit-or-miss studios currently working in the industry. They can make something really awesome like Cloudy with a Chance of Meatballs and Surf's Up, or they make something really terrible like The Smurfs and The Emoji Movie. Now it makes sense that Sony Pictures Animation would do a Spider-Man movie, since Spider-Man is one of Sony Pictures' most profitable franchises. This will also be a different kind of Spider-Man story with a Spidey that isn't Peter Parker and an interesting style of animation that is computer animation with a comic book style. It also helps that Phil Lord and Christopher Miller, the directors of Cloudy, 21 Jump Street, and The Lego Movie, are working on the script and producing the feature. Although, Sony has tried to find many different ways to keep the Spider-Man rights while he's being loaned to Marvel Studios, so doing an animated feature would make sense not to confuse audiences if it actually is set in the MCU. Miles Morales is juggling his life between being a high school student and being Spider-Man. However, when Wilson "Kingpin" Fisk uses a super collider, another Spider-Man from another dimension, Peter Parker, accidentally winds up in Miles' dimension. As Peter trains Miles to become a better Spider-Man, they are soon joined by four other Spider-Men from across the "Spider-Verse", including Gwen Stacy, Spider-Man Noir, Peni Parker, and Spider-Ham. As all these clashing dimensions start to tear Brooklyn apart, Miles must help the others stop Fisk and return everyone to their own dimensions. With an interesting comic book visual style with some of Sony's best animation yet and featuring the voice talent of Shameik Moore, Jake Johnson, Hailee Steinfeld, Nicolas Cage, Liev Schreiber, Mahershala Ali, Lily Tomlin, and John Mulaney, Spider-Man: Into the Spider-Verse is the animated superhero movie that is a must-watch. The Spider-Verse will be released in theaters in 3D on December 14.
Trailer: https://www.youtube.com/watch?v=tg52up16eq0
Aquaman

(December 21)
The DC Extended Universe has dealt with a rocky course, with almost all of their movies being plagued by inconsistent tones, reshoots, and a whole lot of studio interference. From the destruction-filled excessiveness of Man of Steel, the almost "so bad it's good" Batman v. Superman: Dawn of Justice, the incompetently edited Suicide Squad, and the inconsistent Justice League. The only movie that they have released so far that had a smooth production and went well with both critics and audiences was last year's Wonder Woman. So let's hope this other solo outing in the DCEU is another Wonder Woman and not another Man of Steel. It will also be interesting to see horror veteran James Wan, the director of Saw, Insidious, and The Conjuring, take the reigns of a big budget superhero film about a superhero who has always been used as a joke. Set after the events of Justice League, the film reveals the origin story of half-human, half-Atlantean Arthur Curry and takes him on the journey of his lifetime—one that will not only force him to face who he really is, but to discover if he is worthy of who he was born to be a king. With Wan's direction, some action on both land and sea, and a cast including Jason Momoa, Willem Dafoe, Amber Heard, Patrick Wilson, and Nicole Kidman, Aquaman has a chance of being another hit for DC. The film will splash into theaters in IMAX on December 21.
Trailer: https://www.youtube.com/watch?v=WDkg3h8PCVU
Mary Poppins Returns

(December 19)
Mary Poppins has been highly regarded as one of the best live-action films produced by Walt Disney and is widely considered a classic, even if it is not as faithful to P.L. Travers' original books as she would've liked (If you want to learn more about Travers' feuds with Disney, then do some research or go watch Saving Mr. Banks) The movie is praised its unforgettable songs and a star-making and Oscar winning performance by Julie Andrews as the title character. But now 54 years after the last film (which also the longest time gap between a sequel and the original), Disney will return to the supercalifragilisticexpialidocious world of London with everyone's favorite magical nanny. Set in 1930's London, which is the time period of the original novels by P.L. Travers. The story follows Michael and Jane Banks, who are now grown up. Michael is living with his three children and housekeeper Ellen, in the house on Cherry Tree Lane. After Michael has a personal loss, Mary Poppins comes back into the lives of the Banks family. She is joined by a street lamplighter named Jack, and an eccentric cousin named Topsy. With the magic of the first film with hand drawn animation and new musical numbers, and starring Emily Blunt, Lin-Manuel Miranda, Ben Whishaw, Emily Mortimer, Colin Firth, Julie Walters, Dick Van Dyke, Angela Lansbury, and Meryl Streep, Mary Poppins Returns is the perfect holiday film to check out. The magic will return to theaters on December 19.