Mr. Huber Carries The Torch
Mr. Huber Carries The Torch
By Mrs. Catalano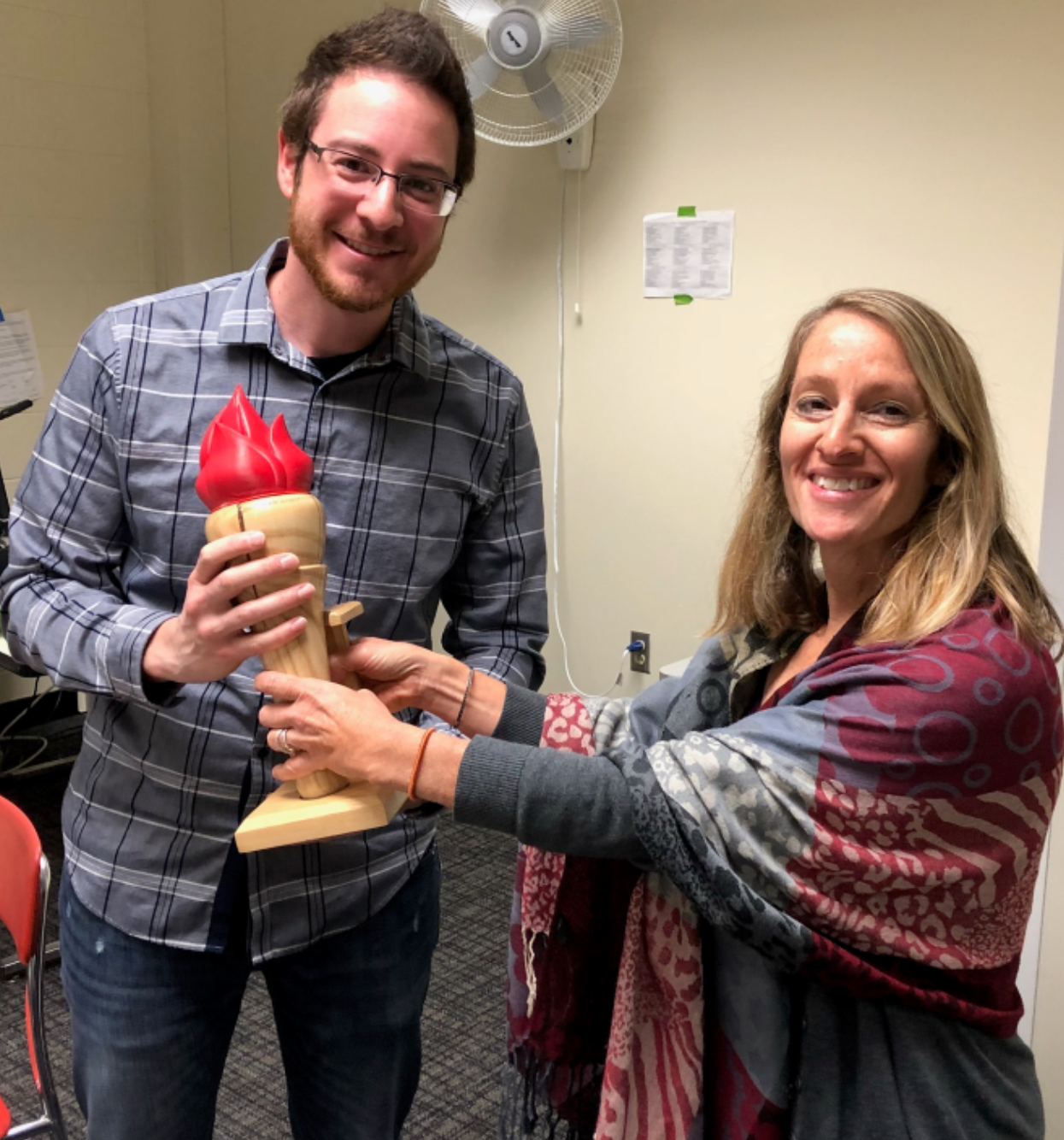 At East, I am humbled every day because we are fortunate to have so many worthy individuals who consistently go above and beyond.
If you did not already know, the Torch was involved in a near fatal accident on the inside of Ms. Halstead's drawer over the summer. I am happy to say that it had emergency surgery in the Technology Department and has completely recovered – it looks very nice and spiffy!
It is with great pleasure that I pass the reconditioned Torch and all that it embodies to Mr. Huber!
If you know Mr. Huber, then you already know that he is the sort of individual who flies swiftly under the radar. He is not one who draws an inordinate amount of attention to himself despite the plethora of things he accomplishes.
Take a walk on the Humanities Side with me and know that Mr. Huber is the mastermind behind our WEHS Coffee House.  The history of Coffee Houses trace their origins back to the Middle East and England. Coffee Houses were gathering places where people exchanged ideas, listened to stories, and visited with friends while spending almost nothing on refreshments.
Today at East, thanks to Mr. Huber and Mrs. Lanzone, East Coffee House functions as the gathering place for students to meet and mingle with friends, perform songs, covers, poetry and even stand-up comedy while enjoying… Tex-Mex tacos, homemade pancakes, Huber's World Famous mac-n-cheese, Paninis or Italian fare all sold on the cheap!
Mr. Huber is also the advisor of the East Side News, which features regular sections on East, News, Entertainment, Sports, Photos and Comics. Mr. Huber also advises and produces the East Literary Digest, a publication that showcases students' poetry. Last December, poets were inspired to write an "Ode to the Klein Turkey" and awarded 1st, 2nd and 3rd place.
In addition, Mr. Huber advises Unity and Diversity along with Mrs. Korn, a club that involves students performing songs, dance, poetry and more that represent different ethnicities and cultures reflective of the student body.
Ahhhh…okay, take a breath…Did you know that Mr. Huber is our liaison for Poetry Music Art and Dance?  "PMA&D is the culmination of a year-long program in Williamsville which features original works created and performed by students from elementary age through high school. Mr. Huber and Mrs. Lovullo recently coordinated, A Poet-in-Residence at East High School on September 26th and 27th. Sherry Robbins, a poet and teacher from Just Buffalo Literary Center spent two days in twelve classrooms with students who were invited to "experience poetry, and explore sensory imagery as a way into their personal geography." Thank you Mr. Huber and Mrs. Lovullo!
Lastly, I had the privilege of attending an award banquet earlier this year for WNYNET (Western New York Network of English Teachers) to celebrate 2018 Distinguished English Teacher Awards.  These awards are like the "Oscars" in the English teaching world. I was there to celebrate East's own Mrs. Derrico who received the Lifetime Achievement Award, and, of course, Mr. Huber was right there beside me.  Mr. Huber submitted the nomination and presented the award to Mrs. Derrico. Mr. Huber is always thinking of others who have made significant contributions in the area of education and is truly deserving of the Torch.
Mr. Huber, thank you for all your efforts every day – they are meaningful and enriching for all of us ~ students, teachers, family and community! I really do hope this nomination brings me a step closer to getting my hands on a copy of your mother's Lemon Square recipe! Congratulations!