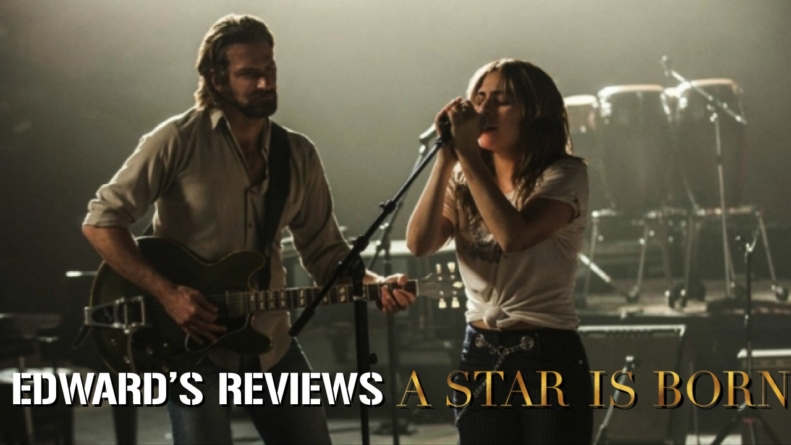 Edward's Reviews: Stars are Born with A Star is Born
By Edward Baillargeon
Every several decades, Hollywood decides to do a remake of the tragic love story of A Star is Born. This movie is the fourth Hollywood version of the story following the original 1937 film with Janet Gaynor & Frederic March, the 1954 musical starring Judy Garland & James Mason, and the 1976 rock musical with Barbra Streisand & Kris Kristofferson. Now the latest take on the story finally shines to the big screen with the 2018 version of A Star is Born.
Seasoned musician Jackson Maine discovers-and falls in love with-struggling artist Ally. She has just about given up on her dream to make it big as a singer – until Jack coaxes her into the spotlight. But even as Ally's career takes off, the personal side of their relationship is breaking down, as Jack fights an ongoing battle with his own internal demons.
A Star is Born is a fantastic film that gives birth to new chapters in its lead stars' careers. First, this is the directorial debut of Bradley Cooper, an Academy Award nominated actor known for his roles in Silver Linings Playbook, American Hustle, The Hangover, American Sniper, and also as the voice of Rocket in the Guardians of the Galaxy films. Cooper not only makes his directorial debut and stars in the feature, but also worked as a co-writer, producer, and a contributor to the songs on the soundtrack. The movie is also the first leading role for pop star Stefani Germanotta, better known under her stage name Lady Gaga, a singer/songwriter known for her visual experimentation and unconventionality. Both of them knock it out of the park and have great chemistry in their respective roles with Cooper as rockstar and alcoholic Jackson Maine and Gaga as breakout singer Ally. All of the other supporting players also give good performances in their roles, notably Andrew Dice Clay as Ally's dad Lorenzo and Sam Elliott as Jack's older brother Bobby. The screenplay is really well written combining the right amounts of romance, light touches of comedy, music and tear-jerking moments. The cinematography by Matthew Libatique is really gorgeous and it's kind of funny that he also shot Venom which came out the same weekend as this movie, so that's two wins for him in just one weekend. The songs, written by Cooper, Gaga, and country band Lukas Nelson & Promise of the Real, who appear in the movie as Jack's band, are fantastic with rock-and-roll and pop toe tappers like "Black Eyes" and "Why Did You Do That?" respectively and emotionally powerful ballads like "Shallow" and "I'll Never Love Again". The movie also gives a emotionally honest and frustrating look at alcoholism and drug addiction with celebrities such as rock stars that is very effective in the film.
Overall, A Star is Born is not just a great remake of a beloved story with beautiful direction, a heart-wrenching screenplay, and fantastic performances from Bradley Cooper and Lady Gaga, but also is one of the best films of the year and a likely high contender for this coming awards season. If you are a fan of romantic dramas, rock musicals, Cooper and Gaga's previous work, or want to learn about the struggles of being a musician, than this is a must-watch. Also, if you decide to see it, if you are emotionally sensitive, please brings some tissues with you. I'm going to give A Star is Born a 10/10 with the Edward's Seal of Approval and my highest recommendation.