Michael Dalessandro: Physics Teacher by Day, Deacon by Night
Michael Dalessandro: Physics Teacher by Day, Deacon by Night
By Gabe Guo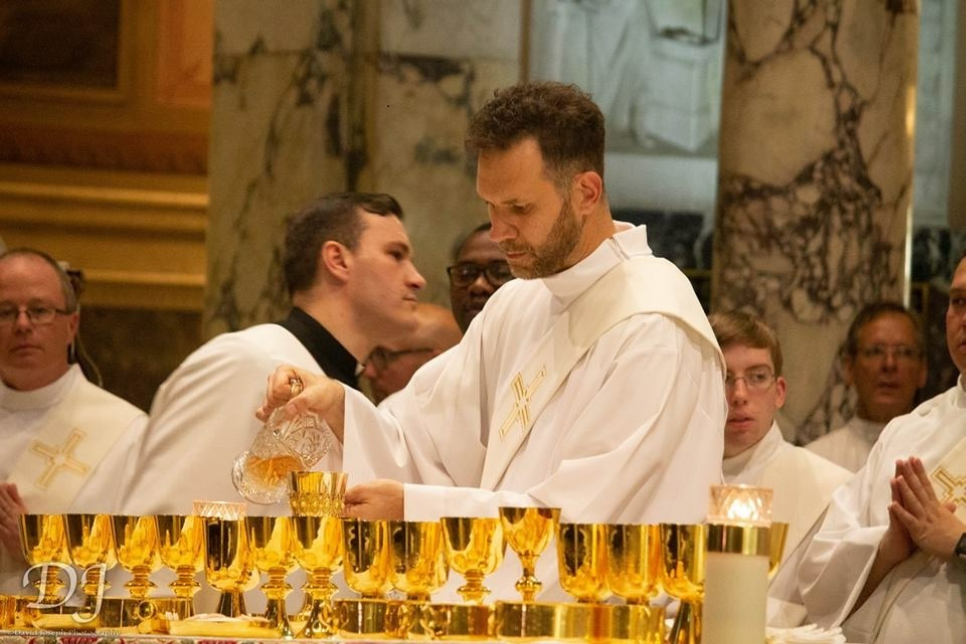 For this issue of East Side News, we interviewed none other than the great Mr. Dalessandro. He is a physics teacher by day, and a deacon by night. He is well known among his students for his generosity, patience, and trustworthiness. So without further ado, here is the interview.
Tell me about where you come from.
I come from the tristate area of New Jersey, Philadelphia, and Delaware. I grew up in a suburb of Philadelphia and South Jersey.
So I assume you're a fan of your hometown teams.
Yeah, I'm a big fan of the 76ers and Eagles [laughs].
They've been doing pretty well recently. Now, speaking of a city whose sports teams aren't so hot, let's talk about Buffalo. Why did you come to Buffalo?
I came to Buffalo because of my wife, who lived in Buffalo. I met her on a service trip in Bosnia. We were with each other in the same group. We were helping the refugees of the Bosnian civil war that had just taken place.
What got you into teaching?
Mr. Rogers, from PBS, got me into teaching. I was a stay-at-home dad, while my wife taught music at West Seneca West Elementary. I would watch Mr. Rogers' Neighborhood with my kids. I thought about how caring he is and how he is a positive influence on children, and I wanted to be like him. So, I went to Medaille College as a part-time student to get my Master's in Education. It was challenging to take care of my kids and do homework in the day, then have to go to school at night away from my family.
What is the most rewarding part of being a teacher for you?
For me, it is when kids appreciate learning something new. It is fulfilling when I can teach kids something they didn't know about the world before.
You teach Physics R and A. You always bring energy and enthusiasm to class. Was Physics your favorite subject in school?
Actually, physics wasn't always my favorite, because I wasn't very good at math. I actually hold a degree in Marine Biology from Rowan University. However, I do think that Physics is the most interesting subject to teach. Another thing that I do to keep up my energy is sleeping well [chuckles].
What advice would you give to students to do well in your class?
Trust the Process! There is a process to solve any problem, and students need to learn to believe in it.
Is this phrase in any way influenced by one of your favorite sports teams?
Yeah, it's influenced by the Sixers.
Many students consider you to be one of the nicest teachers at East. What aspects of your attitude and mindset towards teaching contribute towards this impression, in your opinion?
I think that it is important to recognize that each and every person has infinite dignity, and that every student is a treasure to be celebrated. When I encounter someone, I try to make that moment count and make them feel like they matter. I may not always be successful at this, as nobody is perfect, but it is always my goal.
Outside of the classroom, you have been the advisor for Hands Around the World and Amnesty International. What makes these clubs special to you?
I think that it's important that we give back to our society. It's important to do it with a balance of walking with the two metaphorical feet of charity and justice. Last year, with Hands Around the World, we gave to people in need and tried to be the solution to short term problems. With Amnesty International, we also tried to be a voice for the powerless, but we were more focused on making systemic changes for underrepresented groups such as refugees, underpaid workers, prisoners, and women.
Following that common objective of serving your community and giving back to the world, you recently became a deacon. What inspired you to pursue this position?
I was actually asked by somebody who was a deacon. He invited me to pursue the position, and he had me thinking about it. I already had an attitude of service, and in Catholic tradition, deacons are servants. I wanted to be a servant to the people in my church and the greater community.
How was the process of becoming a deacon?
It took five years. I needed a Master's degree in pastoral ministry, which I got from Christ the King Seminary in East Aurora. I stayed overnight for one weekend a month for four of the years at the seminary. At the end, the bishop of the diocese ordained me.
What are your responsibilities as a deacon?
I have two assignments. One assignment is in the home parish, Queen of Heaven in West Seneca. There, I am in charge of educating and welcoming new adult members into the Catholic faith. My other assignment is with the Little Portion Friary Homeless Shelter in Buffalo, where I supervise the house for a few nights every month. I am also an ambassador for the place, so I recruit new helpers.
I also give a homily once every three weeks.
There is a popular perception that religion and science conflict with each other. How have your studies in marine biology and the other sciences interacted with your religious studies?
I don't necessarily see a conflict between faith and science.  As I study science through the lens of faith, I can't help but see meaning, purpose, and beauty.  I can't help but to see what I personally think is evidence of a plan.