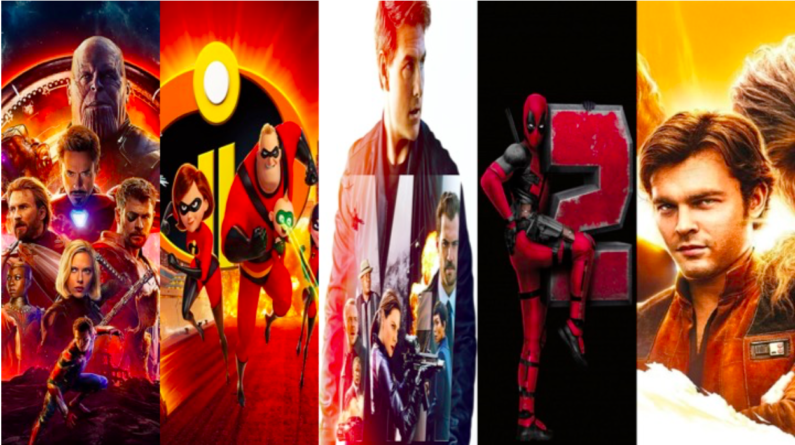 Summer 2018 Box Office Report: Better than Last Year
by Edward Baillargeon
While we've started to expect huge blockbusters year round, the summer still remains as the number one movie going season. This summer, it was definitely a major improvement from last year. In this article, I'm going to be going through the major film studios to see how they each did this summer at the box office, domestically and worldwide.
Once again coming at #1 this summer was the multi-billion dollar monopoly, or "the Thanos of Hollywood", of Walt Disney Pictures. Some of their most profitable brands have been pulled out the big guns for the summer season with a bunch of big hits and a few misses. Of course, Avengers: Infinity War, the long-awaited Marvel Studios extravaganza 10 years in the making, broke a list of records that is too long to mention in this article alone and was the big winner of this summer. The movie became the highest grossing Marvel Studios film both domestically and worldwide with $679 million domestically and $2.046 billion worldwide which makes it the first Marvel film to achieve the milestone and the fourth film to ever surpass $2 billion following Titanic, Avatar, and Star Wars: The Force Awakens. Also, Marvel's other (and lighter) offering Ant-Man and the Wasp didn't make as big of an impact as Black Panther or Infinity War did, but was still a modest hit with $545 million worldwide. Pixar Animation Studios also dominated the animation market this summer with their long-awaited sequel Incredibles 2 and it proved that it was worth the wait. The Pixar sequel broke a lot of animation records including the highest grossing animated film at the domestic box office with almost $600 million, the highest grossing Pixar film (and third to pass $1 billion), the second highest grossing animated film of all time, and the seventh animated feature to pass $1 billion. While Disney's hits this summer were really big, they did have a few bumps in the road this summer. First was Christopher Robin, a live-action Winnie the Pooh film starring Ewan McGregor that was really charming and cute did modestly well in the US with $77.5 million, but it has been progressing slowly to doubling its budget since it has yet to hit several big countries. But their biggest, and most unfortunate, flop of the summer would go to Solo: A Star Wars Story making only $392 million worldwide, making this the first Star Wars film distributed by Disney not to pass $1 billion and not even doubling its $250 million budget. There have been many speculations as to why Solo was a bomb. Rather if it was because of a lack of marketing, the huge amount of production troubles, lack of interest in a Han Solo origin story, or because of manbabies who boycotted Star Wars after all of the insanity that happened because of the infamous Star Wars: The Last Jedi. For Disney, though they had a few bumps, it was a great summer for them.
Next up is Universal, who had some pretty modest hits financially, but quality-wise, a lot of uninteresting and really mediocre movies. Jurassic World: Fallen Kingdom, the latest installment in the Jurassic franchise was the only non-Disney blockbuster to pass $1 billion worldwide making $1.3 billion proving that while the Jurassic franchise is still profitable, there is no hope in getting a sequel that is going to be as good as the original classic from 1993. Mamma Mia! Here We Go Again, the sequel to hit jukebox musical made a modest profit with $351 million worldwide. Meanwhile, some of their other films this summer like The First Purge, Breaking In, and Skyscraper did fine, but they were not crowd pleasers at all. Everything I said about Universal, can also be applied to Sony Pictures. They had a couple of financial hits like Hotel Transylvania 3: Summer Vacation and The Equalizer 2, they were really far away from the best movies of the summer. Sony also had a few box office bombs despite decent reviews with films like Alpha and Sicario: Day of the Soldado. And just like dealing with box office bombs, they had equal critical bombs like the Superfly remake and the latest terrible horror film trying to capitalize on a long dead (and somewhat tasteless) meme with Slender Man.
Warner Bros. has put out a lot of crowd-pleasers this summer getting towards their own specific audiences with each of their movies. The female audience was well served with Ocean's 8 earning almost $300 million and avoiding another Ghostbusters (2016) esque controversy. Their Asian audience was also pleased with films like The Meg and Crazy Rich Asians. WB also did well financially with their comedies with varying critical results with films like Teen Titans Go! To The Movies, Tag, and Life of the Party.
20th Century Fox has mostly been absent with only two offerings this summer. Their first being Deadpool 2, the highly anticipated R-rated sequel to the Ryan Reynolds hit only made slightly below the first film by making a total of $734 million worldwide. Their other film this summer, The Darkest Minds, based on the YA novel, was too late to the YA trend flopping with only $36 million. Where they may have been absent for most of the summer, Fox will pull out more during the fall/winter season with The Predator, Bad Times at the El Royale, Bohemian Rhapsody, Alita: Battle Angel, and Widows.
Ending off the big studios list is Paramount Pictures. Their biggest hit this summer was Mission: Impossible – Fallout, the latest in the hit action franchise starring Tom Cruise, was a major hit with both critics and audiences hailing the film as not just one of the best MI films, but also one of the best action movies of all time, and deservedly earning $553 million and counting. Paramount also had a few smaller films this summer with the sleeper hit comedy Book Club earning $68.5 million and the Johnny Knoxville bomb Action Point made an embarrassing $5 million on a $19 budget.
Where a lot of the major studios have succeeded the mini-major studios failed to deliver this summer on any note-worthy hits. Lionsgate only put out a few comedies this summer and they likely would've done better on streaming and are also not the most beloved with films like Overboard, The Spy Who Dumped Me, and Uncle Drew. And finally we have STX Entertainment. All of their films this summer were financial bombs. First was Adrift, starring Shailene Woodley, which only made $53 million on a $35 million budget. And their two films in August looked like they had some kind of potential to be good because of the people behind them, but fell flat on their faces really hard. The first being Mile 22, an action thriller directed by Peter Berg and starring Mark Wahlberg. While duo may have not been the biggest financial draws, they still put out some critical darlings like Lone Survivor, Deepwater Horizon, and Patriot's Day. But with Mile 22, they bombed hard with $34 million against a $50 million budget and receiving a 22% on Rotten Tomatoes. Also, the raunchy R-rated puppet comedy The Happytime Murders, directed by Muppets veteran Brian Henson, who is also the son of Jim Henson, was maligned by critics with many calling it the worst movie of the summer and criticizing its over-reliance on watching Muppet like characters doing shock humor instead of telling a good story. It also didn't help that it is right now another bomb for STX by only making $12.6 million against a budget of $40 million. So yeah, it has not been good for STX and hopefully they can find themselves a hit in the future.
It's same to say this summer has overall been a pretty good hit. Yes, we have had our fair share of garbage and bombs, but still it was a pretty good summer movie season.