East Loses a PrinciPal
By Daniel Krieger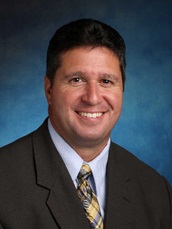 "Leaving East feels bittersweet," said Mr. Scanzuso, in an interview with the East Side News. "I love this school, and I'm sad to leave it."
Anthony Scanzuso, the current Principal of East High School, is moving up in his career and will no longer working at East. His new position at District Office will be Assistant Superintendent of Exceptional Education and Student Services. His successor is unknown at this time, as the potential candidates are still being considered.
His new job will involve overseeing many different departments, from speech pathologists to nurses to school social workers.
Mr. Scanzuso feels sad to leave what has been his home since 2009, but is excited for the new opportunity. "I've been a high school person my whole career, from being a teacher, to administrator, to principal," he said. "It's going to be refreshing to see what goes on in all the schools."
The East Side News talked to some of the people that work closest with him: his secretary, Mrs. Warner, and the two Assistant Principals, Mr. Gray and Mrs. Desantis, to see how they feel about the change that is coming to East.
"It's a great opportunity for Mr. Scanzuso, but it is also a great loss for East," Mr. Gray said. "However, the students, faculty, staff, and community here at East are some of the best, and I have no doubt that East will continue to be one of the premier high schools in Western New York."
Similar to Mr. Gray, Mrs. DeSantis said that Mr. Scanzuso leaving is a "loss for East" but that she is happy for him and that he will accomplish "great things" in his new position. She said, "Our team works really well, and we will miss him."
Mrs. Warner shares a similar sentiment. "I'm sad that we are losing him, but happy for his promotion," she said. "The school district is very lucky to have him."
Mr. Scanzuso will be missed greatly at East. Teachers and other staff members were asked what they will miss most about him.
"His advice. If you come to him, and you are honestly looking for feedback and advice, he will always give it to you," English Teacher Mrs. Schoeppich said. "He is always honest and real."
Mr. Miranda, a Social Studies teacher, said, "I will miss how Mr. Scanzuso was a straight shooter, and you always knew what you were going to get. I always appreciate that."
Mrs. Lang said, "I will miss how understanding and approachable he is. Whenever I would have an issue, it was very easy to resolve it through him. I hope the next principal shares that quality."