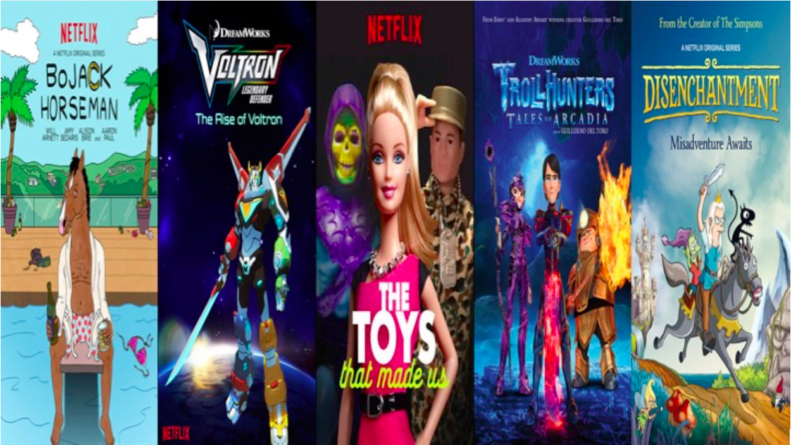 5 Great (and not as popular) Netflix Original Series
by Edward Baillargeon
As of right now, Netflix is the most popular streaming service in the world. They always give subscribers the movies and TV shows they want to watch without leaving their home to get it physically, as well as providing some original content of their own. For this list, I'm going to be looking at series on Netflix that are original to them. So that means that highly popular shows that Netflix acquired on the service like The Office or Friends don't count on this list. Also, the shows on this list are ones I personally really enjoyed and aren't as popular and talked about as much as Stranger Things or Black Mirror. So with those conditions out of the way, let's look at my picks for 5 Netflix Original Series worth checking out.
BoJack Horseman

(2014-)
This animated comedy drama follows BoJack Horseman, the star of the hit sitcom Horsin' Around in the '90s, who's now washed up, living in Hollywood and complaining about everything. But now, he plans his big return to celebrity relevance with a tell-all autobiography that he dictates to his ghostwriter Diane Nguyen. BoJack also has to contend with the demands of his agent and on-again-off-again girlfriend Princess Carolyn, the misguided antics of his freeloading roommate Todd Chavez, and his friend and rival Mr. Peanutbutter. Of all the animated series that are aimed more towards an adult audience, BoJack Horseman is easily one of the best in recent years. The show relies more on developing realistic characters (despite most of them being anthropomorphic animals), intense drama that can lead to frustrating cliffhangers in each episode, and some really clever jokes about Hollywood and the film/television industry instead of being like any other adult cartoon trying to be the next Family Guy or South Park and just being raunchy all the time. The series also has one of the best written depictions of depression and mental illness to the point where this animated show about a horse understands depression without causing an uproar of controversy than another Netflix show trying to tackle the topic. *cough* 13 Reasons Why *cough* The show also features a star-studded cast including Will Arnett of Arrested Development and The Lego Movie fame, Community's Alison Brie, and Aaron Paul of Breaking Bad fame. The show may start out a little rocky in the first few episodes but afterwards; it truly is something funny, poignant, and intense. The show currently has 4 seasons with a total of 48 episodes with a 5th season on the way on September 14. If you're tired of seeing adult animated shows that are trying way too hard to be raunchy and dumb, then BoJack Horseman is an excellent show to see how to do adult animation right.
Voltron: Legendary Defender

(2016-)
Over the course of this decade, DreamWorks Animation has been rather hit or miss in terms of their movies. They can make some really awesome family films like the Kung Fu Panda trilogy and the How to Train Your Dragon series, or make something that is not up to their standard with films that are strictly for kids like Trolls or the Oscar nominated (for some reason) The Boss Baby. But with their Netflix series that aren't based on any of their pre-existing franchises, they are rocking it in that department with one of their best being Voltron: Legendary Defender. For millennia, the evil Galra Empire has plagued the universe by destroying other civilizations and enslaving various races. The only known threat strong enough against the empire's power and plans is the legendary "Defender of the Universe" Voltron, a 100-meter tall robot warrior composed of five lion mechas whose pilots are known as the Paladins. In the present, the Galra Empire's path of conquest and search for Voltron has led them to Earth's solar system. A group of space pilots – Shiro, Keith, Lance, Pidge, and Hunk – discover the Blue Lion and immediately get swept up into the Galran War. They meet Princess Allura, become the new Paladins, and reunite the five lions to form Voltron, beginning their fight to liberate the universe from the Galra Empire. The show was developed by Joaquim Dos Santos and Lauren Montgomery, two animation directors who were veterans at Nickelodeon who were known for their work on highly acclaimed shows like Avatar: The Last Airbender and The Legend of Korra. And with what they did with Voltron, fans of those two shows can definitely see their influence in the choreography of the action sequences combining martial arts with space action with various spaceships and other things you will find in science fiction. As well as in the style of animation that looks like, but isn't, an anime. The show currently has ran for 7 seasons with a total of 65 episodes. With gorgeous animation, great characters, a wonderful sense of humor, and intense action, Voltron: Legendary Defender is one of DreamWorks' best shows to date.
Trollhunters 

(2016-2018)
Well what do you know, another DreamWorks animated series on the list! This fantasy adventure series was created by visionary Guillermo del Toro, the Academy Award winning director of The Shape of Water and Pan's Labyrinth, and is more family friendly than the films I've previously mentioned. Loosely based on the book by del Toro and Daniel Kraus, Trollhunters tells the story of Jim Lake Jr., an ordinary kid with a busy Mom and a yearning to have more adventure in his life. As it happens, Jim gets more than he wished when he finds a magic amulet under a bridge calling to him. With that discovery, Jim finds himself recruited as the next. and first human, Troll Hunter, the champion of the Troll world. Together with his friend, Toby Domzalski, Jim discovers the world of Troll Market, where he begins his training under the tutelage of his new mentors, Blinky and AAARRRGGHH!!!, who also tell him of the threat of the Gumm Gumms, who scheme to release their leader, Gunmar the Black, to conquer both the Troll and Human worlds. In the struggle ahead, Jim and his friends will discover enemies and friends where they least expect them as their shadow war draws ever greater danger and complications into all their lives. Trollhunters is another excellent addition to Netflix's animation catalog. The story is highly engaging with the right balance of action, humor, and suspense. The animation is top-notch which is to be expected from DreamWorks. It's also very frustrating when every episode ends on a killer cliffhanger. The characters are also really memorable and likable with an excellent cast including Kelsey Grammar, Charlie Saxton, Jonathan Hyde, Ron Perlman, Clancy Brown, Steven Yeun, Anjelica Huston, Mark Hamill, and is also one of the final performances of the late Anton Yelchin. The show has ran for 3 seasons and ending off with a total of 52 episodes. This show will also be the first in a series of shows by DreamWorks and Guillermo del Toro that take place in the same universe. With intense cliffhangers, a great cast, top-notch animation, and an engaging story, Trollhunters earns my recommendation.
The Toys That Made Us

(2017-)
When most of us were kids, we were most likely given a bunch of toys to play with and use our imaginations to develop our own stories when playing with them. And if you wanted to know the origins and stories behind the scenes of some of the most popular brands in the toy industry, then this show is for you. This series of 40-50 minute documentaries is both equally informative and sometimes hilarious. You will get to learn about the merchandising and toy history of brands such as Star Wars, Lego, Barbie, Star Trek, Hello Kitty, He-Man, G.I. Joe, and Transformers. A third season will be coming soon featuring the stories behind Power Rangers, Teenage Mutant Ninja Turtles, My Little Pony, and Wrestling toys. If you have a nostalgic soft spot for your childhood toys and want to learn about their histories, then The Toys That Made Us is worth checking out.
Disenchantment

(2018-)
This animated fantasy comedy is the latest show created by Matt Groening, the Emmy winning creator of The Simpsons and Futurama. It makes sense that his latest show takes place in the past since The Simpsons takes place in the present and Futurama takes place in the future. Set in the fantasy world of Dreamland, Disenchantment follows Bean, a young rebellious and alcoholic princess who tries to escape from a forced marriage by her father King Zøg, and goes on several misadventures with Elfo, an elf from the elf world who moves into the human world, and Luci, Bean's personal demon who is often confused for a cat. Disenchantment is an engaging and frequently hilarious series that definitely pays off in its first 10 episodes. The show has an excellent voice cast including Abbi Jacobson, Nat Faxon, John DiMaggio, Tress MacNeille, and Maurice LaMarche. But the best actor in the show is easily Eric Andre as Luci who is definitely a scene-stealer whenever he wants Bean to solve a situation in the most unusual ways possible. Also, the show has gotten some mixed reception because Groening's humor can sometimes be divisive and a little bit shocking, sort of if maybe milder than, like other creators of animated series for Fox such as Seth MacFarlane, the creator of Family Guy and American Dad. Also, like BoJack Horseman, it may start a bit rocky in the first couple of episodes, but the show kicks into high gear once you get used to it. If you are a fan of Matt Groening's previous works, then you are going to be enchanted by Disenchantment.