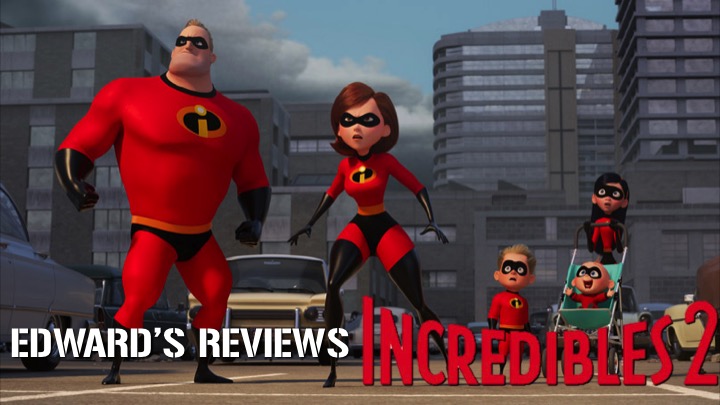 Edward's Reviews: The Incredibles 2 is an Incredible Sequel!
If you were to ask anyone "What is their favorite Pixar film?" you would get a variety of answers. The Incredibles is a popular answer with its great mix of superhero action and family drama make one of Pixar's best and put its Academy Award winning writer & director Brad Bird as one of their best directors at the studio. And many have asked, "Why have we received sequels or prequels to Finding Nemo, Monsters, Inc., and even two Cars sequels before Incredibles got an encore?" That's simple. Bird didn't want to do a sequel until he had a good story idea, which is understandable so then it won't be seen as a lazy cash-grab demanded by Disney. And also, he was busy working on several other films in that time like Ratatouille in 2007, getting him his second Oscar, and jumping into live action films like Mission: Impossible – Ghost Protocol in 2011 and Tomorrowland in 2015. So far, 2018 has been a fantastic year for superhero movies coming off of two of Marvel's biggest juggernauts both spreading diversity in the MCU with Black Panther and bringing one of the best and biggest crossovers with Avengers: Infinity War, and even Fox got a hit in with Deadpool 2. And now it's Pixar's turn to throw their hat into the ring with the highly anticipated and long-overdue sequel, The Incredibles 2.
Taking place immediately after the first film, the Parr family struggles to maintain normal lives while Helen Parr (Elastigirl), is out fighting crime and campaigning for the return of supers. Meanwhile, Helen's husband Bob Parr (Mr. Incredible), remains at home watching their children Violet, Dash and Jack-Jack, discovering the secret powers of the latter in the process. However, they, along with Frozone, will have to battle a new villain, The Screenslaver, with a sinister plot.
To quote the kid on the tricycle in the first film, "THAT WAS TOTALLY WICKED!" The Incredibles 2 was absolutely worth the long wait and is one of if not arguably the best Pixar sequel yet. The story, while taking a few similar plot points from the first film, is really well-executed balancing out both sides of the story delivering on the various aspects of what made the first so great. Elastigirl's side of the story features some really great action scenes with some highly creative and great use of animation with all of the various superpowers from many superheroes. Mr. Incredible's side of the story delivers on the humor of watching him struggle to take care of the kids and working out their various issues like Violet's troubles with her boyfriend Tony and helping Dash with his worst enemy, math homework. And don't get me started about everything with Jack-Jack as he is the show stealer of the film with some great laughs involving his variety of superpowers that are creatively demonstrated in one hilarious scene involving a trash panda, I mean raccoon. Other fan-favorite supporting characters also return in this movie as well like Frozone and Edna Mode are also scene-stealers. The score of the film composed by Michael Giacchino, who also composed some of Pixar's best scores like the first Incredibles, Up, Inside Out, and Coco, is also fantastic with jazzy melodies that sound like something out of James Bond or Mission: Impossible. If I do have to give one really minor criticism, it has to be that the villain of the film, The Screenslaver, isn't as memorable as the first film's villain Syndrome, who is the perfect representation of a toxic fan where if their idol or something they love isn't what he expects, then he goes against it. *cough* Star Wars fans and the cartoon reviewing community *cough* They also try to do another modern Disney cliché in the form of a twist villain reveal that is kind of obvious. And also a warning for those who are sensitive to epilepsy, there are several scenes of flashing lights that could trigger seizures so cover your eyes or look away during whenever that happens.
Also, before the movie would start, they would play an animated short called Bao, which is a cute and heartfelt story about a Chinese mother, suffering from empty nest syndrome, who has a second chance at motherhood after one of her homemade dumplings comes to life. I would easily consider this as one of Pixar's best short films and is also the first Pixar short film, or film in general, that was directed by a female and someone of a different race, in this case Domee Shi. Overall, The Incredibles 2 is another great addition to the Pixar catalog and one of their best sequels with an engaging story, great action, fantastic animation, a lovable cast of characters, and a great soundtrack. And also stick around during the credits not for a Marvel Studios style end credits scene setting up a cinematic universe, but rather for a hilarious music surprise. I'm going to give The Incredibles 2 a 10/10 with the Edward's Seal of Approval and my highest recommendation.