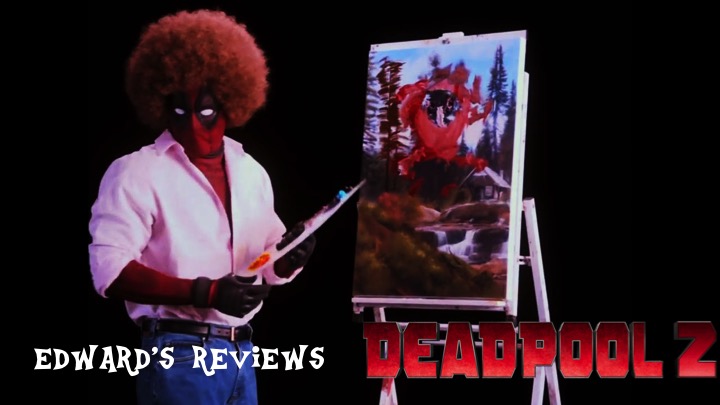 Edward's Reviews: Deadpool 2 is Another Super Hilarious Superhero Sequel!
By Edward Baillargeon
Back in 2016, one of the biggest hits of the year was a little film called Deadpool. The film was a passion project for actor Ryan Reynolds, who has been trying to give the merc with a mouth a feature film after 20th Century Fox screwed him over when he played "Deadpool" in X-Men Origins: Wolverine where the merc with the mouth has his mouth removed. After someone at Fox leaked test footage for a Deadpool movie, the fans reacted so positively to the point they convinced Fox to green light the film. When it was released on February 12, 2016, it was a massive hit with critics and audiences praising the tons of references and intense action with lots of blood and gore, all brought together by Ryan Reynolds' spot-on performance as the title character he was born to play, which even got him a Best Actor in a Comedy nomination at the Golden Globes, but lost to another Ryan, Gosling to be exact, for his performance in La La Land. And with how much of a hit Deadpool was, to the point of becoming the highest grossing R rated film of all time, there was no way Reynolds and the executives at Fox would say no to a sequel as the merc with the mouth returns to the big screen with Deadpool 2.
Following the events of the first film, of course why wouldn't it be, foul-mouthed mutant mercenary Wade Wilson, aka Deadpool, attempts to bring together a team of fellow mutant rogues to protect a young boy of supernatural abilities from the brutal, time-traveling mutant, Cable.
Deadpool 2 has had a lot of hype to live up to and had all of the genres that are hard to do sequels for that are superior or just as good as its predecessor. Because making a sequel to a comedy, a superhero film, or just making a sequel in general, but with this film they actually make it work. Deadpool 2 absolutely lives up the hype set by the first film, its amazing marketing, and can even sometimes surpass its predecessor. Where the first film was a test run of sorts to see if a Deadpool movie could work, the sequel builds and improves on what made the first a favorite amongst superhero fans. The general story of the first film was a rather basic revenge story about Wade trying to get his revenge on the man that gave him mutant abilities and made his face not look like Ryan Reynolds anymore, but with the sequel, Reynolds, along with returning writers Rhett Reese & Paul Wernick add several twists and turns to the story where sometimes you don't know where the plot is going to go and what the characters do. Another great aspect of the film is that the action scenes are also really intense, a lot of fun, and use the R rating to their advantage with their brutality and style, which is no surprise since the director of this film, David Leitch, is a stuntman and has directed other stylized R rated action films like John Wick starring Keanu Reeves (which he wasn't credited on for some reason) and Atomic Blonde starring Charlize Theron. Ryan Reynolds as always gives an excellent spot-on performance as Deadpool with his natural wit and charm. All the other actors who return from the first film do give good performances as well like T.J. Miller, Morena Baccarin, Stefan Kapičić, Leslie Uggams, Karan Soni, and Brianna Hildebrand. All the newcomers to the film also are great with Josh Brolin giving a great performance as Cable, although nothing is going to top his performance as Thanos in Avengers: Infinity War, Julian Dennison, all the members of the X-Force including Terry Crews, Lewis Tan, Bill Skarsgård, Rob Delaney, and even Brad Pitt, and the biggest show-stealer of the bunch being Zazie Beetz as Domino whose superpower is manipulating luck, which Deadpool claims "isn't cinematic". The humor is also consistently hilarious with a lot of great pop culture references, making fun of superhero movie tropes, and taking shots at other characters including Wolverine and also Green Lantern. Also, be sure to stay during the credits because this movie has one of the best mid or post-credits scenes I've seen in a superhero movie in recent years.
Overall, Deadpool 2 is another great entry in the Deadpool saga where it may only be a very slight notch down from the first, is still a fantastic movie with the clever writing, great performances, and ultra-violent action you can expect from the merc with the mouth. If you are a fan of the first film and of Deadpool, this is obviously a must-watch. But like the first, PLEASE don't take your kids or younger siblings (unless they are mature enough) to see this movie because it's rated R for good reasons I've already explained in this review. I'm going to give Deadpool 2 a 9/10 with the Edward's Seal of Approval. And if you'll excuse me, it's time for me to make some chimi-frickin'-changas.