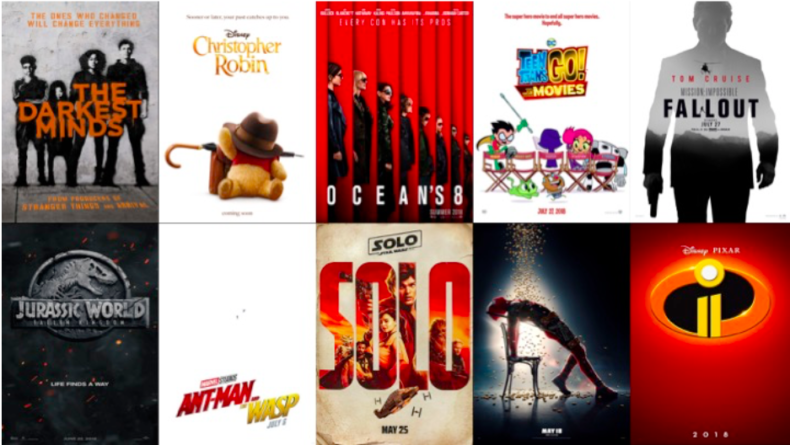 Top 10 Summer Movies: 2018 Edition!
by Edward Baillargeon
It looks like it's going to be that time of year again, where school will be out, we can spend time with our families on vacation and going with our friends to the theaters to check out the latest blockbuster. So far, 2018 has a lot of highly anticipated films on everybody's minds, as well as a few films on this list that are sure to stir up some controversy with my choices. And before I start the list, I just want to mention that before you look at the list and say that I forgot about Avengers: Infinity War on the list, but my reason for it is because that film is being released on April 27th which is pretty early, so Infinity War would be considered as an "honorable mention" if you will (Trailer: https://www.youtube.com/watch?v=QwievZ1Tx-8), even though I am just as excited for the movie as anyone else is. But without further-ado, here is my list of the Top 10 Movies to Check Out this Summer: 2018 Edition! Also included in this article is a link to the trailer of each movie that is included on the list.
10. The Darkest Minds (August 3rd)
This sci-fi thriller was added to the list at kind of the last minute because after I saw the trailer that came out, it looked interesting enough to put on this list because of its concept and the people involved with the film. Based on the novel of the same name by Alexandra Bracken, The Darkest Minds takes place in a world where 98% of American children were killed by a disease leaving the remaining 2% developing strange new abilities. Ruby is a 16-year-old girl who is thought to be one of the most powerful young people anyone has encountered. She escapes her camp and joins a group of other runaway teens who are seeking safe haven away from the government. Becoming a family and finding the adults in power have betrayed them, they realize they must stop running and start a resistance. With the involvement of Academy Award nominated producer Shawn Levy, of Stranger Things and Arrival fame, and also being the live-action directorial debut of Academy Award nominee Jennifer Yuh Nelson, the director of Kung Fu Panda 2 & 3, The Darkest Minds should be an interesting sci-fi thriller to see. The film will be released in theaters on August 3rd.
The Darkest Minds Trailer: https://www.youtube.com/watch?v=tN8o_E_f9FQ
9. Christopher Robin (August 3rd)
I remember when I was a young little kid, I loved the classic stories of Winnie the Pooh, Christopher Robin, and their friends in the Hundred Acre Wood, and highly enjoyed Disney's series of television shows with the characters. And seeing the recent trend of Disney's live action remakes/reboots/rebootquels with films like Alice in Wonderland, Maleficent, The Jungle Book, Beauty and the Beast, and many others coming up in the future, it made sense for them to do a live action take on Winnie the Pooh next. Inspired by the stories of A.A. Milne, the film follows an adult Christopher Robin, who is now focused on his new life, work, and family, suddenly meets his old friend Winnie the Pooh, who returns to his unforgotten childhood past to help him return to the Hundred Acre Wood and help find Pooh's lost friends. With the charm of the classic stories and a great performance from Ewan McGregor, Christopher Robin looks like a charming family film to check out. The movie will be released in theaters on August 3rd.
Christopher Robin Trailer: https://www.youtube.com/watch?v=425M4M3Opkk
8. Ocean's 8 (June 8th)
If you are a fan of heist films, then you are most likely familiar with or have seen Steven Soderbergh's hit trilogy of Ocean's Eleven, Twelve, and Thirteen, starring George Clooney, Matt Damon, and many others. Now, this all-female spinoff film has received some skepticism because an all-female movie in a beloved franchise is something that has been under a lot of unnecessary controversy, so don't get me started about all the unneeded insanity that happened with the Ghostbusters reboot from 2016 which I thought was actually pretty good as that is another story for another day, so it makes this film no different. In the film, Danny Ocean's estranged sister, Debbie Ocean, attempts to pull off the heist of the century at New York City's star-studded annual Met Gala with the perfect crew assembled for the job. Featuring an all star cast including Sandra Bullock, Anne Hathaway, Cate Blanchett, Mindy Kaling, Helena Bonham Carter, Rihanna, and Matt Damon making a cameo appearance, Ocean's 8 looks like a fun heist comedy to see. The heist will be released in theaters on June 8th.
Ocean's 8 Trailer: https://www.youtube.com/watch?v=MFWF9dU5Zc0
7. Teen Titans Go! To the Movies (July 27th)
This is going to be the most controversial choice on this list, since the show that this movie is based on is one of the most hated Cartoon Network shows of the 2010's, maybe even ever. And if other hit animated television shows like SpongeBob SquarePants, The Simpsons, South Park, and even My Little Pony: Friendship is Magic can get their own feature films released on the big screen, then so can Teen Titans Go!, and as someone who has seen very little of the show, this could have some potential. Based on the highly successful Cartoon Network series, Teen Titans Go! To the Movies follows the Teen Titans (Robin, Starfire, Cyborg, Raven, and Beast Boy) as they try to get their own movie when all the other major superheroes are getting theirs. They try to get the biggest Hollywood director to notice them, but when they are radically misdirected by a super villain and his plan to take over the Earth, madness ensues. With the original cast reprising their roles from the show and featuring some new cast members including Kristen Bell, Will Arnett, and even acting king of memes Nicolas Cage making a cameo as Superman, Teen Titans Go! To the Movies should be one of the craziest movies, in terms of the movie itself and the reactions to it, coming out this Summer. The Titans will make their debut to the big screen on July 27th.
Teen Titans Go! To the Movies Trailer: https://www.youtube.com/watch?v=p4HrpCPquk4
6. Mission: Impossible – Fallout (July 27th)
Mission: Impossible is considered as one of the best action movie franchises bringing out one consistently entertaining blockbuster after another and getting to see Tom Cruise running away from something and doing tons of his own insane stunts and this next film looks like no exception. I also tried to be funny since this is the 6th installment of the franchise and I put it at #6 on my list. When an IMF mission ends badly, the world is faced with dire consequences. As Ethan Hunt takes it upon himself to fulfill his original briefing, the CIA begins to question his loyalty and his motives. Hunt finds himself in a race against time, hunted by assassins and former allies while trying to prevent a global catastrophe. With the director of the previous film Rogue Nation, Christopher McQuarrie returning to direct, featuring an all-star cast including Tom Cruise, Rebecca Ferguson, Simon Pegg, Henry Cavill, and Alec Baldwin, and promising some intense and fun action sequences, Mission: Impossible – Fallout is the spy action thriller for you. The next mission will be coming to theaters in IMAX 3D on July 27th.
Mission: Impossible – Fallout Trailer: https://www.youtube.com/watch?v=wb49-oV0F78
5. Jurassic World: Fallen Kingdom (June 22nd)
In 1993, Steven Spielberg released his classic sci-fi adventure Jurassic Park to massive success and becoming a milestone in visual effects and animation. 22 years later, Universal Pictures brought the franchise back with the 2015 hit Jurassic World getting good reviews as a fun and entertaining popcorn flick and the sequel looks to follow that tradition. Four years after the Jurassic World theme park was closed down, Owen and Claire return to Isla Nubar to save the dinosaurs when they learn that a once dormant volcano on the island is active and is threatening to extinguish all life there. Along the way, Owen sets out to find Blue, his lead raptor, and discovers a conspiracy that could disrupt the natural order of the entire planet. Life has found a way, again. With Chris Pratt, Bryce Dallas Howard, BD Wong, and Jeff Goldblum reprising their roles from previous films and promising some intense dinosaur action, Jurassic World: Fallen Kingdom should be a fun popcorn flick to see. The world will fall in IMAX 3D on June 22nd.
Jurassic World: Fallen Kingdom Trailer: https://www.youtube.com/watch?v=vn9mMeWcgoM
4. Ant-Man and the Wasp (July 6th)
In my opinion, one of Marvel Studios' most underrated films is 2015's Ant-Man. While not the film that some people wanted because the original director Edgar Wright left the film due to creative differences, the film had some great action scenes, creative visual effects, and show-stealing performances from Paul Rudd, Michael Douglas, and Michael Peña, and the sequel looks to do all of that and more. In the aftermath of Captain America: Civil War, Scott Lang grapples with the consequences of his choices as both a superhero and a father. As he struggles to re-balance his home life with his responsibilities as Ant-Man, he's confronted by Hope van Dyne and Dr. Hank Pym with an urgent new mission. Scott must once again put on the suit and learn to fight alongside The Wasp as the team works together to uncover secrets from their past. Featuring creative action scenes and returning performances from Rudd, Douglas, Peña, and Evangeline Lilly, Ant-Man and the Wasp looks like another fun ride from the geniuses at Marvel Studios. Ant-Man will crawl back into theaters in IMAX 3D on July 6th.
Ant-Man and the Wasp Trailer: https://www.youtube.com/watch?v=8_rTIAOohas
3. Solo: A Star Wars Story (May 25th)
I'm hopeful that this movie turns out to be another great addition to the Star Wars universe after the disastrous production including switching directors from Phil Lord & Chris Miller, of 21 Jump Street and The Lego Movie fame, to Ron Howard, the director of A Beautiful Mind and Apollo 13. And hopefully it won't be as divisive and unnecessarily hated as The Last Jedi as that is another story for another day. But back on to Solo, this movie, like Rogue One, is another addition to the Star Wars "anthology" films that look into the origins of a plot point or character in the main saga. Through a series of daring escapades deep within a dark and dangerous criminal underworld, Han Solo meets his mighty future copilot Chewbacca and encounters the notorious gambler Lando Calrissian, in a journey that will set the course of one of the Star Wars saga's most unlikely heroes. Promising an interesting look into the origins of the beloved rogue and some classic and exciting Star Wars action, Solo: A Star Wars Story is the space western for you. Solo will fly into theaters in IMAX 3D on May 25th.
Solo: A Star Wars Story Trailer: https://www.youtube.com/watch?v=dNW0B0HsvVs
2. Deadpool 2 (May 18th)
Back in 2016, one of the most successful films of that year was Deadpool. It became the highest grossing R rated film of all time, proving to Fox that superhero movies don't always need a PG-13 rating to be successful. The movie was a great mix of tons of witty meta humor, references galore, and intense bloody action, all brought together by Ryan Reynolds' fantastic performance as the title character. And from its clever marketing, the sequel looks like it is going to recapture that same magic. After surviving a near fatal bovine attack, Wade Wilson (aka Deadpool) struggles to fulfill his dream of becoming Mayberry's hottest bartender while also learning to cope with his lost sense of taste. Searching to regain his spice for life, as well as a flux capacitor, Wade must battle ninjas, the yakuza, and a pack of sexually aggressive canines, as he journeys around the world to discover the importance of family, friendship, and flavor – finding a new taste for adventure and earning the coveted coffee mug title of World's Best Lover. With several cast members from the first film reprising their roles including Ryan Reynolds, Morena Baccarin, T.J. Miller, and Brianna Hildebrand, as well as introducing Josh Brolin and Zazie Beetz as Cable and Domino respectively and promising more witty meta humor and intense action, Deadpool 2 is the one superhero film coming this summer where it would be best to leave your younger siblings or children at home. The merc with the mouth will return to the big screen in IMAX on May 18th.
Deadpool 2 Trailer: https://www.youtube.com/watch?v=D86RtevtfrA
1. The Incredibles 2 (June 15th)
If you were to ask anyone as to what is their favorite film in the entire filmography of Pixar Animation Studios, you would get a variety of answers like the Toy Story trilogy, Finding Nemo, WALL•E, Up, Inside Out, and Coco, but a popular answer is The Incredibles and people have been waiting for this sequel for almost a decade and a half! With a superhero movie as popular as The Incredibles, you would've thought Pixar would make a sequel a bit sooner, but I guess it's better late than never. Taking place immediately after the first film, the Parr family struggles to maintain normal lives while Helen Parr (Elastigirl), is out fighting crime and campaigning for the return of supers. Meanwhile, Helen's husband Bob Parr (Mr. Incredible), remains at home watching their children Violet, Dash and Jack-Jack, discovering the secret powers of the latter in the process. However, they, along with Frozone, will have to battle a new villain with a sinister plot. Featuring the returns of the first film's cast including Craig T. Nelson, Holly Hunter, and Samuel L. Jackson, and with two time Oscar winning director Brad Bird returning to write the script and direct the feature, The Incredibles 2 is the must-see superhero film of the summer, after everyone's done seeing Avengers: Infinity War of course. The Incredibles will make an incredible return in IMAX 3D on June 15th.
The Incredibles 2 Trailer: https://www.youtube.com/watch?v=YBpdL9hSac4