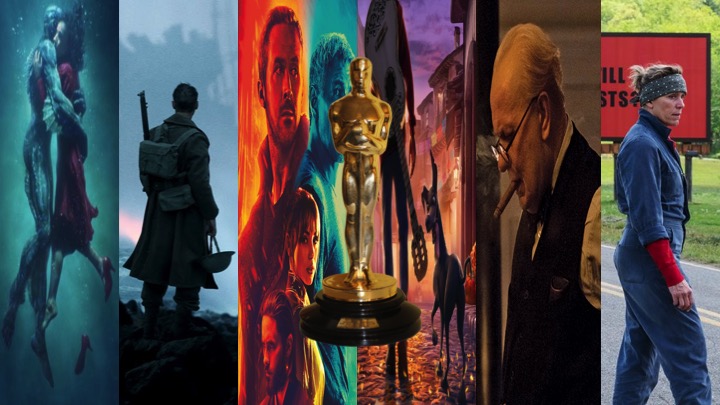 The 90th Academy Awards: A Variety of Winners
By Edward Baillargeon
The Academy Awards are widely considered to be the biggest night of the year in Hollywood to celebrate the best of the best films of the year. The host Jimmy Kimmel, who also hosted last year, opened the show with a monologue, to be expected, about sexual harassment and everything that's wrong with Hollywood, as well as making and fulfilling the promise that the famous Best Picture envelope mishap from last year's Oscars won't happen again. Another thing that happened during his monologue was when he made a reference to The Price is Right by giving away a free jet ski to the person with the shortest acceptance speech. The jet ski went to costume designer Mark Bridges, who won for his work on Phantom Thread. And as Jimmy wrapped up the show, a happy Mark Bridges rode out on his new jet ski! Today, I'm going to list off which movies took home the gold and how many awards they got.
The big winner this year was the sci-fi fantasy drama The Shape of Water, the touching story of a mute woman who tries to find her voice while she falls in love with a sea creature in the lab she works for, took home 4 awards for Best Production Design, Best Original Score, Best Director for Guillermo del Toro, and Best Picture. In second place for wins was the Christopher Nolan war film Dunkirk winning for Best Sound Editing, Best Sound Mixing, and Best Film Editing. And each with two wins were Blade Runner 2049, Coco, Darkest Hour, and Three Billboards Outside Ebbing, Missouri. Blade Runner 2049, the long awaited sequel to the 1982 sci-fi cult classic won for Best Visual Effects and Best Cinematography giving cinematographer Roger Deakins his first Oscar win after 13 previous nominations. Coco, the latest masterpiece from Pixar Animation Studios, won for Best Animated Feature, of course, as well as giving director Lee Unkrich his second win in the category after winning in 2010 for directing Toy Story 3, and Best Original Song for "Remember Me" giving songwriters Robert Lopez and Kristen Anderson-Lopez their second award after winning in 2013 for "Let it Go" from Frozen. Darkest Hour, the drama about Winston Churchill, won for Best Makeup and Hairstyling and Best Actor for Gary Oldman's performance as Winston Churchill. Three Billboards Outside Ebbing, Missouri, the latest drama from Martin McDonagh, won for Best Actress for Frances McDormand and Best Supporting Actor for Sam Rockwell.
Other films that got a win include Call Me By Your Name for Best Adapted Screenplay, Get Out for Best Original Screenplay, I, Tonya for Best Supporting Actress for Allison Janney, A Fantastic Woman for Best Foreign Language Film, Phantom Thread for Best Costume Design, and Icarus for Best Documentary Feature.
At this year's awards, many historical precedents were made. Actress Mary J. Blige became the first person to be nominated for performance and songwriting in the same year with her performance and song "Mighty River" from Netflix's period drama Mudbound. Greta Gerwig, the director of Lady Bird, became the 5th female director to ever be nominated for Best Director after Lina Wertmüller, Jane Campion, Sofia Coppola, and Kathryn Bigelow. James Ivory, the writer of Call Me By Your Name, at the age of 89, became the oldest man to be nominated for and win a competitive Academy Award. Jordan Peele, the director of Get Out, became the fifth black filmmaker to be nominated for Best Director, after John Singleton, Lee Daniels, Steve McQueen, and Barry Jenkins, as well as the first black filmmaker to receive nominations for producing, directing and writing in the same year. With his win for Best Original Screenplay, he became the first black screenwriter to win in that category. And legendary film composer John Williams broke his own record for the most-nominated living individual when he received a nomination for his score for Star Wars: The Last Jedi.
Congratulations to all the winners of the Academy Awards and let's look forward to another great year of movies and we will see what happens next year.