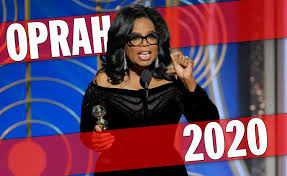 Beloved producer, actress, and talk show host Oprah Winfrey made waves with her speech during the 75th Golden Globes. Winfrey won the Cecil B. DeMille, an honorary Golden Globe award for "outstanding contributions to the world of entertainment." Her achievement, however, extended far beyond the realm of entertainment. Oprah became the first black female to win the Cecil B. DeMille.
2017 witnessed a significant movement among women who had been sexually harassed by men like Harvey Weinstein and Kevin Spacey. #MeToo ran rampant on social media, and in response, the organization Time's Up was founded on January 1st of the new year. Since the Golden Globes were the first time Hollywood had publicly convened since the Weinstein scandals, the industry was anxious to make their efforts of reformation known. A new policy of equal pay for men and women was created, and the previous decades' culture of harassment and silence will no longer be tolerated. Many actresses and some actors wore all black to show their support for change. Winfrey's win came to symbolize this movement, with the added layer of her being a person of color.
The significance was not lost on her. In her speech, Winfrey opens with a memory of the first time a black man—Sidney Poitier—received the Oscar for best actor. She recounted the awe she felt as a little girl in 1964 to see someone she identified with win, and recognized that she had taken on that role for the many little girls watching the Golden Globes in 2018. When she closed with talk of "leaders who take us to the time when nobody has to say 'Me Too' again," it is clear that she meant to become such leader to usher in a new era for not just the entertainment industry but for all little girls heading down their own paths.
As a figurehead of this movement, Oprah Winfrey became a symbol for social progress in general. This view intensified when placed in the context of the Trump presidency. In the minds of many—like the editor Josh Marshall of Talking Points Memo—Winfrey is the "anti-Trump." She is a woman, black, and loved by the public because of her messages of feminism and self-love. After her personal and inspirational Golden Globes speech, it is no wonder an Oprah presidency is being entertained by the masses.
But would such a presidency work? Leading voices are skeptical—such as the New Yorker, which called it a "fever dream." Considering what both Oprah and Trump have come to mean, however, Oprah may be the type of person America dreams is in office.
Jane Tang contributed to the reporting of this article.