East's Production of Beauty and the Beast: BTS!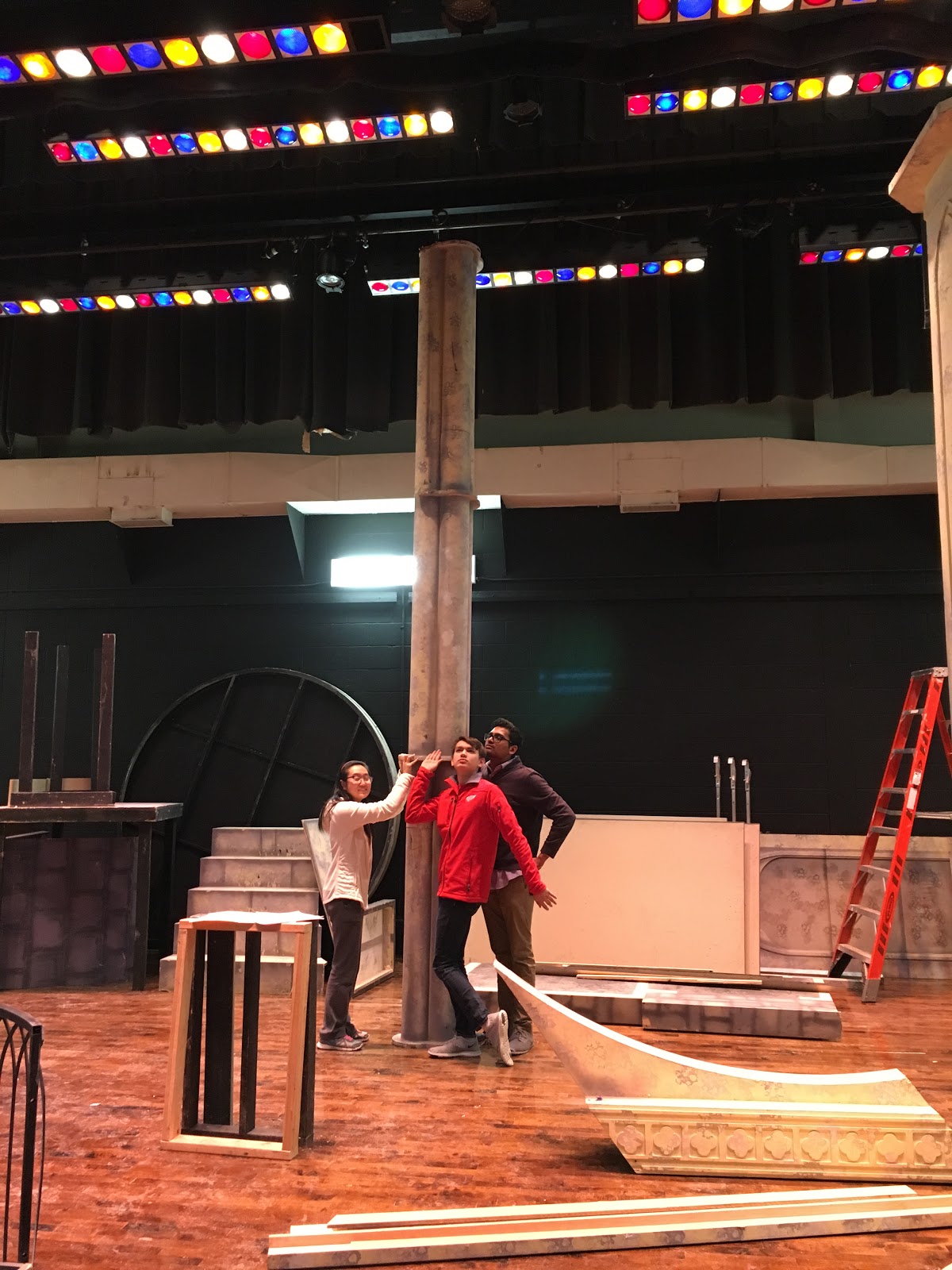 The rehearsals leading towards the musical have been a collaboration between the cast, pit orchestra, and stage crew. With the enormous set, big production numbers, and challenging music, putting together this musical has been a daunting task. However, the hard work put in by members of the cast, pit, and crew shows promise for an amazing show.
Seniors, Olivia Notaro and Anthony Lafarnara, revealed how they feel about their characters and Beauty and the Beast in general.
Olivia Notaro, senior, said, "I love playing Mrs. Potts because it's so different from my normal personality. It's really fun to branch out and play pretend for awhile- I'm not usually an actress so it's pretty much a whole new world for me. And that's on top of the fact that I'm working with an amazing cast and set of directors. I've had so much fun with the people and they're what really brings the show to life."
Anthony had a similar outlook on the musical as he said, "Rehearsals are going great! There's a really nice camaraderie within the department that has made the process a lot of fun too!"
He also discussed what it is like to play the part of the Beast. "Everyone thinks of the beast as a terrifying creature, but as you dive into the character you get to see the many different sides of him. Getting to play around with the beastly, gruesome side and the kind, humane side that Belle brings out of him has been a challenge but has certainly paid off!"
Anthony also offered his perspective on what the audience should expect from the musical compared to the movie. "The musical Beauty and the Beast is slightly different then the beloved animation. It follows the exact same story line, but is more emotional and develops each character more to see who they are and who they used to be."
As this is my fourth year playing in the pit orchestra, I have to say that this is my favorite musical. Despite the inevitable challenges, It is fun to play such classic music, and songs that I've grown up listening to. The melodies are so beautiful, and there are a lot of background music moments in this musical. We also have an incredibly large pit orchestra this year with the addition of french horns and other instruments in comparison to recent musicals. The depth of the pit this year is definitely going to enhance the musical.
Beauty and the Beast will be presented on Thursday, February 1, Friday, February 2 and Saturday, February 3 at 7:00 pm and also a 2:00 pm matinee on Saturday. Reserved ticket seating is $10.00 online (https://www.ticketpeak.com/res/wehsdrama).
Managing Editor Arya Pindiprolu contributed to the reporting of the article.