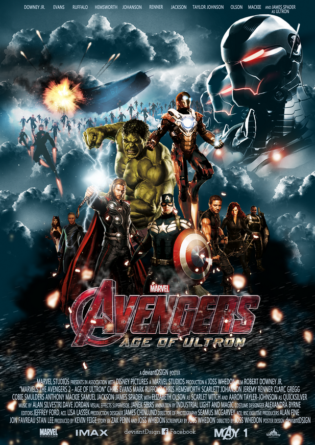 By Harman Kaur
2014 was a great year for movies, we got amazing new Marvel films that beat the ones before them. The Interview rose to the top because of the Sony hacks and threats behind it and many more, but 2015 looks to have even more amazing movies releasing.
Ant Man
Following the story of Marvel character Scott Lang, Ant Man is a superhero that can shrink in incredibly small size. Fans are worried about the change in director after Edgar Wright left the project after working on it for 8 years. This could be the studio's first flop but the human sized trailer was released on Tuesday, January 6th during the premiere of Agent Carter. Ant-Man releases July 17th.
Mockingjay: Part 2
After leaving off in a crucial moment in the book, part 2 of Mockingjay, the last book in the highly popular Hunger Games series, is set to be a great hit. Fans are only hoping that it is better than the book since it was the least popular book in the series. Mockingjay: Part 2 releases November 20th.
Jurassic World
Taking place 22 years after Jurassic Park, the staff of Jurassic World are creating a new attraction to the adventure park since attendance is dropping, which ultimately backfires on them. The trailer for the highly anticipated movie is set to debut during the 2015 Super Bowl. Jurassic World releases June 12th.
Furious 7
The franchise continues with Ian Shaw trying to get revenge on Dominic Torreto and the rest of the gang for killing his brother, Owen Shaw. Fans are all curious to see how the movie will go after Paul Walker's passing and his brothers taking his place in the film. Furious 7 releases in April 3rd.
Age of Ultron
Just as Tony Stark is launching his peacekeeping program, the Avengers are called to arms as villain, Ultron, starts chaos. Ultron was created by Ant-Man. We saw a small preview for the movie at the end of Captain America: The Winter Soldier with both Quicksilver and Scarlet Witch. The second trailer for Age of Ultron is supposed to be released Monday, January 12th. As for the movie itself, it is supposed to be releasing in theaters on May 1st.
While we do have to wait another few months for these releases there are many more movies releasing like Star Wars: The Force Awakens, Insurgent, and the second Pitch Perfect movie. 2015 is looking to be a very interesting year for Hollywood.