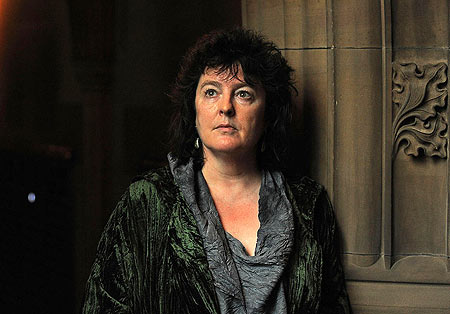 Poetry, Music, Art, & Dance to Feature Carol Ann Duffy
The Music Wing has been bustling more than usual the last few weeks gearing up for another Poetry, Music, Art and Dance Celebration. This year's celebration will be the 15th time Williamsville East has hosted the event which is free to the public and will occur in the Auditorium on Sunday, April 27th from three to five in the afternoon.
Dr. Stephen Shewan, a co-organizer of the annual event revealed it to his students as a way to broaden their artistic horizons and experiences in an effort to grow as artists themselves. He and fellow East teacher, John Kryder, reached out to a new voice this year to be the guest poet- and made an international impact. The poet to be featured at the Celebration will be none other than the British Poet Laureate, Carol Ann Duffy, whose works have been deemed by the monarchy of Britain as being of "national significance", according to the monarchy's website. Awarded with this honor in 2009, Duffy will remain the Poet Laureate for another five years as each time the recipient holds the post for a decade before a new Poet Laureate is selected. She currently resides in Manchester, UK where she works as the Creative Director of Manchester Metropolitan University's Writing School. Duffy is not the first Poet Laureate that the Celebration has brought to the area, however. Both former Laureates Robert Pinsky and Billy Collins have been honored at this event in past years.
Since this year's guest was announced earlier in the year, students throughout the arts departments at East and other district schools have selected various pieces of Duffy's, both children's poems and poems written for more of an adult audience, to express in their own ways. Others chose to use Duffy as their inspiration and create their own poetry in order to express themselves in their own words. These individuals then submitted their accomplishments to a selection committee and a few of the works were chosen to be showcased this weekend, including several compositions, dance choreographies, and other mediums. The winners are a combination of elementary, middle, and high school artists and will all be recognized for their efforts at the Celebration.
The students of east are very excited, as expected, for this year's celebration. Among these students is junior Kevin Stone. "I think the fact that east has this Poetry, Music, Art and Dance celebration is really cool because it shows how special East is. Not many schools have so much appreciation for the arts. I think that's what makes East different," he says, "Even though I don't have a piece submitted, it'll be really interesting to see what people came up with."
Senior Matt Mangione says, "I think the Poetry, Music, Art, and Dance Celebration is a great event where students who are interested in music get to learn about poetry and how words are weaved together, similar to music. It's amazing how original and interpretive the students' works are, and I can't wait to see it!"