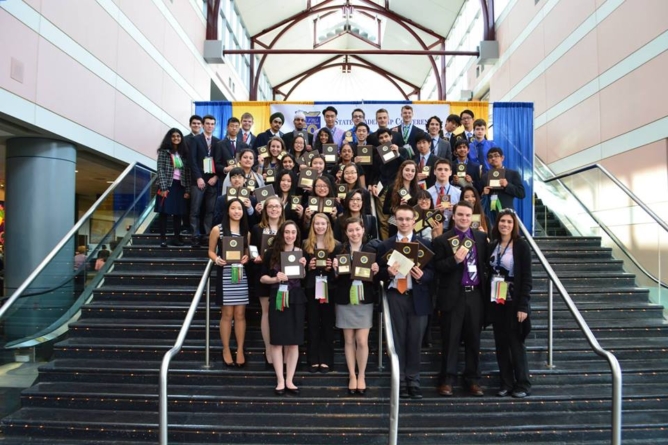 Future Business Leaders of America Win Big at State Leadership Conference
Future Business Leaders of America (FBLA) is the largest student-run business organization in the world, with over 215,000 high school members nationwide. FBLA is dedicated to bringing service, education, and progress together by educating students in business while encouraging them to be leaders in their communities.
The high school FBLA division is made up of three tiers: local, state, and national. Williamsville East FBLA is one of the largest local FBLA chapters in New York State, with nearly 200 members. Apart from participating in local FBLA activities such as district meetings, fundraiser events, and community service projects, Williamsville East FBLA members are given the opportunity to take their FBLA involvement to the next level by competing at the State Leadership Conference.
Led by chapter adviser, Ms. Anzalone, and two co-presidents, Daniel Franasiak and Zachary Richheimer, fifty members of the Williamsville East FBLA chapter attended the State Leadership Conference in Rochester, NY on April 9-11. During the conference, members honed their professional skills, competed in a variety of business-related events, and attended engaging workshops in order to gain a competitive edge for future career development. But SLC isn't only about putting on your best business attire and giving presentations to judges. The conference, held at the Radisson Riverside Hotel and Convention Center, included two themed dances and multiple opportunities to network with other FBLA members from across New York State.
Additionally, Williamsville FBLA members assisted in the state officer campaigns of Robin Marshall for State Secretary and Melissa Li for District 12 State Vice President. Shubhangi Mehra was also appointed State Parliamentarian through a rigorous testing and interview process, bringing East's state officer representation to three- the highest number possible from a single school.
Williamsville East brought home awards in an astounding 36 competitions, and a total of 27 members qualified for the upcoming National Leadership Conference in Nashville, Tennessee. Also, East won three chapter awards:  1st Place in "Spruce it up Campaign"; 3rd Place in "Teaching Green"; and 3rd Place in "Community Service".
We congratulate our FBLA chapter on their outstanding achievements at the state level and look forward to sending our most talented business students to the National Leadership Conference this summer.
FBLA State Winners:
Accounting 1 – Aniruddha Nrusimha, 1st
Agribusiness – Claire Kim, 3rd and Henry Chen, 1st
Banking and Financial Systems (Team) – Zachary Richheimer and David Fan, 1st
Business Calculations – Felix Chin, 4th
Business Law – Harman Brar, 1st
Business Math – Sarah Wie, 2nd
Business Procedures – Melissa Li, 1st
Client Service – Zachary Richheimer, 1st
Computer Game and Simulation Programming (Team) – Colby Yu, Emily Shi, and David Fan, 2nd
Cyber Security – Evan Ogra, 3rd
Digital Design and Promotion (Team) – Melanie Ulrich, Manogna Chintala, and Allie Scumaci, 5th
Digital Video Production (Team) – David Fan, Michelle Dao, and Felix Chin, 2nd
Economics – David Wang, 4th
Entrepreneurship (Team) – Keelan Sinha, Lisa He, and Conor Mulvey, 1st
FBLA Principles and Procedures – Alanna Kramer, 3rd and Robin Marshall, 1st
Global Business (Team) – Melissa Li, Shubhangi Mehra, and    Sally Yi, 1st
Hospitality Management (Team) – Sally Yi, Melanie Ulrich, and Michelle Dao, 1st
Insurance and Risk Management – Zachary        Richheimer, 3rd and Melissa Li, 2nd
Introduction to Business – Shubhangi Mehra, 2nd and Morgan Awner, 1st
Introduction to Business Communication – Caroline Wang, 1st
Introduction to Information Technology – Caroline Wang, 3rd and Evan Ogra, 2nd
Introduction to Parliamentary Procedure – Robin Marshall, 2nd
Management Decision Making (Team) – Amy Xiao, Kevin Stone, and Tony Regan, 5th
Marketing (Team) – Erin Jozwiak, Daniel Franasiak, and Kianna Early, 4th
Network Design (Team) – Aniruddha Nrusimha, Nikhil Gupta, 3rd
Outstanding New FBLA Member – Colby Yu, 4th
Parliamentary Procedure – Shubhangi Mehra, 3rd
Personal Finance – Lisa He, 5th and Alexa Muir, 1st
Website Design (Team) – Soumya Gupta, Michelle Dao, and   Emily Shi, 3rd
Future Business Leader – Daniel Franasiak, 5th